Maestro Dobel Diamonte Reposado
Buy direct from
The Whisky Exchange
Bottle size: 70cl

Product of:

Mexico
This mould breaking tequila comes from the Cuervo stable and is a blend of reposado tequila aged for 15 months, añejo tequila aged for 24 months and extra añejo tequila aged 36 months. All are lowland 100% agave tequilas aged in new European oak casks. Finally they are blended and charcoal filtered.
The charcoal filtration stripes some of the flavour compounds and the colour usually associated with oak aging to produce a crystal clear tequila. Each bottle is hand-labelled and individually numbered with the bottling date and the name of the range from which the agave used to make the tequila were harvested. First released in August 2008.

Review and Tasting
Sampled on 03/11/2013
Appearance:
(batch El Maloaste, date May 2012, bot No. 19717) Crystal clear.
Aroma:
Earthy buttery toast, vegetal agave, green apple skin and vanilla.
Taste:
Slight icing sugar sweetness, delicate agave, cracked black pepper and white pepper spice, vanilla and faint barbeque charcoal.
Aftertaste:
Dry cracked black pepper spice dominates faint honey sweet agave. I love embossed bottle, weighty black 'bondage' stopper and concept but sadly I think it's not only colour that filtration has stripped away.
Buy direct from
The Whisky Exchange
Bottle size: 70cl

Product Information
Barcode UPC: 8 11538 01203 4
Bottle Size: 700 ml
Closure: Synthetic stopper

More about Maestro Dobel Diamonte Reposado
Tequila classifications, categories & classes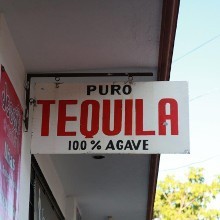 There are two main classifications of tequila, 'Mixto' and '100% Agave'. These two categories of tequila are further categorised according to whether or