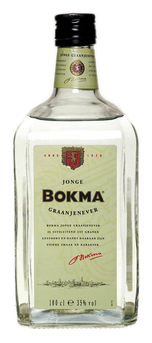 This Dutch jenever was created by the Bokma family in 1826 in the Frisian capital of Leeuwarden, the skyline of which is featured on the label. This 'jonge' or light style of Bokma, based on a combination of juniper berries, coriander, peppercorns, angelica and liquorice, was introduced in in 1966.
'Bok' means a male goat, hence the goat emblem on the crest. Klaas Bokkeszoon owned a corn mill and a public house and so it was almost natural that his son Freerk Klaaseszoon Bokma established his own distillery, which he named 'The Source'. Today Piet Bokma, a fifth generation direct descendant, continues the family's link with the brand.

Advances in technology have not gone unnoticed at Bokma, but essentially the jenever is still distilled as it was at 'The Source'. When production moved to Zoetermeer in 1987, Bokma's stills came too, and the herb distillates which gives the brand its unique flavour are still produced in Bokma's traditional copper stills.

Convinced that the full-bodied contents of a Bokma bottle were already 'round' enough, in 1894 Freerk's son Pieter designed a unique square bottle, predating other famous quadrilaterals such as Cointreau. This revolutionary packaging helped distinguish Bokma from other jenevers and more than a century later it continues to do so.

Piet Bokma introduced this 'jonge' or light style of Bokma in 1966. Based on a combination of juniper berries, coriander, peppercorns, angelica and liquorice, it was an instant success, recording sales of over two million litres in only its second year. Sadly the general decline in jenever's popularity in The Netherlands has also hit Bokma's sales in recent decades.
Review and Tasting
Sampled on 17/07/2012
Appearance:
Crystal clear.
Aroma:
Toasty oak with mineralality, cigarette ash, burnt rashers of bacon and delicate spice.
Taste:
Mellow palate with slight oiliness and notes of spiced poached pears, brazil nuts and hints of clove and cinnamon.
Aftertaste:
Toasty finish with subtle poached pear fruit, lingering clove and cinnamon spices.
Product Information
Barcode UPC: 8716000014313
Bottle Size: 700 ml
Closure: Screw / Stelvin cap

More about Bokma Jonge Graanjenever