Product of:

Mexico
This 100% agave tequila is distilled and bottled by the Vivanco family at their El Ranchito distillery, on the edge of their 800-acre mountainside field in Arandas.
The Jimadores pick the agaves at 7-9 years of age and with a sugar content of 23-28%. The piñas are cooked in brick ovens at 100˚C for 24 hours. Fermentation of the mosto is started with champagne yeast and fermentation is over the winter months when the cooler temperatures allows for longer fermentations. Distillation is in two separate copper pot stills, firstly the destrozador still first produces the ordinario at 20-22% alc./vol. which is filtered. The second distillation, in the rectificator still, produces tequila at 55-56% alc./vol.. There is no filtration after the second distillation and distilled water is added to reduce to bottling strength.

The 86 Company's innovative bottle is designed for ease of use bar bartenders and includes a scale with measures in fluid ounces and litres to allow bars greater inventory control and batching of cocktails.

Review and Tasting
Sampled on 14/01/2013
Appearance:
Crystal clear.
Aroma:
Dusty, cement and herbaceous vegetal with olives and green peppers in brine.
Taste:
Slightly sweet minerality, roasted vegetal and a dusty note with a nutty balsa wood note.
Aftertaste:
Dusty, acorns, magic mushrooms and cracked black pepper.
Product Information
Closure: Screw / Stelvin cap

Tequila classifications, categories & classes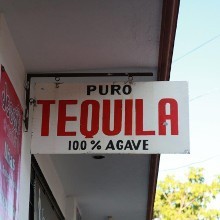 There are two main classifications of tequila, 'Mixto' and '100% Agave'. These two categories of tequila are further categorised according to whether or