Product of:

United Kingdom
Bottled at a traditional Talisker strength of 45.8% without an age statement, Storm is blended from whiskies aged in rejuvenated and refill bourbon casks at different ages. Released in February 2013, in terms of price it is positioned between Talisker 10 year old and Talisker Distillers Edition.
Review and Tasting
Sampled on 20/02/2013
Appearance:
Clear, mid golden.
Aroma:
Salty leathery cigar box – think new car interior at the seaside and the driver's just struck a match to light one of those cigars – its smoke also features. There's also cracked black pepper and a salty butter note but I'll spare you the analogy.
Taste:
Classic Talisker sea salt and cracked black pepper with wafts of smoke. Bold favours yet with subtle complexity, sweetness and rounding fruity leather notes. I'd go easy with the water which calms the spice and reveals more vegetal notes from the peat.
Aftertaste:
Leathery notes fade quickly to leave lingering peaty spice.
Product Information
Closure: Natural cork stopper

More about Talisker Storm
Whisky - Island single malt Scotch whisky cocktail recipes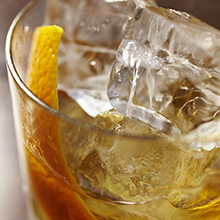 View 4 Whisky - Island single malt Scotch whisky recipes on Difford's Guide