Product of:

United Kingdom
Distilled in December 1961 using direct fired stills and aged in two ex-bourbon hogsheads which lay in Bowmore's No.1 Vaults and yielded 200 bottles, each hand-blown and designed by Glasstorm with collars and stoppers made by Fattorini Silversmiths, presented in handcrafted Elmwood boxes.
Released: 20th November 2013 at around £16,000 per bottle.
Review and Tasting
Sampled on 30/11/2013
Appearance:
Clear, mid-golden amber.
Aroma:
Wonderfully aromatic with almond croissant, almond butter, crème anglaise, pear drops, pear skin, fruit cake, tarte tatin and zesty orange marmalade.
Taste:
Incredible bursts of tropical fruit yet delicate and elegantly restrained. Mango, passion fruit and tinned peaches with underlying gently smoked spicy oak.
Aftertaste:
Dried tropical lingers with grilled almond and very delicate smoke.
Product Information
Closure: Natural cork stopper

More about Bowmore 50 Year Old 1961
Whisky - Islay single malt Scotch whisky cocktail recipes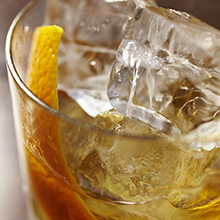 View 71 Whisky - Islay single malt Scotch whisky recipes on Difford's Guide