AquaRiva Handmade Reposado
Product of:

Mexico
AquaRiva is a tequila brand owned and promoted by the vivacious Cleo Rocos, famous for co-starring in the Kenny Everett Show. Launched in 2012, this reposado tequila is distilled from 100% highlands grown agave and is aged for a minimum of nine months.
Review and Tasting
Sampled on 16/01/2014
Appearance:
(sample bottled 24-July-13) Clear, pale straw yellow.
Aroma:
Lime citrus, dough balls, new leather and white pepper spice.
Taste:
Spicy black pepper, leather, doughy wholemeal bread and cinnamon.
Aftertaste:
Bread dough, white pepper and black pepper spice.
Product Information
Barcode UPC: 5 060321 350050
Bottle Size: 700 ml
Closure: Screw / Stelvin cap

More about AquaRiva Handmade Reposado
Tequila classifications, categories & classes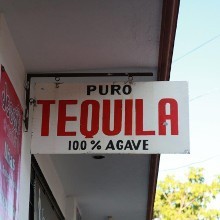 There are two main classifications of tequila, 'Mixto' and '100% Agave'. These two categories of tequila are further categorised according to whether or