Talisker Triple Matured Edition
Product of:

United Kingdom
Released December 2013, one of the first in a series of limited edition malts available to members of Diageo's Friends of the Classic Malts. This and other releases in the series are interesting due to their being "triple matured", a different aging process to regular bottlings from each distillery.
Triple matured refers to the single malts in these Friends' bottlings being first maturated in American oak refill casks (as per regular bottlings). Next the malt is transferred to charred American oak hogsheads before a third and final maturation in European oak refill casks. Sadly no indication has been given to the length of each maturation period or the total age of each release.

Only a few thousand bottles of each expression are available at the higher than normal 48% alc./vol.. Sales are limited to two bottles per customer.

Review and Tasting
Sampled on 20/01/2014
Appearance:
Clear, coppery amber.
Aroma:
Vanilla fudge, nubuck leather, apricot, peach, autumn leaves, cinnamon and nutmeg. Water amplifies the fruit with dried mango emerging.
Taste:
Sweet dried fruit, charcoal/coal dust, vanilla and light smoky peat. Water releases stewed apple.
Aftertaste:
Dried fruit, charcoal and lingering peat smoke.
Product Information
Closure: Natural cork stopper

More about Talisker Triple Matured Edition
Whisky - Peated Scotch whisky cocktail recipes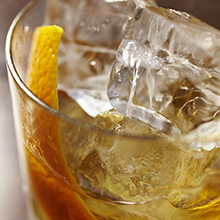 View 74 Whisky - Peated Scotch whisky recipes on Difford's Guide