Jose Cuervo Tradicional Silver (38%)
Product of:

Mexico
A 100% agave, unaged tequila from the world's best-selling and oldest tequila brand. Made using agaves harvested in the Tequila Valley and surrounding lowland areas.

Review and Tasting
Sampled on 25/07/2014
Appearance:
(sample bottled 09/Apr/14) Crystal clear.
Aroma:
Clean, white pepper with coal dust, light roast agave and faint vanilla.
Taste:
Slightly oily mouthfeel. Cracked black pepper spice, coal and muted fudge/toffee-like roast agave.
Aftertaste:
Coal continues on the minerally finish with faint fudge.
Product Information
Barcode UPC: 7 501035 012233
Bottle Size: 700 ml
Closure: Synthetic stopper

More about Jose Cuervo Tradicional Silver (38%)
Tequila classifications, categories & classes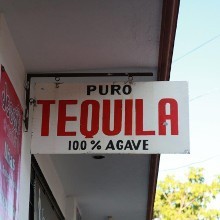 There are two main classifications of tequila, 'Mixto' and '100% Agave'. These two categories of tequila are further categorised according to whether or