Product of:

United Kingdom
Released in August 2014, this Mortlach is aged for a minimum of 25 years exclusively in refill American oak hogsheads. The choice of the unusual 43.4% bottling strength was inspired by vintage labels stating 86.8 proof for export to the USA.
Review and Tasting
Sampled on 23/08/2014
Appearance:
Clear, golden amber with coppery tones.
Aroma:
Waxy red apple skin, leather, dried fruit and elegant spice. Subtle linseed oil, ripe strawberry, soot and nuts with nutmeg and cinnamon spice. Water reveals red apple skin, dried coconut and vanilla.
Taste:
Well-balanced and elegant with plum fruit, dark chocolate, prunes, raisins, vanilla, cinnamon, nutmeg and tosty oak. With water, chewy fruit, grilled nuts and delicate spice. Metallic but in a good way.
Aftertaste:
Toasty and lightly cinnamon spiced with pleasing baked apple.
Product Information
Closure: Natural cork stopper

More about Mortlach 25 Year Old
Whisk(e)y - Speyside single malt Scotch whisky cocktail recipes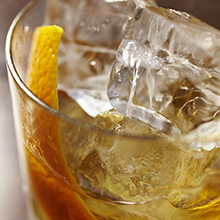 View 23 Whisk(e)y - Speyside single malt Scotch whisky recipes on Difford's Guide