Highland Park Ice Edition
Product of:

United Kingdom
Released in March 2016 as a special edition limited to 30,000 bottles, Highland Park Ice was matured for 17 years exclusively in ex-bourbon casks.
Packaged in blue tinted glass designed to reflect "dazzling and glittering ice" and shaped (according to the press release) "to portray the distinctive sharpness and coolness of the mythical and magical ice realm. The intricate circle design on the label itself represents the circle of life – the creation of the world, protected by a serpent, a mythical creature often central in classic Norse mythology." Highland Park's bottle design and naming of expressions has long celebrated Viking's influence on the Orkney Islands.

The bottle, with its wooden stopper, is presented in a mountain-shaped hinged wooden cradle held together by magnets.

Review and Tasting
Sampled on 12/04/2016
Appearance:
Clear, pale to mid-golden amber.
Aroma:
Pungent nose. Earthy sea salt, faintly smoky freshly sawn well-seasoned oak, almond, vanilla and faint overripe pineapple. More vanilla and pineapple with water.
Taste:
Full-bodied. Lightly salty with dry, faintly smoky, assertive cinnamon spiced oak, balanced by honey and faint sweet pineapple. Water negatively amplifies oak tannins, knocking back balancing rich fruit and honeyed notes. So despite the high alc./vol., this malt is best enjoyed neat with the water kept on the side.
Aftertaste:
Long, lingering, lightly salty, spicy oak finish.
Overall:
A huge malt which explodes on the palate with salty, lightly smoky and assertive spiced oak, balanced by rich honeyed and overripe pineapple notes. The Highland Park name and limited availability makes this an attractive collectable – that's also an enjoyable dram. Not sure how that turquoise bottle in a wooden mountain frame is going to look on your mantelpiece though.
Product Information
Closure: Natural cork stopper

More about Highland Park Ice Edition
Whisky - Island single malt Scotch whisky cocktail recipes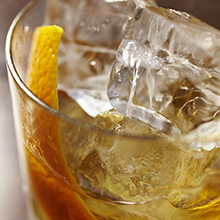 View 3 Whisky - Island single malt Scotch whisky recipes on Difford's Guide