Product of:

Mexico
Released in May 2016, Olmeca Altos Añejo is made with 100% agave harvested in the highlands of Los Altos and then aged in oak casks for 18 months.
Review and Tasting
Sampled on 30/05/2016
Appearance:
(sample bottle No. 0000812) Clear, coppery amber.
Aroma:
Roasted agave, caramel, peppery spice, vanilla and green vegetal odours with faint chocolate orange, apricot and roasted nuts.
Taste:
Cracked black pepper spice, chocolate and caramel roasted agave with charcoal and earthy vegetable notes.
Aftertaste:
Roasted agave, caramel, cracked black pepper and stewed vegetable notes.
Overall:
Creamy mouthfeel with pronounced peppery spice, caramel, chocolate, vanilla and vegetal notes.
Product Information
Barcode UPC: 0 80432 90114 4
Bottle Size: 700 ml
Closure: Screw / Stelvin cap

More about Olmeca Altos Añejo
Tequila classifications, categories & classes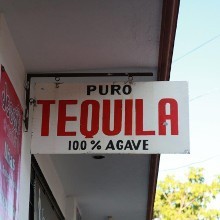 There are two main classifications of tequila, 'Mixto' and '100% Agave'. These two categories of tequila are further categorised according to whether or