Product of:

United Kingdom
A limited edition of 2,490 bottles released May 2016, The Circus predominantly comprises old parcels of blended Scotch and blended grain whisky, blended together and then cask aged for several years.

The blend is composed of four parcels of Scotch whisky – two parcels of blended Scotch married with one of blended grain Scotch whisky and a smaller proportion of single malt Scotch whisky from the Glen Ord distillery – all aged in sherry seasoned butts.

The comparable whisky released by Compass Box was in 2014 called The General.

Review and Tasting
Sampled on 11/06/2016
Appearance:
Clear, mid to deep golden amber.
Aroma:
Zesty orange, vanilla, white chocolate fudge and hazelnuts with nutmeg and faint back pepper. More woody with water amplifying almond and biscuit.
Taste:
Pear drops, dried apple, almond paste, white chocolate and black pepper. Go easy with the water but with the merest splash, fabulously rich toasted almond / amaretto notes emerge.
Aftertaste:
Vanilla, surprisingly dry black tea tannins and lingering oaky finish after such a rich fruity palate.
Overall:
Fruity and rich with white chocolate, pear drops and dried fruit. Balanced by black tea tannins and an oaky garnish.
Product Information
Closure: Natural cork stopper

More about Compass Box The Circus
Whisky - Scotch whisky (blended) cocktail recipes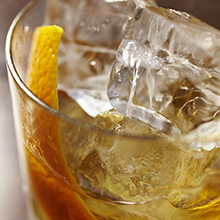 View 186 Whisky - Scotch whisky (blended) recipes on Difford's Guide