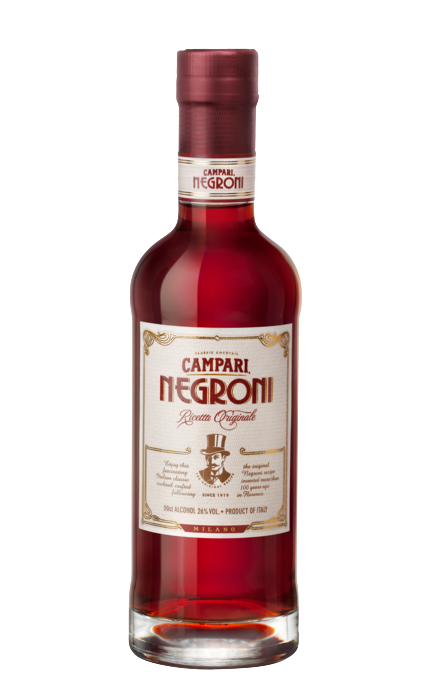 Buy direct from
The Whisky Exchange
Bottle size: 50cl

Product of:

Italy
Launched in November 2016, "Ricetta Originale"- literally 'original recipe' – refers to this pre-mixed Negroni being faithful to the original proportions of 1/3 Campari Bitters, 1/3 sweet vermouth (in this case Cinzano Rosso) and 1/3 London dry gin.


Review and Tasting
Sampled on 23/11/2016
Appearance:
Clear, tawny red.
Aroma:
Herbal and rooty with red wine, zesty citrus, pine, quinine, bayleaf and mild spice.
Taste:
Bittersweet and complex with blood orange, pine, herbaceous quinine bitterness, red wine and peppery cinnamon spice.
Aftertaste:
Long, dry lightly bitter finish with bitter zesty orange and peppery spice.
Overall:
Your mixing days are over – simply pour over ice, add a slice of orange or swathe of orange zest, luxuriate and savour. Like a "homemade" Negroni there is no need to go to the trouble of stirring with ice and straining into a glass over fresh ice – indeed this pre-mixed bottled cocktail is better without the added dilution. However, we'd suggest you store your bottle of Campari Negroni in the refrigerator. Consider pouring the bottle into a small oak cask for period of aging before decanting back into the bottle.
Buy direct from
The Whisky Exchange
Bottle size: 50cl

Product Information
Bottle Size: 500 ml
Closure: Screw / Stelvin cap

Closure: Screw / Stelvin cap

More about Campari Negroni