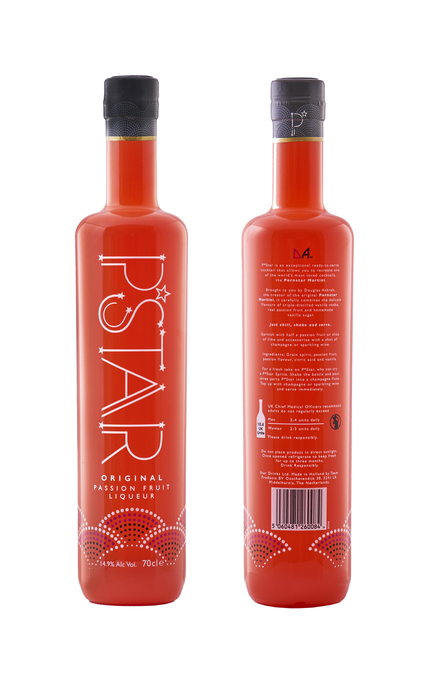 Product of:

Netherlands
Due to its popularity, you've probably drank, made or at least heard of a Porn Star Martini - this is the pre-mixed bottled version. The original cocktail was created back in 2002 by Douglas Ankrah...
at The Townhouse Bar in London's Knightsbridge.

It was a time when pretty much any cocktail presented in a 'v'-shaped glass was referred to as a 'Martini' and the cocktail resurgence was in full-swing. The Porn Star Martini's lewd name and slightly sweet fruity taste proved an instant hit with a certain type of drinker and its popularity, and indeed notoriety, has continued to grow ever since.

Sadly, and I'm sure annoyingly for Douglas, it is not possible to trademark a cocktail recipe so although hundreds of thousands of Porn Star Martinis are made and sold in bars around the world every year, Douglas does not receive a royalty – unlike the musicians who wrote/performed the songs playing in those bars.

Thankfully, bartenders can trademark a product named after their cocktail creations and benefit from the sale of bottled versions – hence the appearance of this product launched in February 2017 and created by Douglas with some help from Wim Koolhaas (of Koolhaassystems) and the good folk at De Kuyper.

Based on neutral grain spirit, Pornstar Cocktail contains passion fruit puree so once opened it should be stored in a refrigerator where it will last for three months. That passion fruit puree also tends to settle in the bottle so be sure to shake before opening. Also store away from direct sunlight.

Review and Tasting
Sampled on 02/03/2017
Appearance:
Opaque, tangerine orange.
Aroma:
Vanilla (reminiscent of soft-scoop vanilla ice-cream) and tropical fruit.
Taste:
Assertive citric acidity balances sweet, sugary passion fruit with cream-of-soda vanilla.
Aftertaste:
More ice-cream-like vanilla, tropical fruit and citric acidity.
Overall:
Sampled neat, this particular Porn Star is overly fruity and a tad acidic, but follow the instructions on the bottle and serve over ice, then both temperature and dilution tone the drink down, add balance and reveal smoothing cream-of-soda vanilla. I suspect that folk whose usual bar call is a "Porn Star Martini" will approve of this bottled rendition of their cocktail of choice, but they'd probably also prefer a freshly made version based on a quality vodka infused with vanilla pods and shaken with fresh fruit (see our Porn Star Martini recipe). That said those same drinkers are sure to love the convenience of this bottled version for home consumption – it's not a bad rendition, although it is let down by it's gaudy sleeved packaging.
Product Information
Barcode UPC: 5060481260008
Bottle Size: 700 ml
Closure: Natural cork stopper

More about P*star Liqueur