Ketel One Grapefruit & Rose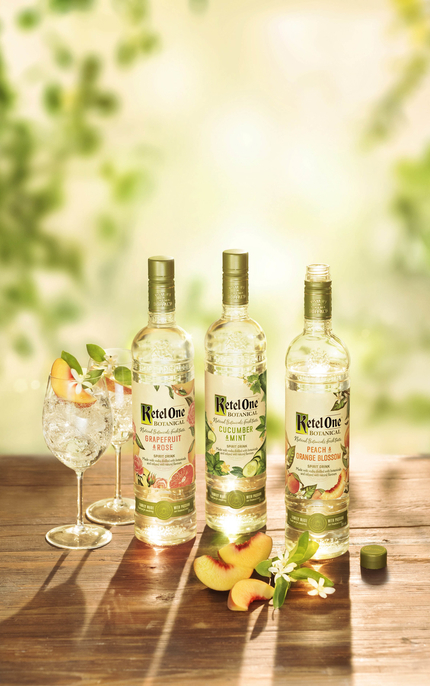 Buy direct from
The Whisky Exchange
Bottle size: 70cl

Product of:

Netherlands
Ketel One Botanical Grapefruit & Rose is made by infusing Ketel One vodka with natural botanicals and then re-distilling the infusion in a copper pot still. The distillate is then infused with natural grapefruit and rose essences.
The species of grapefruit used is Citrus Paradisi which has intense zesty grapefruit notes and is ruby red/slight pink. A cold press is used to extract essential oils from the epicarp of the grapefruit at ambient temperature.

A particular species of rose, Rosa damascene sourced from Bulgaria is used due to the elegance and refined fragrance of its petals. Essential oils are extracted from the petals using steam distillation and infusion in ethanol.

Contains no sugar, artificial sweeteners or flavours.

Serve long over ice with soda water and garnish with wedge of grapefruit.

Ketel One say their Grapefruit & Rose, is "for those who seek zesty, mouth-watering grapefruit and the refined elegance of rose petals."
Review and Tasting
Sampled on 13/09/2018
Appearance:
Crystal clear.
Aroma:
Pungent just squeezed zesty pink grapefruit and faint rose water.
Taste:
Floral rose is more obvious alongside zesty, slightly sour intense pink grapefruit and very faint passion fruit. Superbly clean with crisp black pepper spirituous bite.
Aftertaste:
Long zesty grapefruit finish with faint rose.
Overall:
Designed to be served tall over ice with soda water (and refreshing it is too), this botanical spirit is also bound to find its way into cocktails. This is our favourite of Ketel One's botanical range (as of summer 2018) and it's hard to fault its cleaness and flavour – which are exactly as billed, and convincingly natural.
Buy direct from
The Whisky Exchange
Bottle size: 70cl

Product Information
Barcode UPC: 0 85156 77500 2
Bottle Size: 750 ml
Closure: Screw / Stelvin cap

More about Ketel One Grapefruit & Rose