Buy direct from
The Whisky Exchange
Bottle size: 70cl

Product of:

Mexico
While expecting her first child, Sophie Decobecq, Calle 23's founder and distiller, was inspired to produce the first-ever tequila exclusively made using Criollo (pronounced 'knee-o-yu') blue agave. Criollo agave remain small and sweet, even when fully mature.
Sophie found this new tequila's personality was best expressed at exactly 49.3% alc./vol., hence the unusual bottling strength of this exceptional limited-edition tequila.
Review and Tasting
Sampled on 20/09/2019
Appearance:
(sample bottle No. 3232) Crystal clear.
Aroma:
Superbly clean with herbaceous agave and minty zesty orange freshness.
Taste:
Earthy, slightly salty and herbaceous agave with minty and pine freshness. The generous alcohol strength contributes a peppery spice but is surprisingly mellow considering it just shy of 50% alc./vol..
Aftertaste:
A long lingering continuation of the palate which fades with minty black pepper freshness.
Overall:
We love Sophie (the distiller and owner of Calle 23) and her tequilas but this limited edition particularly shines due to the minty herbaceousness of the agave. Delicious.
Buy direct from
The Whisky Exchange
Bottle size: 70cl

Product Information
Barcode UPC: 6 73446 00123 0
Bottle Size: 700 ml
Closure: Natural cork stopper

More about Calle 23 Criollo Blanco
Tequila classifications, categories & classes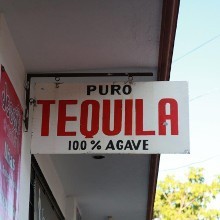 There are two main classifications of tequila, 'Mixto' and '100% Agave'. These two categories of tequila are further categorised according to whether or