Hendrick's Gin Palace

Status:

Operational

Visitor Policy:

Not generally accessible

Website: Hendrick's Gin Palace Address:

Girvan Distillery, Girvan, Ayreshire, KA26 9PT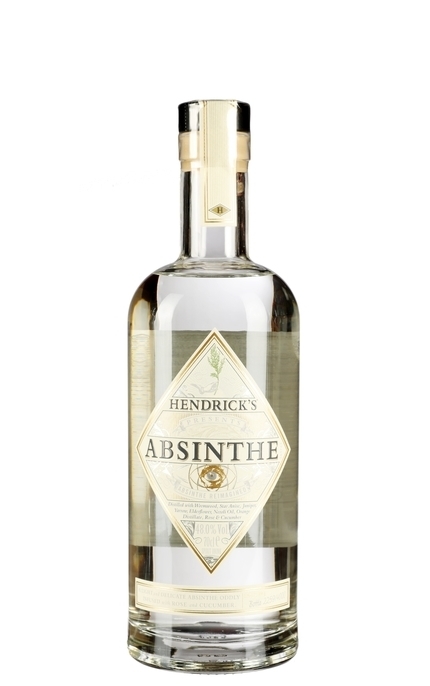 Product of:

United Kingdom
"Hendrick's Presents Absinthe Reimagined. Crafted to bring the approachability and mixability of gin to absinthe, Hendrick's Absinthe is bottled at 48% ABV and so steers clear of the fiery strength of more traditional blends," says the brand info. It also steers clear of the traditional green hue.
Hendrick's Absinthe is flavoured with a distillation of star anise, yarrow and juniper; along with infusions of elderflower, orange (peel and blossom), wormwood, rose and cucumber – the trio of juniper, rose and cucumber being Hendrick's Gin signature botanicals with yarrow and dried orange peel also common to both products. "All flavours are entirely natural, and no colour is added, ensuring a clear expression of absinthe to further aid mixability."

Absinthe is made using the same distillation technique as gin so its perhaps not surprising that the experimental mind of Lesley Gracie, Head Distiller of Hendrick's, has, after a couple of years of test distillations and experimentation, led to Hendrick's Absinthe. And as Lesley says, absinthe is somewhat maligned, in much the same way gin was until recent years.

Ally Martin, Global Brand Ambassador for Hendrick's, told us that Hendricks's Absinthe "allows us to explore a flavour paradigm we've not explored before." "Hendrick's success was built, in large part, thanks to the openness, creativity and imagination of the world's best bartenders. Hendrick's Absinthe is our way of giving this spirited group something new to play with that has the same quality credentials and inventiveness they have come to expect from Hendrick's."

Just 4,000 bottles of Hendrick's Absinthe Batch No.1 have been produced in individually-numbered bottles and initially available exclusively to the UK on-trade.

Review and Tasting
Sampled on 14/11/2019
Appearance:
(sample bottle Batch No.1, bottle 2259) Crystal clear. Louches with water but not as fully as traditional absinthes, remaining clear white rather than turning milky white.
Aroma:
Earthy wormwood is almost as assertive as the bright fresh star anise but anise notes are subdued compared to traditional absinthes. Subtle but distinctive rose blossom, rosemary, fennel and liquorice (although the last three are not botanicals used).
Taste:
Aniseed dominates the palate with underlying earthy rooty notes, particularly liquorice.
Aftertaste:
Dry aniseed finish with lingering subtly bitter wormwood.
Overall:
Unlike other spirit categories, there are sadly few rules governing absinthe so allowing Hendrick's, the "most unusual gin" to create an "absinthe" as different to others as Hendrick's was to other gins when it launched back in 2000. The label proclaims it "a light and delicate absinthe" and indeed it is subtler in flavour, without the traditional green fairy colour, and at a much lower strength. Hendrick's is perhaps closer to some pastis than traditional absinthe. This subtlety means Hendrick's doesn't suit the traditional absinthe drip serve but it's lower alcohol, clarity and comparatively mellow flavour does lend itself to use in larger measures that the mere dashes traditional absinthes are so often reduced to and does lend itself to some very tasty cocktails. As an absinthe I'd score Hendrick's 3.5/5 (commended) but as a botanical spirit I'd score it 5+/5 (outstanding). As Hendrick's is both an "Absinthe" and a botanical spirit, I'm going to take the middle ground and award Hendrick's a 4.5 (excellent).
More about Hendrick's Absinthe
Hendrick's Gin Palace
Status:
Operational
Visitor Policy:
Not generally accessible
Website:
Hendrick's Gin Palace
Address:
Girvan Distillery, Girvan, Ayreshire, KA26 9PT