Product of:

United Kingdom
Bottled at 49 years old, cask number 2111, a sherry hogshead yielded just 158 bottles.
Review and Tasting
Sampled before 1st May 2011
Appearance:
Clear, reddy brown.
Aroma:
Surprisingly fruity nose considering its age. Toffee apple, maderia/sherry and notes of cognac.
Taste:
Fabulous palate shows vanilla, toffee, Christmas cake, cigar smoke and good malt notes. It is surprisingly sweet.
Aftertaste:
Rich Christmas pudding, cognac-like rancio notes. This is a truly fabulous malt and led me to create a new rating: 5+/5
Product Information
Closure: Natural cork stopper

More about Glenfarclas 1957
Whisk(e)y - Speyside single malt Scotch whisky cocktail recipes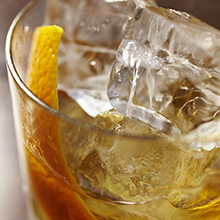 View 23 Whisk(e)y - Speyside single malt Scotch whisky recipes on Difford's Guide