Product of:

Mexico
100% agave blanco tequila bottled without ageing and made from agave roasted in traditional Mampostería' masonry ovens and from a blend of two distillates: one made from agave crushed in a modern roller mill and the other distilled with agave fibre crushed by a traditional tahona millstone.
Launched in November 2009, Olmeca Altos, the latest addition to Olmeca range came about through collaboration between Jesús Hernández and the Worldwide Cocktail Club duo Henry Besant and Dre Masso. The three worked to develop a premium quality 100% agave tequila that was particularly suited to cocktail use and at a price that made it accessible as a pouring brand. Like Olmeca Teźon this 100% agave tequila is produced from piña that are traditionally slow-roasted in the 'Mampostería' brick ovens but is a blend of Tequila produced from combination of traditional tahona millstone and modern mechanical mills.


Review and Tasting
Sampled on 12/12/2013
Appearance:
Crystal clear.
Aroma:
White pepper, sea salt and the merest hint of char-grilled green peppers and agave.
Taste:
Soft leathery palate has an immediate hit of minerally, sweet white pepper before drying with more spicy notes, more white pepper, nutmeg, sea salt, straw, agave notes and lime zest.
Aftertaste:
Clean with lasting white pepper spice.
Product Information
Closure: Screw / Stelvin cap

More about Olmeca Altos Plata
Tequila classifications, categories & classes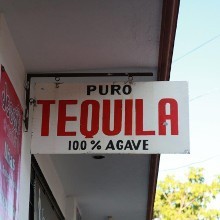 There are two main classifications of tequila, 'Mixto' and '100% Agave'. These two categories of tequila are further categorised according to whether or