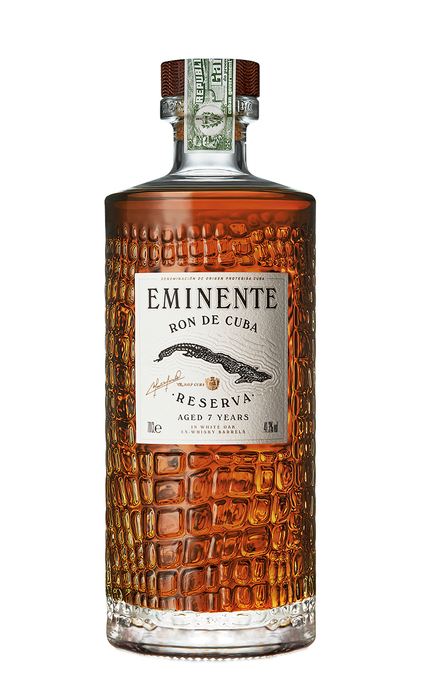 Buy direct from
The Whisky Exchange
Bottle size: 70cl

Product of:

Cuba

Eminente Reserva is a blend of full two different styles of Cuban rum, both distilled from molasses and aged for at least 7 years with multiple blending stages during this period.
A full-bodied rum distilled to 75% alc./vol. is aged in ex-whisk(e)y casks and a blend of these casks is then mixed with a lighter style Cuban rum distilled to 96% alc./vol.. This blend of two different rums is then re-casked for further ageing.

Eminente and its elaborate aging and blending process was created by César Martí - one of Cuba's ten Maestros Roneros (master Cuban rum distillers).

Eminente is packaged in a distinctive crocodile skin-like textured glass bottle representing the crocodiles found in the Zapata Swamp, Cuba's largest wetland habitat. The side label resembles a travel ticket and tells the story of Eminente. Each label is individually numbered.
Review and Tasting
Sampled on 23/03/2021
Appearance:
Clear, deep golden amber.
Aroma:
Roasted coffee beans, leather, cigar box, cacao, and toasted almond.
Taste:
Full-bodied. Rich vanilla, brown sugar, caramel and prunes are balanced by bitter oak tannins, coffee, and dry cigar leaf. The palate is livened by ginger, nutmeg and peppery spice.
Aftertaste:
Long dry finish with cacao, coffee and faint smoke.​
Overall:
Appropriately for a Cuban rum, Eminente is best described as "a cigar rum." Full-bodied and dry with notes of vanilla, brown sugar and caramel dried by oak tannins, coffee and cigar leaf.
Buy direct from
The Whisky Exchange
Bottle size: 70cl

Difford's Guide Certification

Product Information
Barcode UPC: 3770015612013
Bottle Size: 700 ml
Closure: Agglomerated cork stopper

Composition
Energy: 228Kcal/100ml
C02 injected? No
Wood maturation
Type of wood used for main maturation: American Ex. Bourbon
Type of vessel used for main maturation: American Standard Barrel (ASB) 180 - 200 Ltrs

More about Eminente Reserva