Product of:

United Kingdom

Created for travel retail, Glenmorangie The Accord is a 12-year-old single malt whisky matured in American oak bourbon barrels and oloroso sherry casks.
Review and Tasting
Sampled on 25/09/2021
Appearance:
Clear, golden amber.
Aroma:
Maple syrup, vanilla fudge, roasted coffee beans, raisin, butterscotch, leather, and crème brûlée.
Taste:
Honey on slightly burnt toast, hazelnut, coffee, cacao, butterscotch, and raisin.
Aftertaste:
Delicate cinnamon and nutmeg, raisin, hazelnut dark chocolate, cacao, and mocha coffee.
Overall:
Rich maple syrup, honey, and raisin enrich oak tannins, bitter burnt toasty notes coffee, and nuts. Sweetness balanced by dry toastiness.
Difford's Guide Certification

Product Information
Bottle Size: 1 litre
Closure: Natural cork stopper

More about Glenmorangie The Accord
Whisky - Highland single malt Scotch whisky cocktail recipes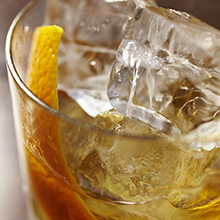 View 1 Whisky - Highland single malt Scotch whisky recipes on Difford's Guide