Adriatico Caroni Cask Amaretto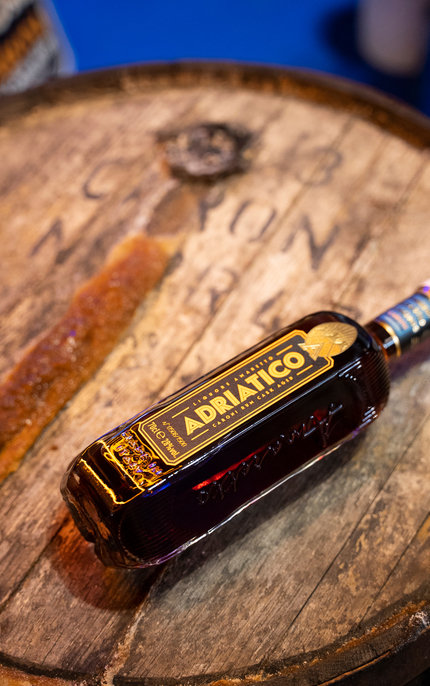 Launched in 2022, Adriatico Caroni Cask Amaretto is a limited edition of just 1,500 bottles and is made by ageing Adriatico amaretto in three oak casks previously filled with Caroni rum for 12 months. The numbered bottles are adorned with black and orange labels, reminiscent of Caroni Rum bottles.
The barrels were filled with legendary Caroni Trinidadian rum in 1996 and lay ageing in the warehouse of the state-owned distillery after it closed in 2003. Luca Gargano purchased the unique molasses rum and bottled it through his Velier company in 1996. Luca Gargano donated three of the empty Caroni casks to Adriatico's founders, Jean-Robert Bellanger and Thomas Benoit.

The amaretto was aged at full cask strength and with just 80 grams of the 165 grams of sugar in the finished product.

Discovered in October 2022 at Bar Convent Berlin (BCB).
Review and Tasting
Sampled on 17/10/2022
Appearance:
Clear, coppery amber.
Aroma:
Pungent roasted almond with marzipan, caramel, cola cubes, tar and faint cinnamon.
Taste:
The palate is more much complex than the nose suggests with the predictable toasted almond amaretto notes toned with caramel, leather and toasty oak with liquorice, petrol and tar from the Caroni cask
Aftertaste:
Leathery tar and toasted almond with caramel clove, cinnamon and peppery spice.
Overall:
Amaretto is delicious but this Caroni cask matured liqueur takes amaretto to another level with the Caroni cask adding layers of complexity.
Difford's Guide Certification