Buy direct from
The Whisky Exchange
Bottle size: 70cl

Product of:

United Kingdom
Pronounced 'ah-BAY-lya', Abelha means 'bee' in Portuguese. Albelha is produced in the Chapada national park, Diamantina, Bahia in Northern Brazil – a point of difference in its self as the majority of cachaças are produced in the Sao Paolo or Minas Gerais regions, both in the mid-east of Brazil.

This area hot, dry area has sandy soils which are relatively infertile so sugar cane grows more slowly here than in more fertile areas of Brazil, so Abelha claim is more flavoursome. All the cane used to make Abelha is processed with 24 hours of cutting and some is sourced from a collective of smallholding farmers close to the distillery and grown without the use of pesticides or artificial fertilisers.

The yeast is used was collected and isolated from the sugar cane and is propagated using a rice and bran mash before being introduced to the cane juice to commence fermentation. Distillation is in a 400 litre capacity copper pot still as opposed to the more usual column stills. Abelha Silver is rested for a few months after distillation in open steel tanks. This removes some of the less desirable compounds as they evaporate or oxidise into phenols. Abelha cachaças are bottle without the addition of sugar or flavourings.


Review and Tasting
Sampled before 1st May 2011
Appearance:
Crystal clear.
Aroma:
Appealing gluey nose with fermenting fruit and vegetal aromas.
Taste:
A hot palate with hints of stoned fruit, unripe pear and cactus juice.
Aftertaste:
Fruity notes last through the peppery finish.
Buy direct from
The Whisky Exchange
Bottle size: 70cl

Cachaça cocktail recipes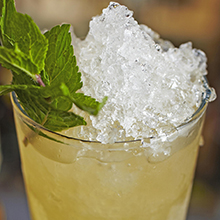 View 91 Cachaça recipes on Difford's Guide