Product of:

Brazil
Bossa Cachaça's bottle design was inspired by the pattern on the pavement (sidewalk) of the road which runs along Ipanema Beach, the cradle of Bossa Nova music. Hence, not surprisingly, this style of music is used in the marketing of this brand.
Review and Tasting
Sampled on 15/08/2011
Appearance:
Crystal clear.
Aroma:
Chocolate, mocha coffee-influenced with gala melon aromas which lacks that grassy aroma we associate with cachaca.
Taste:
Perhaps more reminiscent of a mixto tequila with vegetal notes, smoky lapsang souchang tea-like flavours, cherry wood, straw notes and candied banana.
Aftertaste:
Lingering spicy finish with cigarette-like flavours.
Product Information
Closure: Screw / Stelvin cap

Cachaça cocktail recipes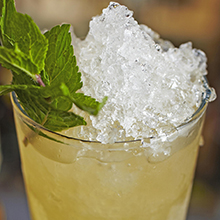 View 87 Cachaça recipes on Difford's Guide