Recommended bars
Milan boasts a vibrant cocktail scene with plenty of bars worthy of visiting. Handily, our favourites nestle in the city centre within walking distance or a short taxi ride from each other. We never go to Milan without visiting Nottingham Forest and if you've never been, then sure to experience Dario Comini's hospitality and theatrically presented cocktails. Then we've 13 more bars to visit...

Bar Basso
Via Plinio 39, Milano, Lombardy, 20129, Italy
Difford's Guide rating (out of 5): 3.5/5
Recommended drink: Negroni Sbagliato
An iconic staple where bar owner Mirko made bartending history with the creation of the Negroni Sbagliato. It is a neighbourhood bar occupying a corner site and survives untouched since the late 1950s. The interior is lined with dark walnut panelling and overhanging chandeliers. Visitors can request their drink be served in the famed calice glasses designed by Mirko many years ago.

Rita's Tiki Room
Ripa di porta ticinese 69 - 20143 Milano, Italy
Recommended drink: Piña colada
Rita's Tiki Room offers Polynesian foods with a twist of Cantonese and Milanese flavours. Service is professional while the atmosphere is relaxing and exotic. If you go for a drink you must try the Piña Colada and the Mai Tai Rita Style.

Camparino in Galleria
Piazza del Duomo 21, Milano, Lombardy, 20121, Italy
Difford's Guide rating (out of 5): 3.5/5
Recommended drink: Classic Campari cocktails
Gaspare Campari had already invented his famous Campari bitters when (in September 1867) he moved his bar to premises in the newly built Galleria Vittorio Emanuele. His drink proved instantly popular with the upmarket clientele as did the magnificent glass-roofed Galleria, Europe's first shopping arcade. Davide Campari, the son of Gaspare, opened the Camparino in 1915. The Galleria's mosaic floor includes the city of Turin symbol - the black bull. Legend has it that spinning three times on one heel over the bull's genitals brings good luck.

Pandenus
Piazza Gae Aulenti 12, Milan, Italy
Difford's Guide rating (out of 5): 3.5/5
Recommended drink: Americano
Established in 2018, Pandenus is a modern all-day bar offering products such as bread and pizza. It opens early morning serving coffees made in their artisanal laboratory, and typical Italian breakfasts. Going through lunch time and Aperitivo, which is a must to try, the bar stays open until midnight for post-dinner drinks. The best time to enjoy aperitivo is at sunset with a view of the "bosco verticale" (vertical forest). We recommend the classic Americano, a refreshing aperitivo matched with dishes designed by the two-star Michelin chef Enrico Bartolini.

Mandarin Bar & Bistrot
Via Andegari 9, Milan, Italy
Difford's Guide rating (out of 5): 4.5/5
Recommended drink: Smoky Negroni
Evenings at Mandarin Bar & Bistrot are marked by two key moments, 'Aperitivo' and 'after dinner'. Opening from 8am to late, the bar is the hotel's beating heart where the atmosphere grows gradually from tranquil urban oasis by day to vibrant nightspot after dark. Its outdoor spaces feature lounge sofas, coffee tables and soft lights, while indoors the walls are covered with black and white geometric mosaic patterns, smoked ceiling mirrors and other reflective surfaces for stunning lighting effects.

Nottingham Forest
Viale Piave 1, Milan, 20129, Italy
Difford's Guide rating (out of 5): 5/5
Recommended drink: Mondrian Martini
Nottingham Forest combines the fun of Tiki, the experimentalism of molecular mixology and the service ethics of a five-star hotel with the warmth of Milanese hospitality. The bar first opened in 1970 by Carlo Comini, Dario Comini father. In 1980, under the guide of Dario Comini, the Nottingham Forest became one of the best bars in Italy. Following renovation in 2007, Dario brought in a bar counter from the Knickerbocker hotel in New York. A collection of unique objects is on display brought by Dario during his trips around the world, and even a number gifted by visitors to the bar.

Ceresio 7
via Ceresio 7, Milan, Italy
Difford's Guide rating (out of 5): 4.5/5
Recommended drink: Purple Velvet
Found in one of the most innovating areas of the city, between China Town and Porta Garibaldi, Ceresio 7 is a restaurant and cocktail bar located on the 4th floor. The design of the cocktail menu is based on twists of classics and all the drinks are served with particular attention on details and service. The best time to visit is during sunset for a picturesque view across the skyline of Milano.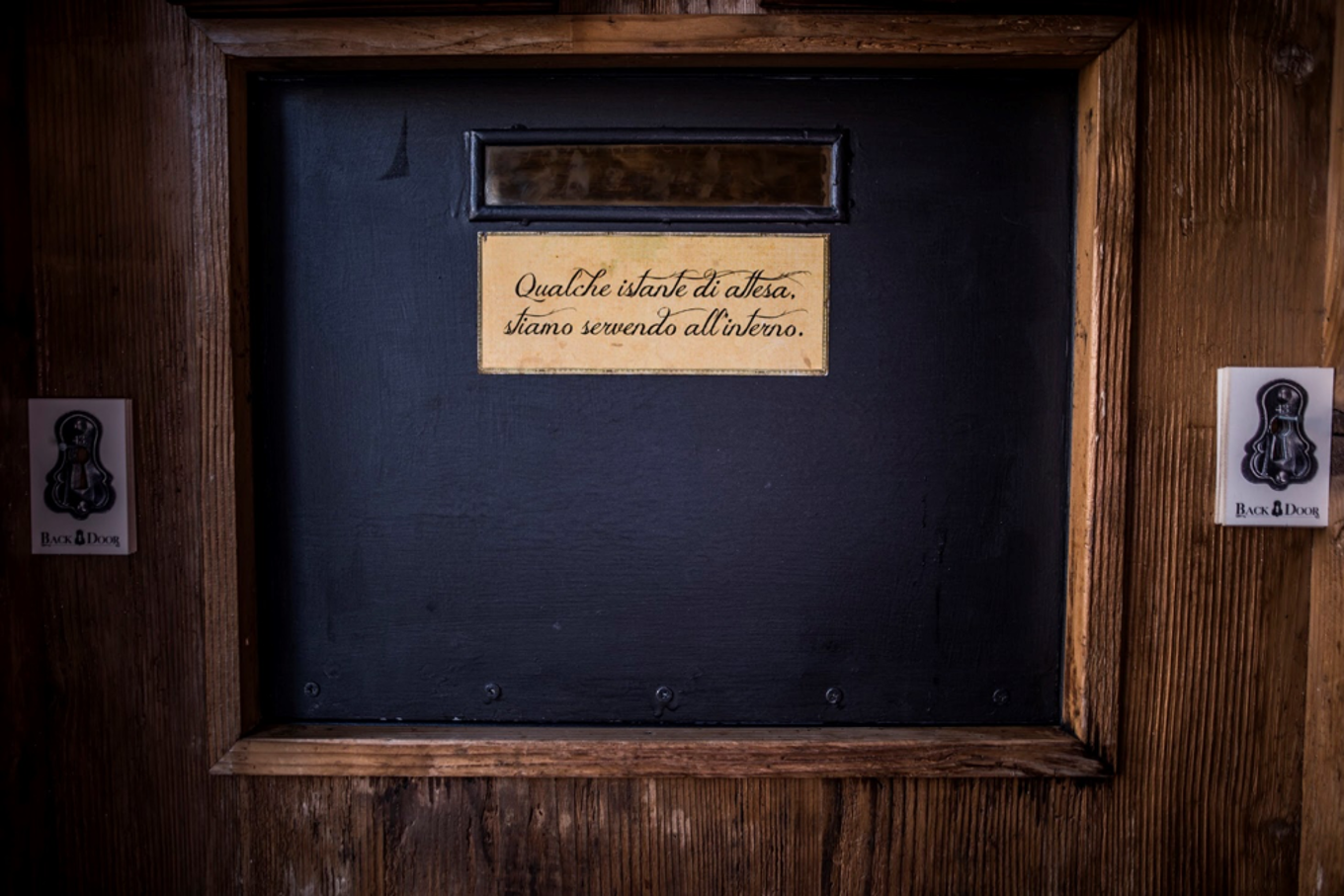 BackDoor43
Ripa di Porta Ticinese 43, Milan
Difford's Guide rating (out of 5): 4.0/5
Recommended drink: Whisky cocktails
One of the smallest bars in Europe, with a larger toilet area than the bar itself, Back Door 43 is located in Navigli, a rather eclectic area in Milano. With just four bar seats, guests are asked to make reservations to enjoy the intimate space and service.

Bulk Mixology Food & Bar
via Fioravanti 4, Milan
Difford's Guide rating (out of 5): 4.5/5
Recommended drink: Gian Tonic
Located in a 5-star hotel called Vìu near Porta Garibaldi, the one-star Michelin chef Giancarlo Morelli has created two different souls in one: the Bulk Mixology Food & Bar and the Morelli Restaurant. Bulk, named following its previous history as a social club, offers an open space with a mixology bar, an ultra-modern open kitchen, old military tables, modern designed objects, puppet collections and 60's armchairs. In summer, guests can dine or have a drink outside while enjoying the pleasant outdoor space. On Friday and Saturday evenings, the venue is animated by a DJ set, and on Sundays visitors can enjoy a tasty American-styled brunch.

The Spirit
via Piacenza 15, Milano
Difford's Guide rating (out of 5): 4/5
Recommended drink: "We try a Not a Club Soda"
You need to be curious and adventurous to find the entrance sign. This cocktail bar is located in the heart of Porta Romana in Milan, a famed area occupied by Italian restaurants, traditional trattorias, fusion restaurants and cocktails bars. Once inside the bar, you'll be back in the 80s: velvet sofas, extravagant mirrors and games of sparkling lights lures you down in a world of illusion and magic, where the perception of time and the world outside fades away.

Dry Milano
Via Solferino 33, Milano
Difford's Guide rating (out of 5): 3.5/5
Recommended drink: N° 007
When Dry opened its doors, it was the first cocktail bar in Milan to offer the combination of cocktails and food. What food could be better than pizza! And for Italians, nothing is better than pizza. "Dry" in Italian means "Secco" and by contrast when you enter the venue, you're welcomed by a friendly and hospitable atmosphere. People are ready to enjoy good cocktails and share time with you even if they don't know you, so if you're alone, you'll soon find yourself with company.

Octavius Bar
At The Stage above Replay. Piazza Gae Aulenti 4, Milano.
Difford's Guide rating (out of 5): 4.5/5
Recommended drink: Martini cocktail
An American-inspired bar inspired by the furnishings of an elegant boat. The bar is decked out with lavish wood, cream curved seating and a brass bar. The Octavius offers a selection of more than 1000 spirits and is a must to try for classic cocktails and their signature drinks. The cocktails are designed by a team of young but very talented bartenders, led by bar manager Francesco Cione.
Take a look at Octavius Bar creating their Campari Shakerato.

drinc. Cocktails & Conversation
Via Plinio 32, Milano
Difford's Guide rating (out of 5): 4/5
Recommended drink: Beet me up
This small cocktail bar, praised for its high standards of service, is located along the street from Porta Venezia to Piazzale Loreto, a residential area renowned for its boutique shops. Owned by Luca Marcelin, drinc. is a neighbourhood cocktail bar frequented by Milanese and international guests. The bar design employs a mix of industrial and contemporary styles with custom-made furniture designed by Luca.

Surfer's Den
Piazza Caduti del Lavoro 5, Milano
Difford's Guide rating (out of 5): 3.5/5
Recommended drink: Ape Vigorosa
A cocktail bar visited for two important things: the relaxing atmosphere and the "misture", the original Italian name of cocktail. Dan, a fanatic of Surf, is in charge of the Surfboards shop. Yuri, a lover of plants, is in charge of the bar and crafts a cocktail menu from the plants grown in their garden. The bar is 5km away from the city centre but once inside, guests enter a countryside setting. Styled with a mix of art, antique furniture and boards for skating and surfing, flowers and nature are also a focal point in the venue.

Talea
Via Argelati 35, Milano
Difford's Guide rating (out of 5): 4.5/5
Recommended drink: Bloody gazpacho
An experimental cocktail bar with an intimate and welcoming space. It has an unexpected structure, due to its strange location and to its experimental approach to mixology. Cocktails are based on the "Liquid Kitchen" philosophy, where each ingredient is cooked to create different taste experiences. The design is minimal and modern, while also remaining comfortable. Talea offers you a secret experience in a sharing table/bar called Vivarium where guests can enjoy a special menu composed of dishes and cocktails pairings in a unique ultra-sensorial room, with images, music and aromas to enhance the experience.
Videography by: Rosanna Pellacini