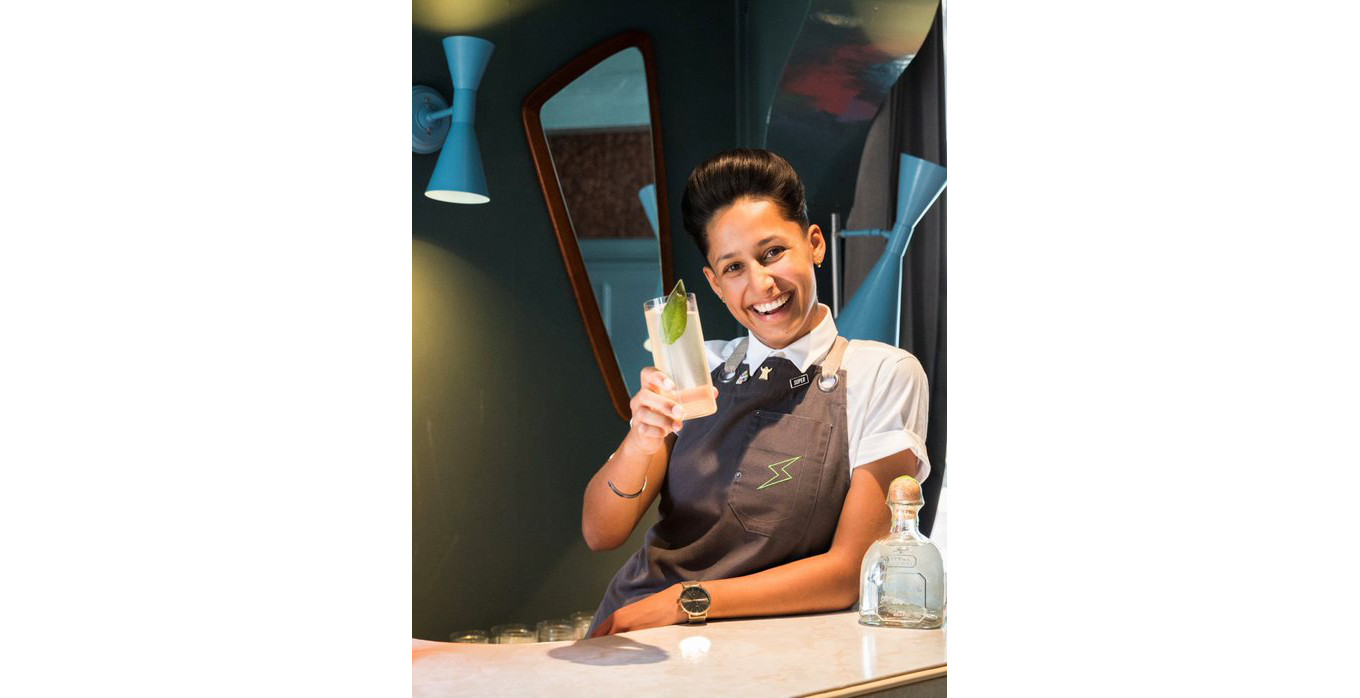 Zana Möhlmann
Despite growing up in Utrecht, just 20 minutes from Amsterdam where she now works at Ryan Chetiyawardana's Super Lyan, Zana Möhlmann fell in love with bartending thousands of miles from home-on the Thai holiday island of Phuket.
"When I finished high school, I took a gap year and went travelling to Southeast Asia," she recalls. "My mum was like, 'Yeah, if you go abroad, then I want to you to do something, not just lay on the beach doing nothing.' And then my sister was like, 'Oh, why don't you do this bartender school?'"
Möhlmann landed up at the European Bartender School in Phuket, mixing drinks by day and partying by night. "It was so much fun, I think the best four weeks of my life," she says. "You're in a foreign country, you're in the tropics, you go on parties on boats on blue lagoons, and you get to drink cocktails and make them. There's a whole group of 60 students from all over the world, so you get this big friend group."
Returning home, Möhlmann fell into a top-flight bartending career more by luck than judgement. "I stumbled into my first job in a five-star hotel, and I never thought I'd get hired in a five-star hotel as somebody who just did a four-week European Bartender School course," she says. "And then after that I stumbled into Flying Dutchmen, so when Super Lyan opened I knew the bar manager."
Although Möhlmann learned a lot at art'otel and Flying Dutchmen, her time at Super Lyan have, she says, reshaped her as a bartender. "Literally, three years ago, I completely changed how I bartend," she says. "And that's actually a pretty cool thing if I think back on it, because when I started at Super Lyan, every day I learned something new, and every day I was growing."
Möhlmann's time in Southeast Asia-first during her year off and then in the gap between leaving Flying Dutchmen and starting at Super Lyan-has also influenced her bartending style. "I still have a bucket list goal to work for least two years in Singapore or somewhere Southeast Asian," she says. "I'd just like to learn from the gurus and all the people there because there's a whole different world with different flavours and a different mentality, a different way of working that really inspires me."
In search of perfection
Experimentalism and attention to detail are central to Super Lyan's way of working, and, although not a competitive person, Möhlmann definitely considers herself a perfectionist.
"I'm very critical, and I don't know if that's always very good-probably not!" she says. "At work, my colleagues sometimes make fun of me. When we design drinks, we taste them with the whole team and most of us will be like '10 out of 10!' or 'Nine out of 10!'. I'm always the one that has critical points and starts to ask questions about it."
Möhlmann worries that her critical, questioning side can sometimes lead to overthinking things, wondering whether a guest will understand a concept or how wide a market is for a drink. But she sees perfectionism as essential to a bartender: "If you want to serve quality, consistently, then you have to be a perfectionist, because consistency is key."
And, as she heads to the Hacienda Patrón to represent Benelux in the Patrón Perfectionists global final, she'll be bringing her best perfectionist game. "I learned that from an old senior that we had in Super Lyan, and he was so precise with every little thing that it was just fascinating to watch: I tried to copy it, even though I'm maybe not like that from nature," she says. "He was so passionate and precise, like 'This ice cube has to go slightly to the left, and this garnish has to be on this side of the glass,' and then you get inspired by it and you start to take that over."
Zana Möhlmann's Winning Cocktail: White Noise
50ml Patrón Silver tequila
50ml Blackened banana water
10ml Fino sherry
10ml Honey water
Dash Saline solution
Garnish: fresh sage leaf
To make the blackened banana water:
Roast ripe or overripe bananas in the oven for 20–30 minutes at 150°C until they are completely mushy and soft, with pectin dripping from the skins: the riper the bananas, the less time they will need. Cut them open and take out the flesh, which should be juicy and very soft, then mix it well with equal parts water (for example 500g of banana flesh needs 500ml of water), and strain through a sieve. The liquid should be transparent: if it's cloudy, it means not all the starches have turned into sugar and the bananas may have been underripe. You can store this in the freezer for up to two weeks and use leftover skins to infuse in a spirit and leftover flesh to make banana bread.
To make the honey water:
Mix three parts of honey with one part water
To make the saline solution:
Add 20g sea salt to 80ml water and whisk until dissolved
To serve: Stir all ingredients with cubed ice and strain into a highball glass full of ice cubes or one large ice block. Garnish with a fresh sage leaf: use a dab of honey to stick it to the inside of the glass if necessary.
The inspiration for Möhlmann's drink came about by happenstance. "Everyone always calls me Zana Banana, or Banana and Banana, and all those kinds of things. So one day I was sitting with my head in my hands thinking about what drink I was going to make for this competition," she recalls. "And my friend came in with this apron and it had bananas all over the apron, and he said, 'Look, it fits you so well!' so I went back to the ingredients list, because you can only choose ingredients from the list, and I saw bananas."
How to work with the bananas took a lot of finetuning, as did the final recipe, with her Super Lyan colleagues contributing. "We used all different types of sherry, we used different types of variable: I think I made this drink over 100 times using different ratios and different ingredients," she says. "There were a lot of different people tasting it, feeding back, tasting it again, changing the ratio and tasting again. It was a lot of opinions and effort from different people into the drink."
The team at Super Lyan are big on minimising waste, and hardly any of the banana went to waste. They fermented the leftover flesh with yeast and water to make banana wine, and infused the skins into a rum for use in daiquiris.