International Kummel Day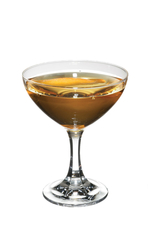 Γι' αυτό πίνουμε ένα...
Henry Jeffrey of The Guardian and Master of Malt blog proposed that kummel be dedicated a day of its own at an event with other drinks hacks, including our own Simon Difford. So it was declared that the 17th April 2019 be declared International Kummel Day.
The caraway-flavoured liqueur is very much deserving of a revival. Explore the history and origins of kummel and our favourite kummel cocktails.
We're toasting with a Quelle Vie, a cocktail discovered in Harry Craddock's 1930 The Savoy Cocktail Book. Harry says, "Brandy gives you courage and kummel makes you cautious, thus giving you the perfect mixture of bravery and caution, with the bravery predominating."
A bartending banker was born
In Charles H. Baker's splendidly eccentric 1939 cocktail compendium, The Gentleman's Companion: Being an Exotic Drinking Book, he introduces the Alamagoozlum cocktail as "J. Pierpont Morgan's Alamagoozlum: the personal mix credited to that financier, philanthropist & banker of a bygone era".
The said John Pierpont Morgan, one of the greatest businessmen of America's Gilded Age, was born on this day in 1837. Cocktail author David A. Embury unkindly observed that his creation proves that "as a bartender, he was an excellent banker". We beg to differ. The Alamagoozlum defies its myriad ingredients to deliver a glorious bittersweet mélange of flavours, as well as an insight into the well-stocked wonders of a 19th-century oligarch's home bar. Upgrade your own bar and give one a go tonight.
It's also Posh's birthday
Of all the Spice Girls, still Britain's best-selling girl group, we consider Posh by some distance the least talented. She couldn't sing. She couldn't dance. She always looked, frankly, rather uncomfortable. And yet...
Victoria Beckham, formerly Adams, briefly Adams-Wood, has transformed her career into one half of a global power couple with a net worth estimated at squillions of dollars. She has north of 11 million followers on Twitter and 14 million on Instagram, and a fashion line that's popular with both critics and consumers. Sharp, funny and witty, Mrs Beckham hangs out with the global A-list, raises four children, has been apparently happily married to Becks since 1999, and seems to have built a spectacularly fabulous life, supported by bags of ambition and a killer work ethic. Happy birthday, Victoria. We're toasting you with a Spiced Pear and a dram of your husband's whisky.
Today's also the anniversary of the Bay of Pigs
On this day in 1961, 1400 CIA-trained Cuban exiles scrambled onto Cuba, at the Bay of Pigs, a move that was supposed to dispose of the young dictator, Fidel Castro. Obviously, the mission did not end well, although preparations had been in place for well over a year, complete with training camps in Guatemala.
In fact, the mission was challenged from the beginning. A supporting run of bombers two days earlier had missed their targets, with lethal results, as the Cuban air force strafed the beaches. Worse yet, as American support became evident to the world, and, in particular, the USSR, America pulled back its support for the troops. Despite a last-minute rescue mission, over a thousand invaders remained in prison for as long as 20 months.
They say time is a great healer and relations between American and Cuba look to be improving - well they certainly before Trump came to office. Anyway, we are toasting one of our favourite countries with an aptly named Cuban Liberal.