Cocktail Guide: Australia's Best Bloody Marys
Cocktail Guide: Australia's Best Bloody Marys
Words by Jane Ryan
Photography by Supplied
Bloody Marys have a certain reputation for being an after-thought of a brunch menu, but this classic drink is so much more than a hangover cure. And when made with care and attention there's an unparalleled brightness and gusto to this drink that keeps them falling off menus worldwide. They're also made to be tampered with - dolloping on extra TABASCO Sauce, grating in some ginger or drizzling honey to whatever quantity makes your tastebuds sing.
It can't have gone unnoticed however that the modern-day Bloody Mary has entered into a garnish arms race. No longer content with just a celery stick or lemon wedge, today when you order the classic it could come out with an entire smoked fish wobbling on a skewer, a burger perched on the rim or a langoustine submerged in its murky depths. Here we've rounded up the best Bloody Marys being made across Australia that avoid the crayfish garnish (sometimes), but still pack plenty of flavour.
Brisbane
Brisbane has a great brunch culture in the restaurants, hotels, cafes and bars that pull up alongside the river or hunker down in the city's busy districts. This city is also renowned for incubating great Aussie talent and many of Melbourne and Sydney's best bartenders cut their teeth here, so expect some well-executed Bloody Marys from Brisbane.
COVENT GARDEN, in Brisbane's West End, is renowned for its love of gin, so you'll be unsurprised to learn they've chosen to hero the Snapper, a gin alternative to a Bloody Mary which was the first version to make it popular in the US. Each drink in their Snapper selection is based on their house snapper mix, made with variety of ingredients including the obvious tomato and TABASCO Sauce and stretching to some more unusual inclusions. From there the bar choose a gin to suit a particular style, and modify the drink to be either mild, spicy, or smoky. Look out for their Fire Breather with Death Chilli gin, snapper mix, chilli oil, chilli salt, fresh chilli, fire. For those who prefer to keep it classic there is a vodka option.

THE CALILE HOTEL - HELLENIKA is an all-day Greek-inspired restaurant set around the pool of the hotel, making for a stunning spot to eat, drink and make merry. The Bloody Marys here are a savoury delight, with citrus to cut through the richness, TABASCO Sauce for a gentle heat and garnished with a large green olive and a sprig of rosemary.
KETTLE & TIN in Paddington has a relaxed, almost beachy-vibe that carries it from a morning breakfast spot to a post-5pm neighbourhood bar. So whether you're reaching for a Bloody Mary on a weekend morning or to dust the day off there's several different options here, from the classic through to the Smokey Goddamn Mary, wine-y Rosa Maria and the Cubana Michelada, which features sriracha.
THE GRESHAM It's not technically on the menu but this renowned spirits bar doubles as a favourite brunch spot with flaky pastries, decadent toasties and smashable Bloody Marys. With such a great reputation for cocktails, The Gresham attracts talented staff, so no matter who is on shift you can order a Bloody Mary and know it's going to be a no-frills, perfectly balanced affair. Pick your base of the classic vodka, much-loved gin or even an aged tequila for something new and ask them to load up on the TABASCO Sauce. You'll never want to drink a Bloody Mary elsewhere again.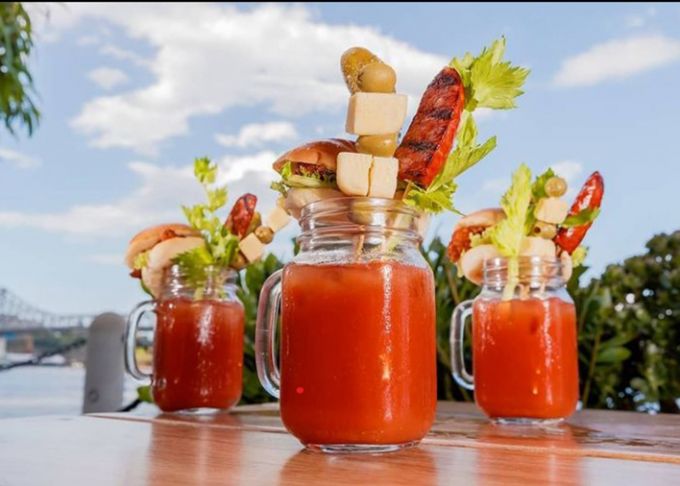 RIVERBAR & KITCHEN is a venue that goes all out on its Bloody Mary and with a name like the Ultimate Bloody Mary it's not too much of a surprise to find some additional garnishes on this baby. But we're making an exception to our rule of avoiding anything weighed down with food because these guys make sure the cocktail at the bottom is actually a decent drink. Toppings including grilled chorizo, stuffed olives, pickled cucumber, cheddar cheese with a fried chicken and a harissa slider, all on the one Bloody Mary. It's a lot, but it tastes great so… yolo right?
Melbourne
Melbourne has always had a reputation for holding the key to Australia's best cocktails, and when combined with the city's love of cafe culture this is the one drink you'd expect Melbourne bartenders to nail. And they do, keeping things savoury, balanced and occasionally unexpected.
NICK & NORAS in Melbourne's CBD adds a spot of opulence to the cocktail scene here with plenty of cognac, champagne and caviar. Keeping things mostly classic with the umami dial ramped up, their Sherlock's Supper uses Wyborowa vodka, dry sherry, black garlic, kalamata olive, roasted tomato oil, Worcestershire, TABASCO Sauce, lemon juice, tomato juice and gilda. It's rich, delicious and as big a flavour bomb as we can handle.
ARCHIES ALL DAY is reminiscent of a greasy spoon café in the best way possible. You can get decent food early, it's the opposite of pretensions and the drinks are pared-back and well done. Their Bloody Mary uses vodka, sweet vermouth, tomato juice, Worcestershire, TABASCO Sauce, and celery salt and is balanced and moreish. Best of all the Bloody Mary here can be enjoyed early, mid-afternoon or as a thick night-cap.
BROSCH, VODKA & TEARS on Chapel Street was founded by Polish expats and boasts an incredible array of vodkas as well as their own infusions. In the embrace of its dark, cosy venue you can order a Bloody Mary with homemade garlic and chilli infused vodka, TABASCO Sauce, tomato juice and fresh lemon which is served with the classic garnish of cucumber, celery, olives. It's spicy but balanced and the savoury garlic shines through.

LE BON TON is were you come for big deep south vibes, it's pure Americana with an heavy emphasis on NOLA. There are plenty of cocktails to come out of Louisiana's capital but the Bloody Mary isn't one of them. Not to worry, the team here have given it a gentle makeover, dubbed the Creole Bloody Mary with vodka, smoked tomatoes & peppers, TABASCO Sauce, Worcestershire Sauce and a house Creole spice mix. It's vibrant and bold but still balanced.
Sydney
Home to a chain of bars called Bloody Mary's, Sydney knows what's up when it comes to this brunch classic. The pubs do the basics well (often better than you'd think) and its best bars take a more inspired approach with Asian and Mediterranean influences found in the ingredients - think wasabi, sesame oil and olive leaf.
DEAD RINGER has a dedicated Bloody Mary menu, with four variants that escalate in spice, dreamt up by senior bartender Dominic Causley-Todd. They start with a lemon and herb Bloody Mary (inspired by Nando's mildest sauce) and work up to the chilli-infused Thai-inspired fiery number, whose ingredients include a dollop of fish sauce, and which guarantees to blast the cobwebs away.
MAYBE SAMMY is often lauded as Sydney's best cocktail bar, and their art for aperitif-style drinks is second to none with takes on coffee cocktails, Martinis and spritz. The classic Bloody Mary didn't escape the team's notice either with their Olive Leaf Red Snapper using Four Pillars Olive Leaf Gin, tomato, citrus, TABASCO Sauce, spices and a pickle. It's delicate, umami-led and sets up your evening perfectly. Pair with oysters and enjoy.
BLOODY MARY'S offers their titular drink in nine versions, and surprisingly doesn't often stray too far from the classic recipe. Things gets twisted up with gin, tequila and even bacon-infused bourbon but each iteration of the drink sticks with the bar's fresh house-made tomato juice, their own spice mix (don't bother asking, it's a secret), lemon and TABASCO Sauce. Further down the menu you will encounter some garnishes that could frankly sub in for dinner (a bagel, boiled egg, bacon and lettuce for example) but stick with the classic or the Bloody Maria with tequila to experience the best of Bloody Mary's.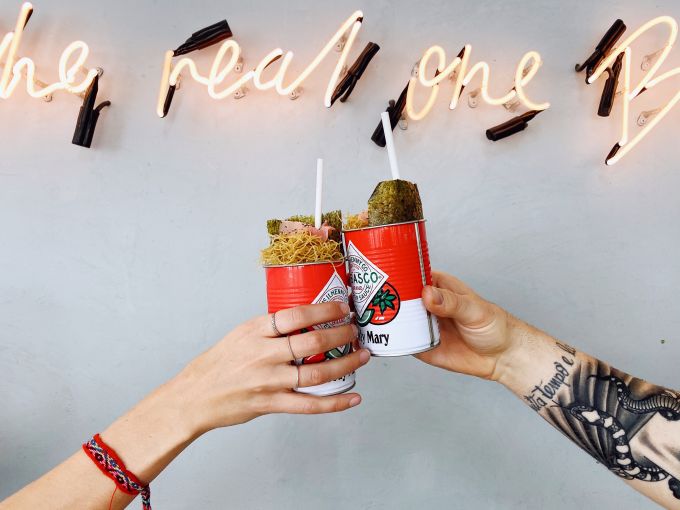 BABY COFFEE CO, there's something a little insta-worthy about Baby, but this Waterloo café has gumption and talent behind its velvet pink chairs. Their Bloody Mary plays with traditional sushi ingredients and is based on a salmon-fat washed vodka with wasabi, ponzu, sesame oil and msg found alongside the tomato juice, lemon, TABASCO Sauce and vinegar.
THE NORFOLK shows a good pub Bloody Mary is worth its weight in vodka, they're the kind of dense and pulpy drink that work best in your local on a Sunday and that's exactly what The Norfolk offer. While no longer served in the tin cans, taking away the gimmicky-element, the spicy and balanced mix hasn't perceptible altered in the last decade and come the weekend this venue's garden is packed with people throwing them down.
Perth
Perth might be more famous for its sundowner drinks than morning cocktails, but in classic Western Australia style, things are done in their own way here regardless of east coast trends. Swing by for a Sunday sesh and you'll be surprised how many cafes, pubs and dive bars are mixing up what they'll fondly call a big red spicy boi.

SAYERS SISTER is a great daytime cafe in Northbridge that serves fresh local produce. After midday things take a boozy twist with a classic Bloody Mary popping up on the menu. It's served with a bottle of TABASCO Sauce and salt and pepper on the side - so you decide just how spicy and seasoned your cocktail will be.
MECHANIC'S INSTITUTE BAR are famous for their Bloody Marys, and there's are Sunday sessions planned entirely around the drink, served in a pickle jar with a wobbling slider and pickle stack for the garnish. Perfect for the gram perhaps, but also a perfectly balanced Bloody Mary which does so much more than look pretty.