Five Whiskies to Try at Melbourne's Boilermaker House
Five Whiskies to Try at Melbourne's Boilermaker House
Words by Jane Ryan, Greg Sanderson & Adam Stewart
Photography by Parker Blain
With close to 1000 whiskies on the back bar, Boilermaker House in Melbourne has become a malt-lovers paradise. There's a dram, or possibly 10, from every Scotch region, rare bottlings, bourbons and American whiskies, Japanese whiskies, Taiwanese and, of course, local Australian whiskies too. If a country makes it, there's a high chance it's on Boilermaker's backbar. We asked the bar's Greg Sanderson and Adam Stewart to pull out five favourites and guide us through this tiny portion of their amazing collection.
Boilermaker House is a very polished bar with some grit and salt to its substance. Based on the famous duo of beer and whisky, enjoyed after a hard day welding by boilermakers, this bar has shelves groaning with bottles and a wall of brew taps that rotate delicious craft beer. Snacks are robust and serve to compliment the beer and whisky serves, think cheeses, meats and fish. But really it's all about the drams, and that's what we're here for.

Greg, who is the managing director for The Speakeasy Group, and Boilermaker's venue manager Adam, were tasked with the impossible choice of selecting five of the 1000 bottles to showcase. A hard enough task with all their knowledge and passion, but how would a novice fair here trying to choose a whisky to try?
"With close to 1000 whiskies it has always been a challenge getting the perfect whisky for a guest in their hands," says Greg. "When you have a printed menu, it is super hard to keep 100% up to date, especially with the number of bottles that we can only get one of. To combat this, we spent over a year designing a one-of-a-kind whisky menu app that allows the guest to filter by region, casks, flavour profiles and even price. Since the implementation of the app we certainly move a wider selection of the back bar as the guest can easily move away from just the brands they know."

With so many rare, and therefore more pricey whiskies, it's gratifying to hear they're being enjoyed and not left dusty on the shelves. Some see whisky as a collectors item, understandably, but it's a shame to see unopened bottles never being enjoyed. "Most nights of the week will see at least one group searching the app, talking to staff and searching the back bar for our rare and more expensive drams," confirms Greg. "These guests range from the young and old, to male and female but on most occasions the rare and expensive whisky is sold to guests that have come to Boilermaker House specifically to dive into our selection and not just guests who have wandered in. The guests indulging in the top shelf also will more often than not be super engaged with the staff, the app, the venue and are excited to be trying some of the best whiskies on the planet."

If you're wondering where all these whiskies come from, Boilermaker House has over 30 whisky suppliers from local Melbourne companies to worldwide distributors. "The initial part of the process is setting the budgets. We have our GP margin that we aim to hit on a weekly basis and do weekly purchases with, but we also put budget aside to go shopping for rare finds, exciting and hard to get new releases and of course those top shelf gems," says Greg. "When whisky is your life you literally can't stop looking at where to get it from."
Oh, and if you're heading down to Boilermaker House to try any of these, or the other 995 whiskies, remember, you can tip in liquid too. "Adam had a Port Ellen 14th Release purchased for him very recently actually. Go Adam!"
Let's dive into the five whiskies.
Port Ellen 14th Release 35yo, Bottle No 1317 One of only 2964, Distilled 1978, natural cask strength, ABV 56.5% (Greg Sanderson Choice)

Port Ellen was a distillery that, when the team opened Boilermaker House, was just that white whale of a whisky they had to have on the back bar from open, Greg says. Since opening they have finished a few bottles and have always sought out an immediate replacement. There's currently two expressions on the bar, and considering it is from one of the most famous mothballed distilleries, this dram is not only super tasty but super rare.
It's aged in a combination of refill American oak and European oak casks and what makes this a remarkable dram for Greg is how fresh and exuberant it is for a 35yo whisky. "Certainly it is still a massively rich and smoky whisky but it has aged amazingly!" He suggests drinking it neat with some pure water added for dilution to unlock even more flavour.
Stay tuned on Port Ellen, the distillery was closed in 1987 by owners Diageo but is announced to re-open for whisky production in 2021. And if you turn up to Boilermaker to find the bottle empty, Greg recommends the Port Ellen 15th Release 32yo next. "Not many venues can offer a selection of Port Ellen's!"
Kavalan Vinho Barrique single malt whisky, natural cask strength, ABV 57.1% (Adam Stewart choice)

Kavalan Vinho Barrique is a fantastic example of what a tropical climate can do for whiskey, explains Adam, it's big, bold and fruity. This whisky brand is named for the land around I-Lan in Taiwan which was once called Kavalan and this particular drop, Vinho, is fully matured in used American oak wine barrels that have been toasted and re-charred in a way that brings out fruity vanilla notes from the whisky and wood overlaid on a delicate background of complex fruitiness.
Adam describes Kavalan Vinho Barrique "like eating a tropical fruit bowl in the middle of monsoon season in Taiwan. Big and bold with warming confectionary tropical fruit notes." He also recommends trying it neat first, saying "it's easy to add water, ice or a mixer but very hard to take it out if you don't like it."
Bladnoch Select Cask, 19yo Boilermaker House Exclusive Release, Bottle No 1 of 275 Distilled 2000, bottled 2019, Moscatel Cask Finish, ABV 48.3% (Greg Sanderson Choice)

This Bladnoch is a cask selection that Boilermaker House did in collaboration with Bladnoch. The team were able to choose from eight different casks, sampled here in Australia. During the selection process a panel of staff did a tasting with multiple different styles of beer to be matched throughout, looking for the best beer matching (Boilermaker) whisky from the batch. From there one lucky team member took the journey to Scotland to do the final tasting and sign off direct from the barrel before bottling. "A whisky hand selected by the team at Boilermaker House for being a fantastic single cask whisky perfect for enjoying as a Boilermaker," describes Greg.
"I just love the complexity of fruits in this whisky! From poached and stewed fruits to stone fruits and even peaches and apples. Just sublime and works on so many levels with a great beer (my choice is an XPA)."
Ledaig 10yo single malt whisky, bottled at ABV 46.3% (Adam Stewart's choice)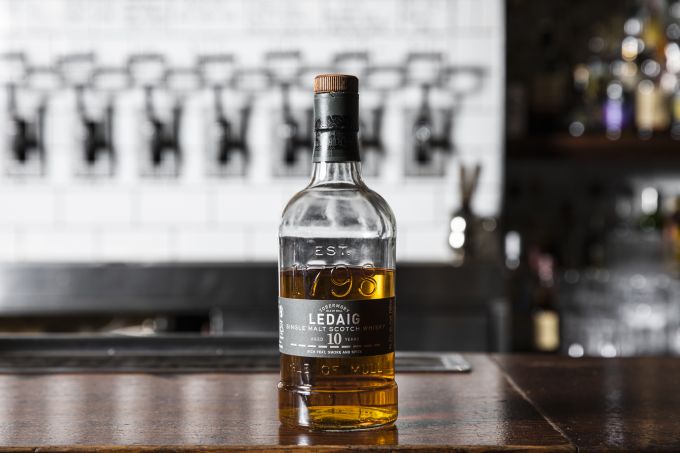 The Ledaig stood out to Adam as a whisky that represented a little bit of everything he's looking for in a Scottish whisky – smoky, sweet and salty. "Ledaig encapsulates Scotland as a whole for me which is why it's a standout. Tastes a little bit salty, smokey, sweet and fruity. Notes that are a bit more difficult to find in your run of the mill whisky."
Made by the usually unpeated Tobermory Distillery on the Isle of Mull, Ledaig goes through the same pot stills as the classic unpeated Tobermory expression, just with peated barley instead, giving it all those notes Adam is such a fan of. That saltiness can also be described as a maritime influence, and while rivaling some of the Islay drams for power, (an alternative Adam suggests is a Talisker DE 2006) this 10yo balances that intensity of youth with rounded, well-aged spirit.
The Gospel Solera Australian Rye whisky, ABV 42.5% (Adam Stewart's choice)

"The Gospel Solera Rye is an awe inspiring first showing from a local distillery here in Melbourne that's dedicated to producing rye whiskey," explains Adam. "It's a stand out for many reasons but, for myself, primarily as it's one of the first solera ryes I have come across in my travels and I think they hit it out of the park! Slightly sweet, spicy, with a bit of toffee apple and hints of red wine."
Following double distillation the whisky is matured in a remarkable two-story tall bespoke solera system composed of new American oak and ex-Australian wine barrels. Technically, it's not old enough to be called whisky, but this shows more character than you'd expect for its age. And all done in the heart of Melbourne.