Spirit Chat: Daniel Motlop of Seven Seasons
Spirit Chat: Daniel Motlop of Seven Seasons
Words by Jane Ryan & Daniel Motlop
Photography by Courtesy of Seven Seasons Spirits
Introducing seasonality into drinks, Seven Seasons is one of Australia's local brands who have harnessed native ingredients to create spirits such as gin and vodka. Its USP? The whole brand is based around the Indigenous perspective of seasonality and flavour.
We caught up with founder Daniel Motlop, also behind Indigenous food suppliers Something Wild, to discuss creating spirits from the plethora of native tastes Australia has to offer.
Daniel hasn't always been in the food and drinks industry though - in fact you may recognise his name from his successful AFL football career, playing for both the North Melbourne and Port Adelaide clubs. Since 2016, he and his father Eddie and brothers Steven and Shannon have been majority owners of Something Wild, which has afforded them strong relationships with Indigenous communities around Australia. Daniel and his family are proud Larrakia people.
How did you discover the produce you were already working with would make great botanicals? Our first collab with AHD gave me an in site to making spirits, we found native ingredients worked and botanicals that were native Australian had so much to offer.
How challenging was it when you first set up Something Wild to ensure your supply chain was authentically Indigenous? Our family have harvested ingredients for a long time throughout the Darwin area and my father used to show me all the local native ingredients in the Darwin and greater Darwin area, the hard part was getting freight in from communities out of Darwin and the seasonality of the ingredients. To make things harder, chefs want their produce a certain way and always fresh. This was very hard to help them understand the whole process of supply.
And now you've done the ground work do you think other Australian businesses could copy your model to ensure produce doesn't just use Indigenous iconography and ingredients but actually employees Indigenous communities? It's hard to set up the relationship side, a lot of our harvesters are throughout the Darwin area and my brother Shannon controls the harvesting side before it is all sent to SWA in Adelaide.
Why was Seven Seasons launched as opposed to keeping everything under the Something Wild name? Seven Seasons was a no brainer when it come to teaching a bit of our culture through the seasons, it's a small part of our culture but it gets people wanting to know more. It is so much more than a spirits company.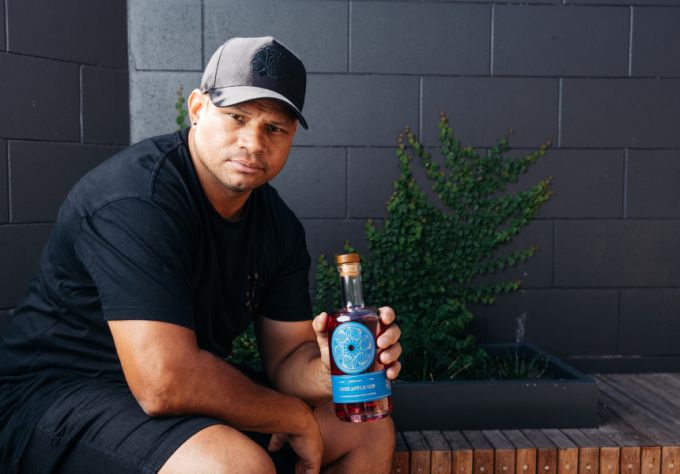 Has the idea of the seven seasons for the Larrakia people been something you've been aware of your whole life or was it something you discovered later on? We grew up with the seasons in our life from hunting and knowing different seasons to find different native ingredients like Magpie Goose, Sting Ray, Turtle & Barra. If you go even deeper it can be seen through colours of flowers as well and certain things popping up in the bush at certain times. Those seasons and times can vary.
Is the Native Yam Vodka the first spirit you'll be taking from raw material to ferment and finally distillation? And how challenging has that been to get right? The supply chain is the hardest bit and coming up with how much of each yams should be added. We had 3 options of yams and decided on 2 particular ones that we knew would be sustainable.
How did the idea of the Bush Apple Gin come about? I wanted to set up a commercial product because there are so many bush apples through the NT. We want to create as many jobs for people as possible so we have to make a product that will sell well and we can buy them every year not just a one off.
Have you personally been able to travel back to the harvesters and see the flow on effects of your business in the communities Certainly, we have had to create more business and set up and community fund to help more people get involved. Our spirits are all based on commercial supply so we need a large amount of ingredients to help create sustainable jobs. In an ideal world we will have everyone working for Seven Seasons one day which would be awesome.
Last year we wrote we wrote an article about traditional Indigenous ferments which revealed lots of people here still don't know there's any history with First Nation people and alcohol – do you feel as an Indigenous business owner producing spirits that there's still a lot of education to do in this space? From my knowledge I believe alcohol was introduced through maccasan trade and rum was brought over along with steal and tabacco, I would love to capture that story in my spirits and teach people though my spirits about our culture and the macassan trade is a big part of that.
Have you got your eye on any more exciting native flavours to work into spirits? Any dream ingredients? I have a few that people have not seen before, we have our Seven Spirits In our back pocket and it is a very exciting time for our company and family.
What's been your favourite cocktail created with either the Green Ant Gin or the Bush Apple Gin? Definitely the bush sour is an amazing cocktail. As for green ant gin, definitely with a tonic and keep in simple.