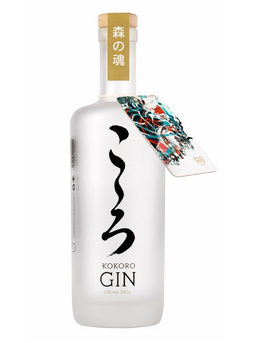 Product of:

United Kingdom
Kokoro Gin is a distilled gin made with Japanese sansho berries and eight more regular gin botanicals: juniper, coriander, angelica, sweet orange, lemon, almond, liquorice and savory.
Kokoro was co-founded by James Nicol and his brother-in-law Barry Darnell, who handily has his own design agency. The inspiration for their gin came after the two visited James' Uncle Nic, who's lived in Japan for some 50 years and has a house in the Japanese Alps where he works with a Woodland Trust to save endangered species in the surrounding forests.

While walking in the forest, Uncle Nic introduced them to the flavour of sansho berries. The fruit, which they describe as having an "earthy black pepper flavour with a piney, citrus finish" is
used extensively in Japanese cuisine.

After returning to the UK, James used 20-litre stove top still to experiment with gin recipes using the sansho berries, and then worked with Thames Distillers to make their gin with berries picked by Uncle Nic and locals in the Afan Woods and shipped frozen to the distillery.

As with other gins made at Thames, Kokoro is a multi-shot gin distilled to produce a concentrate which is blended with neutral spirit before being hydrated to bottling strength.
Review and Tasting
Sampled on 08/06/2017
Appearance:
Crystal clear.
Aroma:
Piney juniper and zesty citrus with coriander, black pepper spice and berry fruit and nutty balsa wood-like angelica.
Taste:
Sweet orange zest, piney juniper and cracked black pepper with coriander and faint liquorice.
Aftertaste:
Piney juniper, zesty orange and mild black pepper spice. Fades with slight metalic-like note.
Overall:
Sweet zesty citrus, piney juniper and black pepper spice characterise this Japanese influenced English gin.
Buy direct from The Whisky Exchange