Daryl Lieuw-on: holding the Champion belt. LOB series.
Daryl Lieuw-on: holding the Champion belt. LOB series.
Photography by Ming Chao, Gino van Meenen, Libbey
Ten Tough ones for


In this series we take some of the legendary people of the Dutch bartending industry and ask them all the same ten tough questions.

This time, the recent Entree best bartender winner Daryl Lieuw-On!
What is the nicest moment behind the bar you can remember?
"Maybe cliché, but I got so many nice moments that I can't pick one. But I can tell (or describe to) you the nicest moment on every evening. It's that moment when all seats are taken, I see the guests at the bar all having fun and enjoying their drinks, the Bartenders next to me all working their assess off slinging drink after drink and entertaining the guests, the waiters and waitresses running around in the restaurant(with a smile) and the kitchen is working like a crazy machine, crafting all these beautiful dishes. That moment is (where I almost get emotional and) what I call my 'Inner Happy moment."
What is the worst?
"I once worked in a bar where it wasn't that busy. That were some of the worst moments. The waiting for guests who won't come, it's awful."
Who are the two Gurus you look up to the most in our industry?
There are so many bartenders and other people in our industry who I look up to, here in the Netherlands but also international!
These two are from the Netherlands. Well.. kinda!
-Barbara van Wegen, my first bar mentor! She taught all the basics of bartending, how to work fast and efficient but most of all, she taught me how valuable and important good service is. Even today, almost ten years later, I talk about the importance of good service in the way that she taught me.
-Andrew Nicholls. What he did for the scene is really amazing. From opening cocktailbars to giving all kinds of masterclasses. He is always such an inspiration for me. Even talking with the man, in a crowded bar, at 2 am makes me a better bartender haha."
Which book on bartending is a must-read?
"Harry Johnson's Bartender Manuel."
What is the cocktail you have created you are most proud of and why?
"I think that would be the Koomahnah, the drink I created for the final of Entree's Best Bartender Competition 2017. The Koomahnah is now on the newest menu of NY basement, this menu is completely inspired by old jazz musicians and the songs of them. With the Koomahnah I tried to explain the song of the Andrew Sisters, Rum & Coca Cola. (Without the Coca Coca)"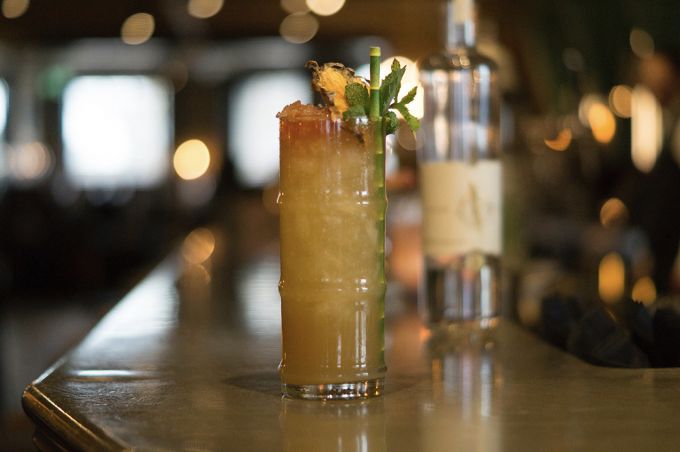 Koomahnah
- 45ml William George rum
- 15ml Bitter truth pimento dram
- 45ml Pineapple juice
- 20ml Fresh lime juice
- 30mlFresh grapefruit juice
- 20ml Cane sugar syrup
- 3 dashes Angostura bitters (on top)
Swizzle!
Garnish with mint sprig and dried pineapple
What is the biggest challenge facing our industry in the Netherlands today?
Also in our industry we can notice that the economic slump is over. It's getting busier in the bars and more and more cocktailbars are opening. So that's really nice! But that's maybe also where the challenge is; sometimes, in a new bar, they don't have the right people for making a menu (everybody's got a job!) so they ask somebody to make a cocktailmenu for them.
"But it's has to be a easy one, because everyone has to be able to make it". In that way the level of our entire industry stays the same. But if every bar had high quality menu's (tailored on their guests of course), then every bar really have to step up the game to stay on top! I think it's more important to invest in your team, rather than in menus. Or off course in both ;)
A second challenge is one that has been there ever since I can remember.
We all know that there'll always be guests that just can't take our craft seriously, and asking us "Hey, what's your real job?" But that's oke, because they will still be our guests and drinking our drinks. It's more of a problem that some of the bartenders themselves say that this isn't a real job. In that case this job isn't a job for them. If you can't stand the heat.."
What is your guilty pleasure drink?
"Sneeuwwitje, equal parts beer and lemonade. Or a hot chocolate with baileys on cold days."
If you could teach new bartenders one thing, what would it be?
" That everything you do in the bar, you should do it for the guests."
What do i have to do as a bartender to piss you off when visiting a bar?
"Being arrogant towards me or other guests! For sure reason why I would never visit that bartender or bar again."
If you want to be remembered by any quote, what would it be?
"Better live a short life full of things you like to do than a long life spend in a miserable way!"