10 tough questions for Remco Babay
10 tough questions for Remco Babay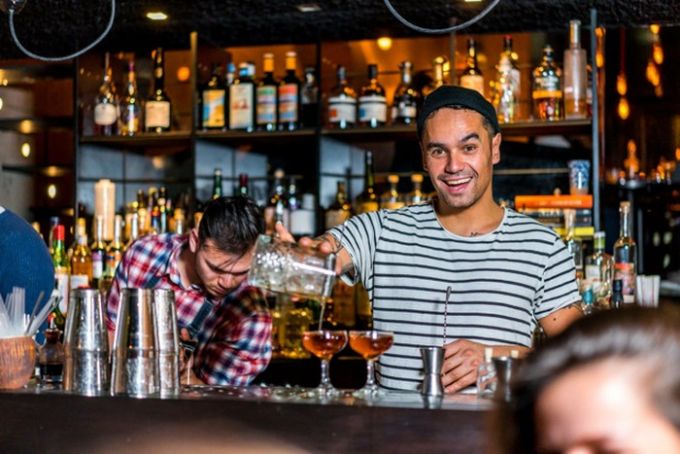 Ten Tough ones for.....


In this Legend Of the Bar series we look into some of the great names in Dutch bartending and ask them ten of the toughest questions.

This time, with his new bar Branie opening soon, we talk to true Amsterdam kid, Remo Babay.
What is the nicest moment behind the bar you can remember?
"If you can still remember the moments, you didn't drink enough. All jokes aside, serving Eric Cantona a drink was pretty sick moment. "
What is the worst?
"Not one night in particular. Just all the nights in general where you need to clean up the toilets because a grown ass man could't hold up his liquor. That makes your masculinity go down, not a glass with a stem or a pink drink."
Who are the two Guru's you look up the most in our industry?
From all the people I've met Henry Besant made the biggest impression on me. I was a young kid and he always came by the bar I was working at whenever he was in the Dam. What a great guy, great heart.
More locally would be Andrew Nicholls. He looked after me when I was a young bartender. Steered me into the right way and I owe a lot to him. "
Which book on bartending is a must-read?
"Joy of Mixology hands down."
What is the cocktail you have created you are most proud of and why?
"That's like asking who is your favorite child? But I'm going with the Fernet Colada:
25 ml Fernet
25 ml Batavia Arrack
50 ml fresh pineapple juice
15 ml lime
20 ml coconut-pandan cream
Put all ingredients…you know how this goes."
(edit, we are going out on a limb here, but we assume this refers to:
Put all ingredients in a blender
Fill with crushed ice just enough so the ice is submerged
Flash blend
Pour in what we presume a tiki-style glass.)
What is the biggest challenge facing our industry in the Netherlands?
"THY NEIGHBOR. In every bar I've worked there are issues with complaining neighbors. And they can make your life hell. Whether they're in the right or not. And they're being backed by the City of Amsterdam more and more. Resulting in fines, permits being revoked.
If you as a bar or restaurant owner are fucking things up you should be penalized in some sort of way, but if you're moving into a crowded street with loads of restaurants and bars and start complain about noise; you should get spanked."
What is your guilty pleasure drink?
"Espresso Martini and Pina Colada. When people say they don't like a Pina Colada, they're LYING!"
If you could teach new bartenders one thing, what would it be?
"Be PATIENT and HUMBLE. You don't develop a palet and social skills overnight. And you can't really teach social skills by the way, you can only fine tune them."
What do I have to do as a bartender to piss you off when visiting a bar?
"Play music from Jack Johnson. You can make me a pretty bad cocktail and I'll pay for it but Jack Johnson is where I draw the line."
If you want to be remembered by any quote, what would it be?
"Ik ben zo lekker gewoon gebleven."