Ten tough questions for Andrei Talapanescu
Ten tough questions for Andrei Talapanescu
Words by Andrei Talapanescu/Ingmar Voerman
Photography by Ming Chao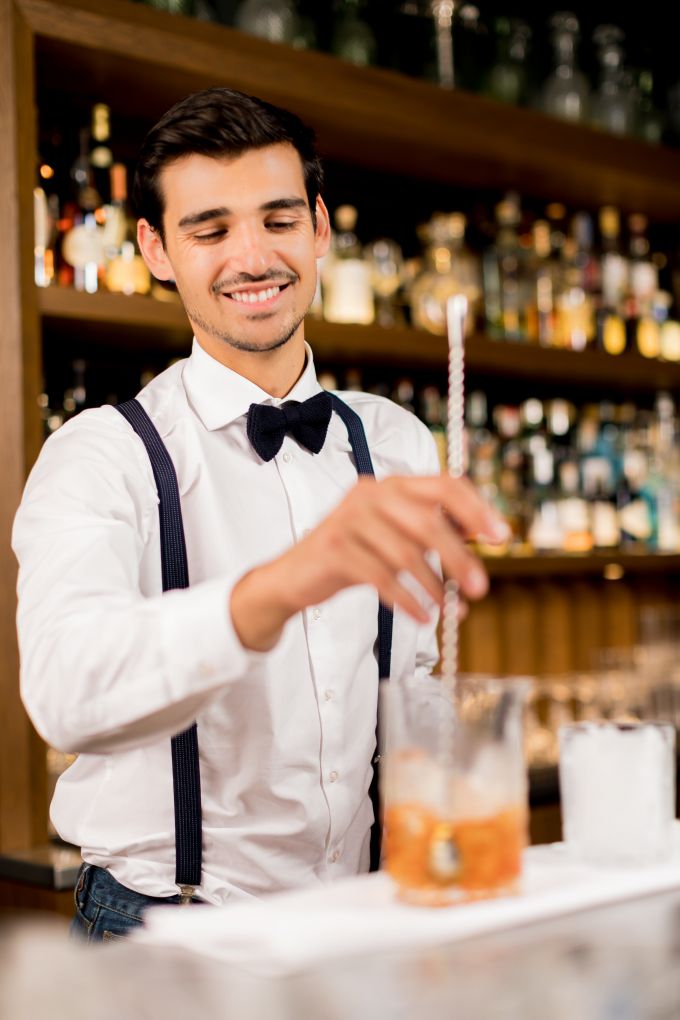 For this edition of ten tough questions we're asking them to extraordinary host and bartender Andrei Talapanescu, head bartender at Pulitzer's Bar in Amsterdam
The Facts:
Name: Andrei Talapanescu
Date of birth: April 18,1989
Born&Raised: Romania
Living in: Amsterdam
Profession: Head bartender @ Pulitzer's Bar, Amsterdam
The Questions:
What is the nicest moment behind the bar you can remember?
"Oh man. there were loads of these. Let's take a semi-recent one, : threeladies in their late 50's came into Pulitzer, sat down a table next to the bar and ordered the following : Tequila Sunrise, Amaretto with Cream, and Fuzzy Navel.
Honestly, I had to google the Fuzzy Navel before making it, it turns out it's just Peach Schnapps and Orange Juice. So, I made the drinks, served them and go on with my work.
After they finished their drinks, they all came over to the bar and said "young man, we haven't had these drinks since we were 20... you made us feel 30 years younger and we thank you for that"
I could not believe that what we might perceive as "silly drinks" can have such a powerful emotional connection for somebody."
What is the worst?
"I tend to forget those, you know... fights to break up, insults, 'what's your real job?; type of questions, and so on.
One time in a club, this guy leans over the bar trying to grab a bottle of vodka, I manage to stop him, but then he threw his drink at me.
My brain did not comprehend this course of actions. Do I make you a new drink? ... do I kick you out? ... do I sell you that bottle of vodka you just tried to steal? "
Who are the guru's you look up to the most in our industry?
"Big list here. Ryan Chetiyawardana at the moment is the guy I look up to the most. I've been following his work before he got involved with Pulitzer.Besides him on the international scene, I follow and look up to Dave Arnold, Jim Meehan and Tristian Stephenson
Locally:
Andrew Nicholls for being an adorable geek.
Remco Babay for shining rays of reality on all the geekiness around.
Rob van Looy for being tough enough on me at House of Bols, and not letting me go when I was too shy to engage in conversations, also for showing all the young bloods that old school still rocks.
Misja Vorstermans, even though we didn't have that much contact I know he's a Silent Ninja Guru.
Dennis Tamse for delivering that wake-up call slap when you need it.
And Ingmar, the supreme judge, for making it harder and harder for us to impress him with a cocktail."
Which book on bartending is a must-read?
"Depends what you want to learn. Because I don't think there's such thing as "one book to rule them all".
For starters:
Jeffrey Morgenthaler – The Bar Book
Garry Regan - The Joy of Mixology
Sasha Petraske - Regarding Cocktails
Jim Meehan - Bar Manual
All different styles and information, but it will give you enough data to consolidate your own views and ideas.
Liquid intelligence if you want to dive deeper into the science behind every drink.
Death & Co is super fun, makes you feel as part of their team .
Recently I was very impressed with Matt Whiley's book - The Modern Cocktail
And Max & Noel Venning - Batched and Bottled
Yeah, I'm a geek..."
What is the cocktail you have created you are most proud of and why?
Valley of Ashes, the entry for world class this year.
It's interesting, innovative, versatile, and accessible.
40ml Bulleit Rye
30ml Lemon & Lime Sherbet
25ml Long Pepper Falernum
2,5ml Pimento Dram
3 dashes Aphrodite, Edible Ashes.
But in fact, there was this Boulevardier High-Ball I made for Ben Warren one night in Feijoa, and I still remember the surprise on his face when he said "this is probably the best drink you ever made me"
What is the biggest challenge facing our industry in the Netherlands today?
"I might sound evasive here, but I've been trained to see solutions and not problems.
There are challenges in every industry, and sooner or later we overcome them. I've answered this question multiple times, and every time I found a new challenge.
We live and work in a market that has to offer so much, from the availability of products and brands, a strong local community, creative minds behind great bars, the right equipment, access to information, and so on. So, let's stop complaining about the things we don't have and start focusing on what we have and how we can utilize it to the max.
Having a Rotary evaporator in every bar doesn't make you more competitive at a international level."
What is your guilty pleasure drink?
"Long Island Ice Tea
First drink I ever made."
If you could teach new bartenders one thing, what would it be?
"Stay curious because curiosity is the most valuable thing you can own."

What do I have to do as a bartender to piss you off when visiting a bar?
"When I visit a bar, I think there's no chance I get pissed off at the bartender. Maybe only if that bartender is Rick Marson, he has a talking disorder......Just kidding he's a lovely chap and I enjoy our chats.
When a bartender visits my bar then it's a different story, the moment you start showing off then we're not friends anymore. If I have 30 other people to serve and you keep rambling about your new fat-wash technique, then go work in a lab. If I got time we can geek out as much as you want. But don't show off, I respect a lot of people and I'm a humble guy myself, therefore I'm allergic to arrogance."
If you would like to be remembered by a quote, which one would it be?
"There's this one thing that I say all the time apparently, my colleagues say, "Just do it, and see what happens!"
I think you can apply that to most of things in life, it will make it a bit reckless but fun."