The 7 ways POS software helps you succeed
The 7 ways POS software helps you succeed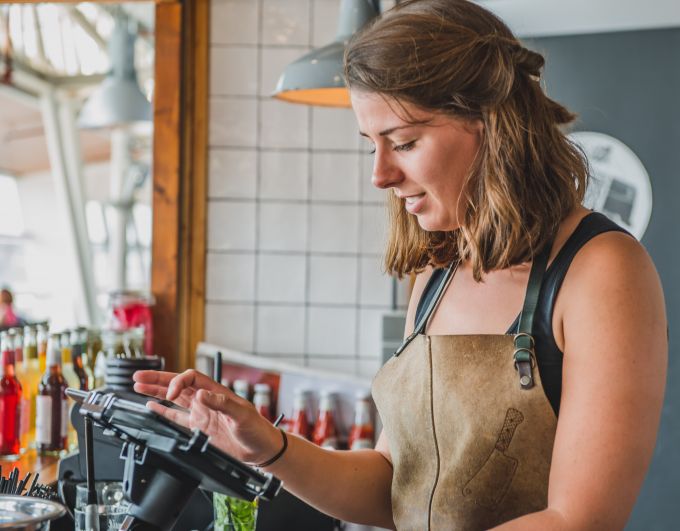 So you've got mad bar skills, an amazing location lined up, a great team ready and a killer launch party planned.
Now all that's left is to choose the right software to tie it all together!
Crucial stuff, since the right POS system, back office program and scheduling software can make or break any business.

The hospitality experts at Eijsink shared with us these seven ways to use the right software to your advantage!
1. Easy-to-use POS: a real time saver
"Pick a POS system that's easy to learn. You want your team to be able to work with it within an hour or so. But this does not mean compromising on functionality or specs!
The best POS systems provide everything you might possibly need in one user friendly package. Anywhere, anytime, so you'll always be able to access your business data when needed.
With Eijsink software, orders can be entered with just a few taps, new items can be added to the menu in minutes and even moving tables or splitting checks is a piece of cake. We also design them to be all-in-one solutions. In fact, booq is much more than 'just' the smartest tablet POS on the market. And speaking of tablets…"
2. Handhelds: flexibility on the go
"When your staff gets swamped during peak hours, having access to a free POS station can save them loads of time and keep your customers extra happy.
So why not go for extra flexibility: handhelds!
Say goodbye to chaotic stacks of handwritten orders, missing items or hard to read scribbles: handhelds speed up the ordering process and all but eliminate mistakes. Whether you'd prefer a POS tablet , a smartphone or a even more industry proof variety, Eijsink has got you covered.
Visit any of our showrooms in The Netherlands to try them out yourself."
3. Bar/kitchen screens: shout-out to silence
"A great bar AND great food? When the place is packed your kitchen printer starts humming, orders are shouted from station to station, there's stirring and boiling and sizzling…
All that hubbub can make it hard to focus. Enter the booq Bar/Kitchen Manager! Orders entered through your POS station or handheld become digital tickets that appear on strategically placed touchscreens in your kitchen and/or bar.
Staff can easily start or complete them with a single tap. Items on tickets are arranged to best fit your bar and tickets in the same section get their own colour so they can be easily bundled.
No more shouting. Work is done more quickly, orders retain their high quality, and your business generates a greater return!"
4. Cashless payments: check please!
"Are your customers ready to pay? Promote cashless over stacks of bills: it's faster, safer and saves you a lot of hassle.
Choosing a wireless terminal will also help avoid queues and waiting time, since your customers can pay where it is most convenient for them. At the bar, at the table, on the terrace, etc.
And if you choose a terminal that supports contactless payments, your customers will have even less of a wait. Increasing their satisfaction!"
5. E-commerce: offline service meets online flexibility
"Speaking of customer satisfaction: don't forget your target audience spends a lot of their time online. Depending on your business, a food delivery website might offer exciting new possibilities… as would a DIY ordering station in your bar, café or restaurant!
If the counter is super busy, your guest can just walk up to this DIY ordering station and order their drinks or food themselves. With some help from the booq Bar/Kitchen Manager, your bar and kitchen staff can see these orders coming in on their screens and mark them as finished with a single tap.
Your customers will see when their food or drinks are ready on the pick up screen and walk up to get their order. Easy!"
6. Staff scheduling: the I in team
"There is no I in team, except when you're the one responsible for staff scheduling. Making sure you're always picking the right people for your budget and your current goals might take you hours every week. But what if we told you there is a really easy way to speed up that process?
Check out the booq Personeelsplanner : this software tool helps deploy your staff more efficiently. You'll be able to see in real time how your staff costs and coverage are related to your turnover.
Adjusting schedules using weather trends and budgets is super easy. You can even send staff their roster through the app, which they can also use to swap shifts and request leave. Game changer!"
7. 24/7 service: who ya gonna call?
"Murphy was spot on: inevitably, something will go wrong. And if that something is related to your software, you'll want that fixed yesterday.
So take this advice to heart: pick a supplier with 24/7 support, an on call repair team and a fully fitted in-house help desk. If Murphy's law strikes, you won't have to worry – a swift solution will be just a phone call away.
At Eijsink, we pride ourselves on our service, resulting in over 35 years of happy customers. And we'd be honored to help you achieve your goals. With pleasure!"