The Orbium Files - The Five Points
The Orbium Files - The Five Points
Words by Ingmar Voerman & Tess Posthumus
Photography by Ming Chao
The Orbium Files: a series of eleven cocktails, especially created, developed and tailored by the best cocktail bars throughout The Netherlands.
Orbium, a reimagining of Hendrick's Gin by Master Distiller Lesley Gracie is a limited quininated gin, based on the iconic Hendrick's recipe of distillates from both the Carter Head- and Bennett-still with infusions of rose and cucumber. Orbium is then enriched with flavours that are traditionally associated with classic gin libations; quinine found in tonic (Gin & Tonic) and wormwood found in vermouth (Martini cocktail). The mysterious blue lotus flower adds an aromatic, floral sweetness and harmonizes all flavours of the gin.
Orbium is what Hendrick's would taste like in a parallel universe. The eleven carefully selected cocktail bars are the only venues in Holland where Orbium will be poured and can be experienced, till the limited supply of 1000 bottles has dried out. For the fourth cocktail in this series we're travelling to The Hague; to The Five Points Bar & Drink Society.
The Five Points Bar & Drink Society
This classic cocktail bar has opened early 2018 and has single-handedly proven there is a market for craft cocktails in The Hague. Owner and renowned bartender Michael Ziengs combines the feel of a stylish classic NYC-cocktail bar with a relaxed, homey London pub vibe. Together with his vigorously shaking right hand Rob Manson, Michael has set a remarkably high standard for hospitality and cocktails in the political capital.
Cocktail Inspiration
Ziengs: "The Rose Garden of Trust is an elegant and refined twist on a classic Martini. The aromatized wine Quinquina enriches Orbium's pleasant bitters; Italicus creates a nice balance with light fruit notes within the cocktail. Absinthe strengthens the herbal notes and gives the cocktail a firm bite. We serve the cocktail over a large block of ice, to keep the drink cooled down to the right temperature."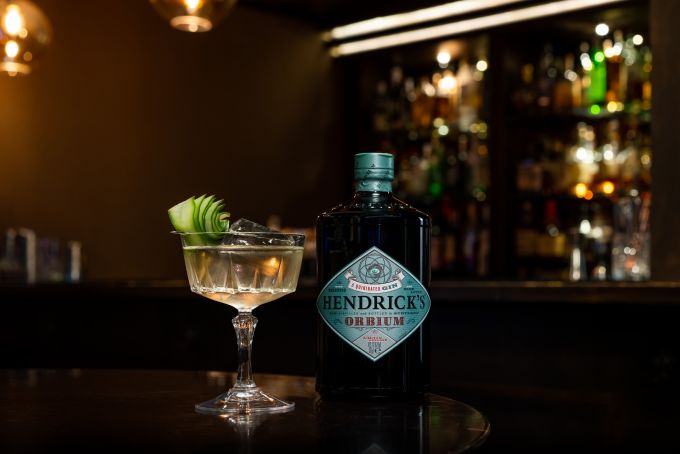 The Rose Garden of Trust by Michael Ziengs
Ingredients:
40 ml Hendrick's Orbium
20 ml Tempus Fugit Quinquina
20 ml Italicus Rosolio di Bergamotto
5 drops of Winerose-Lavender Bitters
Absinthe wash
Glass: coupe
Garnish: cucumber on a stick
Method: Stir the ingredients in a mixing glass filled with ice. Wash the coupe glass with absinthe. Discard the crushed ice in the glass. Fill the glass with a big block of clear ice, strain and pour the cocktail in the glass.