The Orbium Files - Pulitzer's Bar
The Orbium Files - Pulitzer's Bar
Words by Ingmar Voerman & Tess Posthumus
Photography by Ming Chao
The Orbium Files: a series of eleven cocktails, especially created, developed and tailored by the best cocktail bars throughout The Netherlands.
Orbium, a reimagining of Hendrick's Gin by Master Distiller Lesley Gracie is a limited quininated gin, based on the iconic Hendrick's recipe of distillates from both the Carter Head- and Bennett-still with infusions of rose and cucumber. Orbium is then enriched with flavours that are traditionally associated with classic gin libations; quinine found in tonic (Gin & Tonic) and wormwood found in vermouth (Martini cocktail). The mysterious blue lotus flower adds an aromatic, floral sweetness and harmonizes all flavours of the gin.
Orbium is what Hendrick's would taste like in a parallel universe. The eleven carefully selected cocktail bars are the only venues in Holland where Orbium will be poured and can be experienced, till the limited supply of 1000 bottles has dried out. We're heading back to the Dutch capital for the ninth Orbium cocktail, drinking in style at Pulitzer's Bar.
Pulitzer's Bar
Pulitzer's Bar is the iconic hotel cocktail bar housed on Amsterdam's canals. The atmosphere and décor are stylish, classic and warm – and so are the service and hospitality. It's everything you expect in a good hotel bar, and more. Head bartender Andrei Talapanescu and his 'all-star' bar team are serving excellent cocktails; based on classic recipes but always with an surprising twist, innovative techniques and original ingredients. Pulitzer's Bar is surely pushing the boundaries of cocktails in The Netherlands.
Cocktail Inspiration
Talapanescu: "This drink is a twist on a Collins, served pre-batched and carbonated. The blue butterfly pea ice cube changes the colour of the drink as it melts. It's a long and refreshing drink, meant to keep Orbium the true star of the show. I did not focus specifically on any of the new botanicals in Orbium, I just built the drink around them to complement and let them shine through."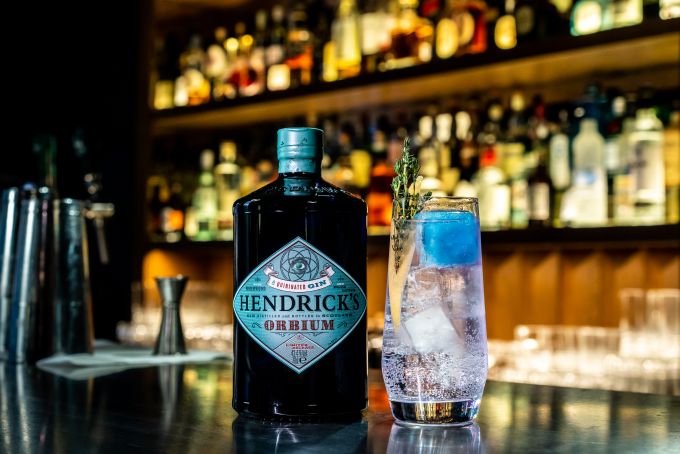 Cubix by Andrei Talapanescu
Ingredients:
40 ml Hendrick's Orbium
20 ml clarified lemon juice
10 ml thyme syrup
one blue butterfly pea tea-ice cube
Soda water
Glass: highball
Garnish: lemon peel and a thyme sprig.
Method: Build the drink by pouring all ingredients in a highball glass over the special ice cube. Top off with soda water.