Celebrating a legend: 100 years of Negroni
Celebrating a legend: 100 years of Negroni
Words by Timo Janse
Photography by Tony Perez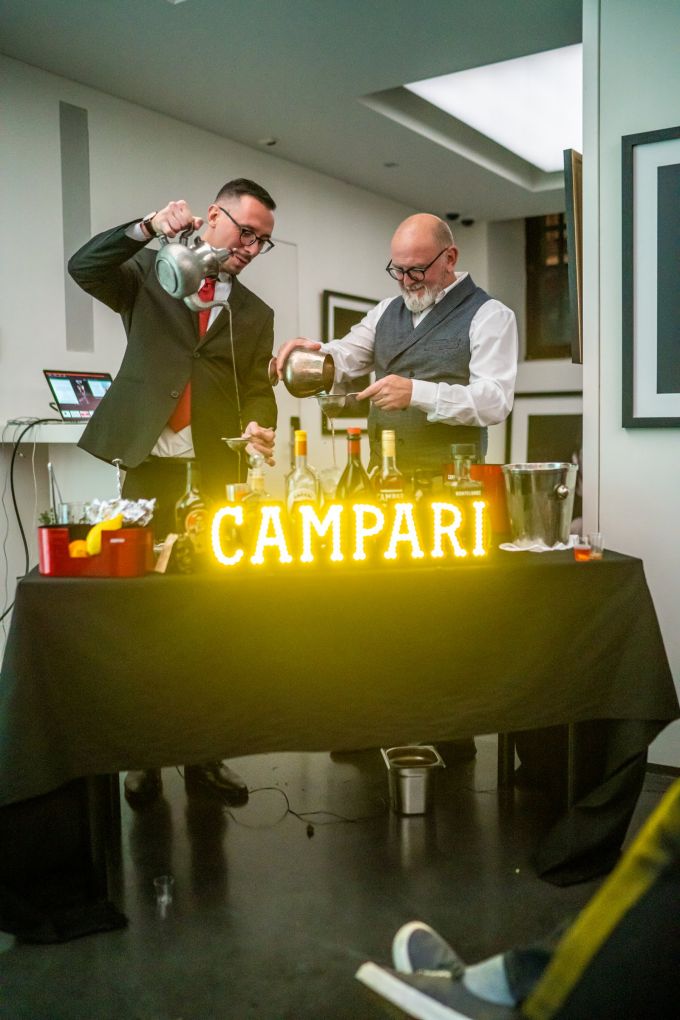 On the 11th of November, one hundred of the country's foremost bartenders, bar owners and press gathered in celebration of a legend. One hundred years ago the Negroni was created and this accomplishment needed to be celebrated! A Negroni was crowned, history was shared and drinks were enjoyed; read on for all the details of a special night indeed...
No Negroni without Campari
Over the past few months some of the brightest bartenders were challenged to create a twist on a Negroni. Many registered online in a competition that was based on transparency in the way the scoring worked and the scoring system.
10 were selected based on these recipes and another round followed in which each of these was visited by a jury during opening hours. This made it extra hard, as the competitors were not only serving the jury, but their regular guests as well! But this gave the judges a great insight in the competitors' skill and helped in creating a realistic environment.
Down to brass tacks
This ended in the four finalists that made their way on stage that night.
But there was more. Visitors were treated to a seminar by none other than Luca Picchi. He is THE authority on the Negroni cocktail and wrote a book on it as well. Plus he tends bar in a bar in Florence that is a stone throw away from where this drink was created. During a very entertaining hour and a half the complete history of the Negroni and its creator, Count Camillo Negroni, were discussed, as well as tasty variations from the hand of the maestro as well.
Ciro of A Brand New Day making a tasty Negroni twist with master Luca Picchi
Truly enlightening!
The show goes on
After this it was on to the competition. 10% of the scoring was in hands of the crowd. Each person was given a voting sheet and received tasters of all the finalist's drinks. This created heated conversations as people were discussing who were their favorite ones. The competition field was tough. The judging panel, consisting of Luca Picchi himself, Fjalar Goud from ISAAC and Ingmar Voerman had a difficult task deciding who would win the ultimate prize: a trip to the birthplace of the Negroni.
The whole event was hosted by the always funny, yet knowledgeable Andrew Nicholls.
Yours truly was the first one to compete representing Flying Dutchmen Cocktails, after which Tim Lefèvre of Door 74 took place behind the bar on stage. Third was Riccardo Guerrini of Vesper and last was Luca Celardo representing Restaurant C.
Tim finishing his drink
Each had 10 minutes on stage, and all 4 had extensive competition experience. This meant virtually no mistakes were made, and all presentations were on point.
The King of Cocktails
In the end it was Riccardo Guerrini that was crowned the winner. His "Futurismo" was not just a drink, it included a whole movement. It was accompanied by specialty glass wear made for this purpose, a menu, a visual presentation and food pairing. Truly a masterpiece!
The drink was surprisingly easy going, but still very much a Negroni at heart and with a spicy finish. Both challenging conventions, yet honoring them beautifully. Just like the movement it is named after.
Curious about the winning recipe? Here you go!
Futurismo
40 ml Campari
30 ml Antica Formula
30 ml Villa Ascenti gin
20 ml of Strawberry, basil and Balsamico IGP shrub
2 dashes of Scorpion bitters
And garnished with a spray of basil water
Stir & Serve over ice cubes
Fairytale ending
As the night came to a close there were still many Negronis to be enjoyed, dance moves to be done and friends to be made. This went on until deep into the night at the cozy gallery of 5 & 33. On to another 100 years of this wonderful drink!