David Trampe: the man that bleeds agave. LOB series.
David Trampe: the man that bleeds agave. LOB series.
Words by Timo Janse
Photography by Ming Chao & Tony Peres
Ten tough ones for....


In this Legends of the Bar series we will look into some of the great names in Dutch bartending and ask them ten of the toughest questions.

Next up: the man that bleeds Mezcal, David Trampe.
What is the nicest moment behind the bar you can remember?
"The moment that i have returning guest at my bar. The first date they ever had was at my bar. A date that went well and had little benefit of me making a few jokes. Then
2,5 years later. Same bar, same guest, celebrating them having their first born. To bad they didn't name the girl David "

What is the worst?
"People that can't control themselves. Threw up in the toilet and "played death" when sitting again on the bar. He's lost since...."
Who are the two Guru's you look up to the most in our industry?
"Danil Nevsky : The power, drive, love, passion, intellect drips from this guys. The shape, curves, and weight makes him loveable. One of my "new" good friends i got to know in this industry. Tim Beukering : Not known in our inner circle of bartenders. But one Guru to me that made me into the bartender i am right now. Best learned thing ; Always stay who your really are!"
Which book on bartending is a must-read?
"The book that tells you that you don't learn this profession from a book"
What is the cocktail you have created you are most proud of and why?
"The Mad Miky Razorblade Drink made for entree"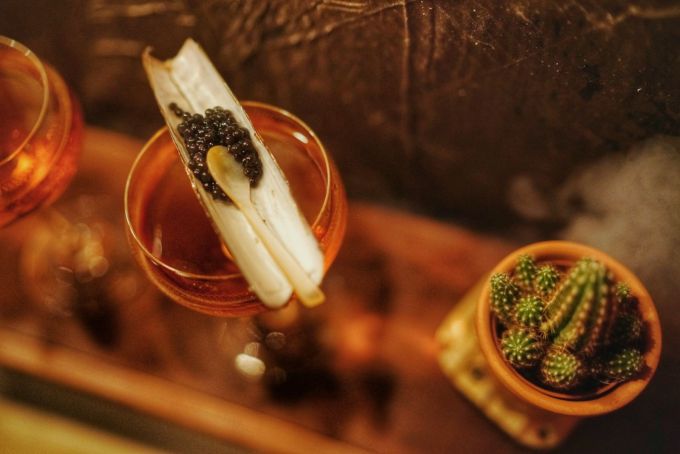 What is the biggest challenge facing our industry in the Netherlands today?
"To make it more professional i a way that doesn't make it further out of reach to the biggest part of the country. Make all bartenders professional instead of clowns behind a bar looking for sex and making them feel good bout themselves without being albe to do a simple perfect mix drink."
What is your guilty pleasure drink?
"Wodka soda, When going to a place described above. If you fuck this drink up, die!"
If you could teach new bartenders one thing, what would it be?
"Do this profession as a pro and be you behind the bar. Enough fake people behind bars already."
What do i have to do as a bartender to piss you off when visiting a bar?
"Turn around and lean with you back on the bar."
If you want to be remembered by any quote, what would it be?
"Mezcal for you, Mezcal for me, Mezcal for everybody!"