Glassology by Libbey cocktails
Glassology by Libbey cocktails
Words by Simon Difford
Photography by Cocktail photography supplied by each bartender. (Image above of the winning cocktail by Kola Adejumo)
Libbey glassware's "Glassology" Facebook group has grown into a vibrant community sharing online cocktail experiences, inspiring bartenders and putting them in contact with other specialists. To stimulate this community, Libbey created themed cocktail challenges around some of their glass designs.
In each challenge, 50 glasses are raffled among community members. After that, it's up to those bartenders to create a cocktail and share it with the rest of the community, uploading their recipe along with a photograph or video. The first such challenge was themed around a vintage coupe and was judged by Timo Janse of Amsterdam's Door 74 while the second, judged by Tiki Master Daniele Dalla Pola, took the form of a Halloween Tiki challenge. We were keen to be involved and I'm honoured to have judged the most recent Libbey Glassology Challenge inspired by TV Series and Movies.
Bartenders were given a choice of four very different designs of Libbey glasses: Perception coupe, Libbey Lab, Stark and the new Shorty glass. I received 43 cocktails from bartenders all over the world which I've made and assessed according to Libbey's competition criteria which obviously includes taste and presentation but also considers video and photography accompanying the cocktail entered. The top 20 appear below with Libbey's Brand Ambassador and driving force behind these challenges, Kevin Vollebregt, promising some special prizes for 1st, 2nd and 3rd places.
As with all cocktail competitions I judge, I learnt much from the ingredients, methods and flavour combinations used by competitors. Many thanks to all 43 entrants for giving me the opportunity. In the case of this competition I also discovered four new glasses:
Libbey Stark - 410ml/13.86oz Collins style glass reminiscent of a miniature vase
Libbey Shorty - 150ml/5oz rocks glass with a diamond-shaped punt - it's weight making perfect using from the freezer to keep drinks served straight-up cold
Libbey Perception - 251ml/8.5oz coupe
Libbey Lab - 250ml/8.25oz conical flask glass reminiscent of those used in laboratories
THE WINNING COCKTAILS
1st. Anterograde Amnesia
By: Kola Adejumo
From: Eindhoven, Netherlands
Inspired by: Memento (Movie)
Story: "A man juggles searching for his wife's murderer and keeping his short-term memory loss from being an obstacle. I woke up in a bar and found a package at the doorstep, I took the package inside and opened it. Inside the package there was a note from Libbey and a short rocks glass, wow did I really sign up for this? I also found a couple of polaroid's, one of them was a picture with of me (Kola Adejumo) standing behind a bar and a writing underneath it #deminibar . Do I really work in this bar? I also noticed writing on my arm with some kind of recipe and thought what the hell! I didn't understand what it all meant so I pinned all the Polaroid's on the wall, and connected everything to try to understand what I needed to do to make the drink."
Ingredients:
30 ml Johnny Walker Gold Reserve
20 ml Ardbeg single malt scotch whiskey
10 ml Noilly Prat Original Dry
10 ml Cherry Heering
2 dashes Angostura aromatic bitters
2 dashes Cherry bitters
Method: 1/ Freeze the "short rocks" glass. 2/ Stir all the ingredients in a mixing glass. 3/ Strain into frozen glass (no ice is needed because the bottom of the glass is thick enough to keep the drink cold). 4/ Finish the cocktail with a spray of oil from the grapefruit zest and use as a garnish.
Difford's comment: Pleasingly boozy and reminiscent of a bone dry lightly smoked Rob Roy.
Difford's Guide rating: 4.5/5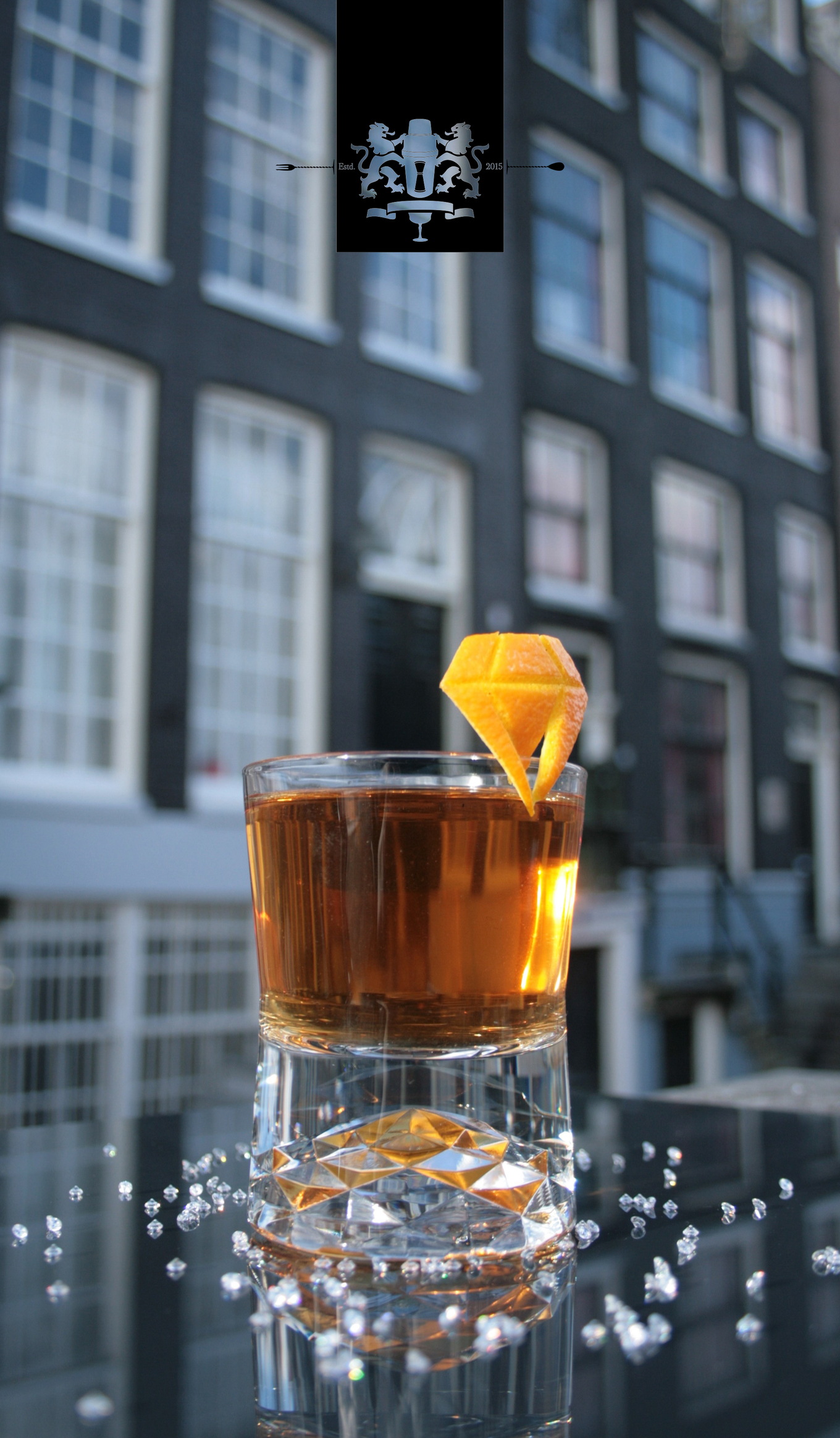 2nd. T is for Tiffany
By: Mark Jędrzejewski
From: Amsterdam, Netherlands
Inspired by: James Bond Diamonds are forever (movie)
Story: "A Bond girl inspired cocktail, this one from Diamonds Are Forever. In this edition Bond (Sean Connery) falls in love with Tiffany Case, a diamond smuggler, part of a smuggling ring from Sierra Leone.
"Based on the scene where Bond meets Tiffany in an Amsterdam house. As Bond enters the room Tiffany disappears to the bedroom to put some clothes on. James asked if there is a Mr Case and Tiffany replies "The T is for Tiffany". Bond pours himself a scotch from the drinks trolley. As Tiffany appears again from the bedroom now "dressed" but James noticed she is now brunette and was blonde before. However, Bond only cares if the cuffs match the collar.
"Combining Dutch jenever for the location, Scottish whisky for the Scottish Bond and South African redbush tea for Tiffany, sums up this scene and even has a bitter aftertaste as James falls for the tricks of Miss Case. So what is her true hair colour?"
Ingredients:
60ml Oude Jenever (Rutte Old Simon)
20ml Islay Single Malt Whisky (Coal Ila 12)
10ml Rooibos tea liqueur (Cartron T Rooibos)
1 dash Black Walnut Bitters (Fee Brothers)
1 dash Orange Bitters (Angostura)
Method: Stir all ingredients with ice and strain into a chilled Libbey Shorty Rocks Glass, finish with the spray of an orange zest (watch Diamonds Are Forever) and Enjoy!
Garnish: Orange Diamond Zest
Difford's comment: Lots of ingredients I love combined in a diamond of a drink. I didn't have Rooibos Tea Liqueur to hand so made my own syrup with strong brewed rooibos tea and sugar syrup - it may have lacked booze but worked well in this drink. I look forward to revisiting with rooibos tea liqueur.
Difford's Guide rating: 4.5/5
3rd. El Hanky Panky
By: Yoeri de Schepper
From: Knokke-Heist, Belgium
Inspired by: The Chef's Table especially by chef Olvera (TV-Series)
Story: "Wasn't the challenge to create something new? Yes! But I got inspired by The Chef's Table especially by chef Olvera, where he created classic Mexican dishes in a new way. For this I took the classic Hanky Panky and made it the Mexican way."
Ingredients:
30 ml Tequila Reposado (Patron)
15 ml Mezcal (Del Maguay Vida)
30 ml Red Vermouth (Carpano Antica)
10 ml Amaro (Montenegro)
5 ml Maraschino Liqueur (Luxardo)
2 ml Fernet Branca
Method: Stir all ingredients with ice and strain chilled coupe.
Garnish: Orange zest twist (discarded)
Difford's comment: I think I prefer this riff on a classic Hanky Panky to the original. Tequila and mezcal work brilliantly with the vermouth and amaro. If a Cosmopolitan with tequila is a "Rude Cosmo" then surely this should be named Rude Hanky Panky.
Difford's Guide rating: 5/5
4. Don Eladio's Last Drink!
By: Gregory de Ridder
From: Aalst, Belgium
Inspired by: Breaking Bad (TV-series)
Story: "My drink is inspired on the scene from Breaking Bad where Mr White goes to Don Eladio's mansion with Gus Fring. Instead of poisoning the entire bottle of tequila, Mr White makes him his own twist on a Margarita, replacing the salt with poisonous crystals which react with the oils sprayed from the lemon zest."
Ingredients:
45 ml Don Julio blanco
25 ml Ketel One vodka
30 ml Freshly squeezed lemon juice
20 ml Agave syrup
1 pinch Salt
1 pinch Ground pili-pili powder
Method: Shake all ingredients with ice and strain over crushed ice.
Garnish: Lemon zest previously soaked in absinthe.
Difford's comment: This is a riff on a Tommy's Margarita and a good one. But whether mixing 100% agave tequila with vodka can be considered a home-made "mixto" is another question. The vodka, coupled with lemon rather than lime makes for a lighter drink - one with spice powder. Forget the spice powder - I also tried with a few drops of hot pepper sauce which is easier to use and works well - apply judiciously!
Difford's Guide rating: 4.5/5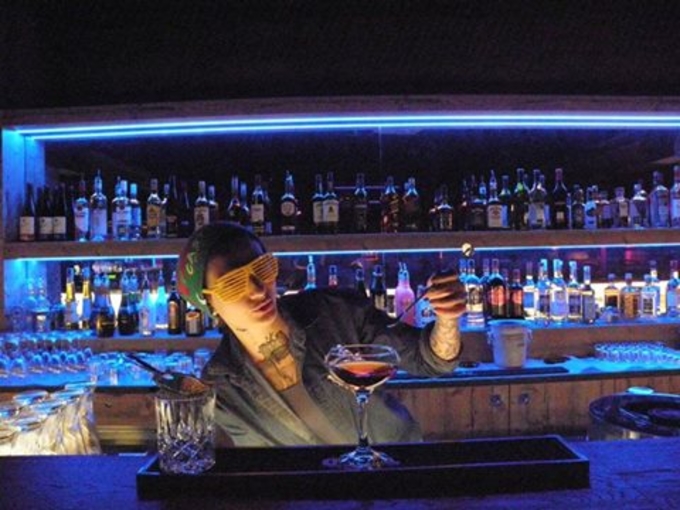 5. Equilibrium Cocktail
By: Alice Kuperman Nogueira
From: Saalbach, Austria
Inspired by: Equilibirum (movie)
Story: "After the third world war, the system decided to force people to take a medicine so they don't have feelings anymore, because feelings like jealousy and hate cause wars. So the world became "balanced" in a way that people just worked and reproduced themselves, without any feelings. Everything was grey, organized and boring. But like always there are rebels, that saved art and more objects, that are made with feelings or for feelings."
Ingredients:
25 ml Cognac
25 ml Campari
25 ml Grüner Veltlinger (Austrian white wine)
25 ml Monin yellow banana liqueur
Method: Mix ingredients
Garnish: None
Difford's comment: Sadly, I couldn't obtain the Grüner Veltlinger wine specified in Alice's recipe so I ended up using a good New Zealand Sauvignon Blanc. The result will please Negroni fanciers with Equilibrum also delivering an attractive banana twang. Due to its being Negroni like, I also tried on-the-rocks rather than straight-up and I found myself preferring this serve.
Difford's Guide rating: 4.5/5
6. I see what you did there
By: Timothy da Camara
From: Eindhoven, Netherlands
Inspired by: Magic City (TV-series)
Story: "The 'I see what you did there' is inspired by the TV series Magic City. I really enjoyed watching this show and the design of the sets. I wouldn't mind sitting at the Atlantis bar inside the Miramar Playa hotel for a drink. While I was re-watching some episodes for this challenge I noticed they used the same Tom Dixon lamps that I stare at every night during my shifts at de minibar in Eindhoven.
Like anyone who loved a good TV-show tries to convince everyone that they just have to see it too. I made a drink to be served at the Atlantis bar featuring ingredients that Ike Evans drinks at the bar in the series. The name of the drink has two meanings. Once you watch the last episode you will understand what is literally 'seen'. Also by not spoiling the story I'm saying you just have to watch the show. See what I did there?"
Ingredients:
40 ml J&B Scotch Whisky
25 ml Grand Marnier Cordon Rouge
7.5 ml Pernod Absinthe
25 ml Lemon juice
10 ml Sugar syrup (2:1)
1 egg white (medium sized NL measured at 30ml)
Top with tonic water
Method: Dry Shake, shake and fine strain into Libbey Stark glass filled with ice. Top it off with Fentimans Tonic (15 ml is all that fits when you properly fill the glass with ice)
Garnish: Garnish with Minneola zest
Difford's comment: The aniseed flavours of Pernod work brilliantly in this perfectly balanced, flavoursome long drink which stands out as being genuinely innovative while using easy to obtain old-school ingredients. Not a crowd-pleaser but a complex cocktail that is worthy of replication and praise.
Difford's Guide rating: 4.5/5
7. The Red Pill
By: Ásgeir Bergmann Pétursson
From: Laugarvatni, Iceland
Inspired by: The Matrix (movie)
Story: "Inspired by Matrix, the now cult, and otherwise classic from the turn of the millennium, by the Wachowskis. The scene that I drew my inspiration from is the iconic moment when Morpheus offers Neo the choice between ignorance or enlightenment, fake world or the truth, sober or drunk. The Red Pill is designed to be a Pick-Me-Up drink, and for that kind of drink the glass really shines as it is of the perfect volume for something that can be drunk in two sips or lingered over for some time. As in the movie, the Red Pill brings you to life and should remind you of real life as well. Each one of my ingredients represents different stages and common nuances of human life. Luxardo Maraschino stands for the sweet and simple youth; Angostura for those troubled and super complex teenage years; Campari for the sweet and bitter years of figuring out adulthood with deep complex tasks and experiences; The aged grappa stands for the accumulated wisdom and experience of our elders; The salt of course is earth itself, for without earth there would be no real life."
Ingredients:
5ml Luxardo Maraschino
10ml Angostura Bitters
20ml Campari
30ml Sibona Grappa di Barolo
Black Salt
Method: Rim glass lightly with Black Salt. Mix liquids in a mixing glass and stir over ice till dilution of your preference is reached. Strain into the glass and serve next to a glass of water.
Garnish: Burned Orange Twist
Difford's comment: Bittersweet and perfectly balanced The Red Pill is a great aperitif cocktail. Grappa stands out and holds this drink together with the other big Italian flavours of maraschino and Campari playing their part with the Trinidadian bitters. As Ásgeir says in his instructions, this drink needs to be accompanied by a glass of water.
Difford's Guide rating: 4.5/5
8. Bushido 武士道
By: Alexey Yakimyuk
From: Moscow, Russia
Inspired by: The last Samurai (movie)
Story: "This historical movie, shows traditions of Japan and spirit of great warriors - Samurais - their honor, pride, respect, their strong, and at the same time thin inner world. Their relation to the country, the Emperor, life and death, about the 'way'" which there passes each Samurai - ways of the warrior.
And in the cocktail I wanted to show all this: gloss of sides of a glass of Libbey Shorty Rocks as gloss of a katana, the Japanese restraint and laconicism, and my 'main hero' the American whiskey as the stranger, same strong and proud, is supplemented with traditional easy Japanese notes - tea, plum wine and Cherry Blossom syrup. Because, Bushido, it not only ability to battle and kill enemies, but also ability to write a hokku and to appreciate fine."
Ingredients:
60 ml Bulleit Bourbon whiskey rapid infusion with green tea*
20 ml Plum wine
5 ml Cherry Blossom syrup
2 dashes Fee Brothers Plum bitters
* Infusion
rapid infusion in isi cream whipper or French-press
100 ml whiskey
3 bar spoon green tea
fine strain
Method: Stir & strain then serve in a glass with ice-cube/ice-ball
Garnish: Garnish with lemon peel
Difford's comment: Bourbon, green tea and plum wine are a match made in heaven. The choice of glass suits this cocktail which wouldn't look out of place held by a Samurai.
Difford's Guide rating: 4.5/5
9. The Belucchi Martini
By: Michael Yona-costa
From: Brussels, Belgium
Inspired by: Casino Royal (movie)
Story: "Check out the video."
Ingredients:
60 ml Tanqueray Rangpur
25 ml Cocchi Americano
1 spoon Liquore Strega
1 zest of lemon
Method: Shake with ice
Garnish: Thyme and a zest of lemon. Slightly burn the thyme to improve the smell.
Difford's comment: Many will say that this drink should have been stirred rather than shaken but I like the extra dilution and vibrancy that comes from shaking this drink. I liked it with Tanqueray Rangpur but preferred with London dry gin.
Difford's Guide rating: 4.5/5
10. Foxhole in Bastogne
By: Edward Nijhoff
From: Rotterdam, Netherlands
Inspired by: Band Of Brothers (EP 6 Bastogne) (TV-series)
Story: "Foxhole in Bastogne, as we all should know the "Battle of the Bulge" was Hitler's counter-offensive against the Allies during a very cold winter in Bastogne, depicted in the award winning TV series Band of Brothers. The conditions of the offensive were so brutal that most of the Allies were cut off from any kind of support like reinforcements, supplies and medical treatment. Making the bare minimum conditions of the battle the true enemy. In order to survive, the soldiers had to entrench themselves in a foxhole. Keeping each other relatively safe from bone chilling temperatures and incoming artillery fire while preventing the enemy from breaking their line of defense. Despite the loss of many and going against all odds they survived and broke through the enemy lines ultimately grasping victory. This drink captures the essence of what these soldiers went through fighting for our freedom. Symbolising hope and perseverance."
Ingredients:
Half twig of rosemary
30 ml Bulleit Rye
15 ml Cynar
10 ml Cockney's Gin
20 ml Fresh lime juice
10 ml Simple syrup
3 dashes Angostura bitter
Method: Muddle rosemary in base of shaker. Add other ingredients, shake with ice and fine strain into pre-chilled glass.
Garnish: Rosemary twig (see picture)
Difford's comment: Wonderfully herbal - the rosemary, lime, whiskey and gin sit well together. Slightly tart and bitter, this would make a great aperitif cocktail.
Difford's Guide rating: 4/5
11. Ellcrys' Seed
By: Antonis Tcakiris
From: Drama, Greece
Inspired by: The Shannara Chronicles (TV-series)
Story: "My inspiration came out of a TV series The Shannara Chronicles, where the tree Ellcrys, which is protecting the earth from the demons, withers, while Amberle, the last of the Chosen ones, is the only one that can save the world. Having by her side Wil Ohmsford travels so as to find the magic place to sow the seed of the tree of life. In order to relate this imaginable & wonderful full of trees and herds world that Amberle lives, with my cocktail, I chose to infuse the Triple Malt Whisky Monkey Shoulder with cherries. I also use lime's and orange's sweet acidity, giving it an extra note from spices. Moreover, in order to create a full body texture, I'm mixing with Aquafaba and finally I garnish with a dried rose, which in fact, represents Ellcrys' seed."
Ingredients:
60 ml Monkey Shoulder Whisky (infused with Greek Cherries - 1 cherry per 10ml whisky for 24 hours)
20 ml Freshly squeezed lime juice
15 ml Freshly squeezed orange juice
30 ml "Elves" Spiced syrup (4 cinnamon sticks (about 17gr), 1/2 nutmeg & 1 tsp dried cloves. 700g sugar per 350g of water)
40 ml Aquafaba
1 dash Angostura bitter
Method: Combine all the ingredients into a shaker. Shake with cubed ice and perform a dry shake. Strain into a Perception Coupe Glass.
Garnish: Top with a dried rose
Difford's comment: A spiced fruity Whisky Sour served straight-up - what's not to like.
Difford's Guide rating: 4/5
12. Angelica The Mother Of All
By: Caco Mosan
From: Rotterdam, Netherlands
Inspired by: SENSE 8 (TV-series)
Story: "A tribute to one of my favorites series, SENSE 8. All the ingredients used are from different parts of the world, corresponding to where the main characters are from. Just like the main characters, all the ingredients have their own unique characteristics, but can mix and enhance each other when they come together in the right proportions and are done with love. Just like the character Angelica activated the connection of the sense 8, the cocktail Angelica will activate the never ending, aphrodisiac essence of the ingredients. Activate all your senses!"
Ingredients:
30 ml Nostra Solidad Mezcal
20 ml Bulleit Rye wisky
15 ml Kenyan Koffie
15 ml Hibiscus Syrup
Dash of Scandinavian choc bitters
Cream
Method: Shake the mezcal, rye whiskey, syrup, koffie and the bitters together, double strain into the chilled glass. Carefully float cream on the surface of the drink.
Garnish: On the top of the cream put yellow curry powder and dry herbs: orange peel, ginger, star anise, rosehip peel, balm, blueberry, fennel, cinnamon, basil, mace, saffron.
Difford's comment: Best described as tasting like a mezcal and rye Espresso Martini with a cream float - what's not to like?
Difford's Guide rating: 4/5
13. Submissive
By: Kristian Jagerman
From: Amsterdam, Netherlands
Inspired by: 50 shades of grey (movie)
Story: "The Perception Coupe has perfect seductive curves that remind me of the curves of a beautiful woman whilst the inwards curve at the rim helps keep everything in the glass whilst moving. This led me to find my inspiration in a sexy but naughty film where staying inside the rules is very important, 50 Shades of Grey!
"This dark little cocktail is a twisted Between the Sheets. Using an aged virgin cane honey rum and an unaged "cognac" we turn the rolls around in this role-play drink. Brought together with cherries and spiced with pink pepper, all your taste buds will submit to this black velvet master."
Ingredients:
30 ml Eau de Vie de Vin (Merlet)
30 ml Aged Rum (Zacapa 23)
20 ml Luxardo Maraschino
10 ml Lemon Juice
2 dash Cherry Bitters (Fee Brothers)
1 Egg white
1 mg Active Carbon Powder
Method: Shake all ingredients with ice in shake and strain back into shaker. Dry shake (without ice) and fine strain into a chilled Perception Coupe.
Garnish: Garnish with pink pepper from a pepper grinder
Difford's comment: Kristian says he was inspired to make this cocktail by 50 Shades of Grey (the movie) and thanks to carbon powder his drink is appropriately grey in colour and thanks to the liqueur/citrus balance also sweet and sour.
Difford's Guide rating: 4/5
14. The Jamaican Star
By: Alex Jansen
From: Rotterdam, Netherlands
Inspired by: Cool Runnings (Movie)
Story: "During the Winter Olympics 1988 in Canada, the world is shocked that team Jamaica is even participating at the bobsled event. The rest of the teams are treating them as a joke. During the events, they find themselves with a couple of setbacks. Like not knowing how to bobsled first of all. But the movie gets warmer and funnier because of the spirit of the culture. The next part of the story is going to a spoiler for those who haven't watched the movie. This cocktail symbolizes the end of the movie. The Team Jamaica bobsled flips over because of a technical malfunction and their helmets scrape the cold ice of the track. But with their heads kept up high, they lift the fallen bobsled and start to walk to the finish! One person starts to clap and the entire crowd starts to cheer for team Jamaica!"
Ingredients:
40 ml Appleton Estate 12 year old
20 ml Domaine de Canton
20 ml Lime juice
10 ml Simple syrup (1:1)
30 ml Egg White
70 ml Old Jamaican Ginger Beer
Method: Dry shake all ingredients. Shake again with ice and strain into ice-filled glass. Top with the ginger beer.
Garnish: Candied ginger on a skewer
Difford's comment: Rum ginger Collins smoothed and frothed by egg white. It might not be groundbreaking but this particular Jamaican Star is well-balanced and tasty.
Difford's Guide rating: 4/5
15. Two Little Mice
By: Craig Hunt
From: Galway, Ireland
Inspired by: Catch me if you can (movie)
Story: "I used the film Catch me if you can '2002' starring Leonardo Di Caprio, being one of my favourite films I used a part of the story line along with one of my favourite cocktails, I made what I believe to be the perfect counterfeit Negroni as Frank Abagnale Jr. was the best fraudster their ever was.
"For this cocktail I used an Absolute citrus Vodka with the sweetness of Harvey's Bristol Cream to find what you would look for in your gin and vermouth in a classic Negroni with some Cointreau for an extra kick of flavour alongside the Campari. The final result is a cheque that any bar would cash in on and my new favourite after work relaxer... In the picture you see a cat this represents Carl Hantratty played by Tom Hanks who plays a great role in the film and deserved some part of the picture or story at least. The cat will chase the mice until he catches it."
Ingredients:
20 ml Campari
20 ml Harvey's Bristol Cream
15 ml Absolute Citrus
15 ml Cointreau
3 dash Fee Brothers Grapefruit bitters
Method: Stirred until perfect dilution is reached.
Garnish: See picture
Difford's comment: Boozy, bittersweet and reminiscent of a Negroni with citrus vodka replacing gin and cream sherry rather than vermouth.
Difford's Guide rating: 4/5
16. The Cocktail of the Queens
By: Anett Malomhegyi
From: London, England
Inspired by: The Crown (TV-series)
Story: "All the ingredients have a connection to the Queen and what she likes. As we are in London my drink based on London dry gin which is her favourite spirit. Peach puree, her favourite fruit adds a bit of fruitiness, while rose syrup (her favourite flower) gives a nice floral taste. She is in love with sweets, especially with chocolate, so this flavour was obvious for the cocktail as of course was "the classic British" afternoon tea."
Ingredients:
40 ml Bombay Sapphire
30 ml Fabbri Rose syrup
5 ml Fabbri White Peach puree
30 ml Earl Grey tea
25 ml Freshly squeezed lemon juice
2 dashes Aztec chocolate bitter
Method: Shake all ingredients with ice and fine strain into coupe glass.
Garnish: Lemon zest twist
Difford's comment: A whopping 30ml of rose syrup worried me, but while this is a richly flavoured cocktail it is not as sweet or as rose dominated as I feared. Indeed, I found myself appreciating and wanting to experiment with the combination of rose and earl grey tea.
Difford's Guide rating: 4/5
17. The Final Bite!
By: Daryl Lieuw-On
From: Rotterdam, Netherlands
Inspired by: Jungle book(Movie)
Story: "This cocktail plays the scene where Kaa (the snake) saw Mowgli for the first time and tried to hypnotise him."
Ingredients:
50 ml Diplomatico Reserva Exclusiva
15 ml Mandarine Napoleon
30 ml freshly pressed lime juice
15 ml Simple syrup (1:1)
Egg white
Top with KA pineapple soda
Method: Dry shake, shake with ice and strain into a Stark glass filled with ice cubes. Then top with the sparkling KA pineapple.
Garnish: See picture
Difford's comment: Fruity and refreshing. The rum base with zesty mandarin shines throughout.
Difford's Guide rating: 4/5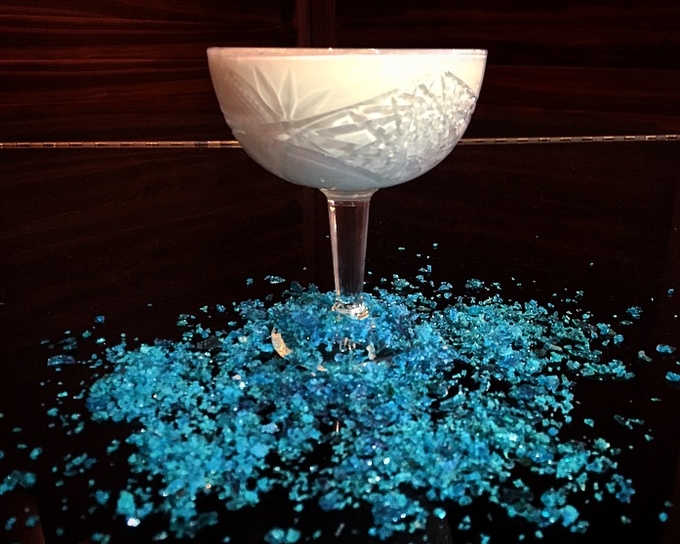 18. The Milk Man
By: Yoël van Eer
From: Dubai, UAE
Inspired by: Breaking Bad (TV-series)
Story: "Breaking Bad is an American crime series. It tells the story of Walter White, a struggling high school chemistry teacher diagnosed with stage III lung cancer. Together with his former student, Jesse Pinkman, White turns to a life of crime, producing and selling crystallized methamphetamine to secure his family's financial future before he dies, while navigating the dangers of the criminal world. As his shady business progresses, Walter gains a notorious reputation under the name of 'Heisenberg' with his signature blue coloured crystal meth."
Ingredients:
40 ml Knob Creek (seen drinking in season 5)
20 ml Coconut Milk
1 scoop Vanilla Ice
15 ml Yellow Chartreuse
05 ml Lemon juice
2 dash Orange bitters
Method: Blend all ingredients together in a blender for 10 seconds.
Garnish: Crystalized blue curaçao
Difford's comment: Good quality vanilla ice-cream, bourbon and yellow chartreuse are all very tasty - so indeed is this drink with sweet vanilla and a citrus kick.
Difford's Guide rating: 3.5/5
19. Buongiorno Principessa
By: Dula Lorenzohewa
From: Sydey, Australia
Inspired by: La Vita e bella 'Life is Beautiful' (Movie)
Story: "My cocktail is inspired by the Italian film life is beautiful! The film's story opens on Guido who is courting Dora, bringing a smile to her face with all the clever ways he announces, Boungiorno Principessa, or good morning princess. Though filled with a deeply sad story, the film and my cocktail draw on experiences of love, sacrifice and that in spite of everything, life can still be beautiful.
"I used the American bourbon, Jim Beam to represent the rescue of Guido's family by the American soldiers. Fernet Branca was used to portray the resilient nature of Italian spirit. I used basil to tie in the unique flavours of the Italian cuisine."
Ingredients:
50 ml Jim Beam Bourbon
15 ml Agave nectar (Real)
20 ml Fresh lemon juice
20 ml Fresh passionfruit
12 ml Egg white
5 fersh Basil leaves
5 ml Fernet Branca
Method: Shake first 5 ingredients with ice and strain back into shaker. Add basil leaves, dry shake (without ice) and strain into chilled glass. Finally, layer Fernet Branca under the foam using a syringe. See video
Garnish: Garnish with edible flowers and a basil sprig
Difford's comment: Tasty but for me not harmonious. Strangely, when I tasted this drink I had to double check that I'd not picked up a bottle of Branca Menta rather than Fernet Branca. Turned out I'd selected the right bottle and it was flavours from the basil coming through.
Difford's Guide rating: 3.5/5
20. Technicolor
By: Wouter Bosch
From: Amsterdam, Netherlands
Inspired by: Pleasantville (Movie)
Story: "Inspired by the movie Pleasantville, released late nineties. A movie in which Tobey Maguire gets sucked into his television show which is set in the fifties, literally. The whole movie is in black and white, but through his influence the town gains colour, slowly and not without controversy. Hence, I made a black and white cocktail, using 'fifties' inspired ingredients. Simple at first, deceivingly complex, like the movie itself."
Ingredients:
60 ml Tio Pepe Fino Sherry. Sherry was still a common household drink back in the day.
25 ml Lemon juice
15 ml Simple syrup (1:1)
Egg white
Top with Coca Cola
Method: Dry shake then wet shake. Strain into Libbey highball and top up with Coca Cola.
Garnish: See picture
Difford's comment: A flavour combination with great potential - fino sherry shines through wonderfully. I loved the first few sips but not sure I could drink a whole one.
Difford's Guide rating: 3.5/5