Opihr World Adventure Cocktail Competition
Opihr World Adventure Cocktail Competition
Words by Simon Difford
Photography by Juan Kattan
Now in its fifth year, the Opihr World Adventure Cocktail Competition is back and open for entries. It seeks bartenders from around the world who are breaking ground, using the latest innovations and can embody the Opihr 'Spirit of Adventure'.

The global winner receives a 5 day trip for two to a mystery location on the spice route.

Bartenders are being asked to develop a new Opihr Gin cocktail, inspired by a 'Spirit of Adventure' and submit it along with a short video which presents the drink and tells the story behind the inspiration.
The bartenders whose cocktails are judged to be the best in each market will then be invited to participate in one of a number of regional finals, where they will compete against others to gain a place at the Grand Final.
During the Grand Final competitors will undertake a variety of challenges designed to test and showcase their bartending skills before competing in the final for the title of Opihr World Adventure Cocktail Competition Champion 2018.
How to enter
Visit the Opihr competition website to submit your entry. Closing date is 1 June 2018.
Participating countries
This year there are 16 participating countries:
Australia
Cyprus
Germany
Greece
Hong Kong
Indonesia
Ireland
Italy
Japan
Malaysia
Mexico
Netherlands
Portugal
South Africa
Vietnam
UK
About Opihr Gin
Launched in 2013, Opihr Gin was inspired by the Orient with its exotic flavours sourced from locations along the ancient spice route, including cardamom from India, spicy cubeb berries from Indonesia and coriander from Morocco. It takes its name from Ophir, a port mentioned in the Bible, renowned for its wealth.
Read about the 2017 UK final of the Opihr World Adventure Cocktail Competition, published in July 2017
Fittingly, the UK final was held on 25th July 2017 in a suitably adventurous location - Mr Fogg's Gin Parlour in London's Covent Garden. Ten UK finalists, from Aberdeen to Devon, presented two Opihr Gin drinks - their signature Opihr G&T and their cocktail inspired by the ancient spice route and a spirit of adventure. I was lucky enough to be a judge and so sample all the drinks, alongside fellow judges Emma Stokes (Gin Monkey) and Claudia Christensson (Opihr's Brand Manager).
As with so many competitions, scoring was close but Carla Molina Ruiz produced two delicious drinks, which coupled with her presentation secured her first place, so she will represent the UK in the final in Marrakesh. Just three points behind, second place went to Mikey Pendergest, with third place to Thomas Ryan.
Winner Carla Molina Ruiz and yours truly
The recipes & competitors
This is a competition that encourages adventurous recipes rather than the simple and easy to make, so consequently featured a lot of homemade syrups, infusions and even marmalade. As you can see by the recipes and accompanying images below, it was a competition that also saw some fabulous looking drinks produced. Follows all ten competitors and their recipes (in the order they competed).
Giuseppe Minoia
Angela
50 ml Opihr Oriental Spiced Gin
20 ml Homemade vermouth based on typical botanical from ancient spice route
2 drops Vine leaves bitter

Giulia
50 ml Opihr Oriental Spiced Gin
100 ml Homemade pink peppercorn tonic water


Iscia Crenn
G&T En Route
50 ml Opihr Oriental Spiced Gin
15ml Pink peppercorn syrup
Top with Ruby tonic with horseradish, ginger and Spanish oranges

Midnight Tea
40 ml Opihr Oriental Spiced Gin
25ml Mango juice with grilled pineapple
2 drops Cardamom
Shake and serve in a cinnamon smoked teapot


Gianluca Sorrentino
See Through
70 ml Opihr Oriental Spiced Gin
210 ml Tonic Water
6 slice Green apple
6 leaf Kaffir lime
6 lemongrass
6 orange peels

Sunset from Valencia
60 ml Opihr Oriental Spiced Gin
15 ml Ginger & lemongrass cordial
20 ml Mint tea infusion
15 ml Freshly squeezed blood orange juice
2.5 ml Brown sugar syrup
1 pinch Salt
1 pinch Turmeric
3 spay Mint bitters


Kristian Smith
G&T
50 ml Opihr Oriental Spiced Gin
Top with orange & spiced tonic foam

Empress of India
50 ml Opihr Oriental Spiced Gin
2 spoon Homemade black pepper spiced orange marmalade
20 ml Belsazar Red
20 ml Sour cherry juice


Mario Romano
Gin & Tea
50 ml Ophir Gin infused with homemade tea (maghrebi green tea, mint, corainder, black pepper)
1 dash Indian cardamom extract
100 ml Indian Tonic Water

The Explorer
50 ml Opihr Oriental Spiced Gin
10 ml Homemade herbal liqueur (17 herbs and spices, sugar, water, alcohol)
25 ml Homemade syrup (sugar, water, cinnamon, ginger, coriander, nutmeg)
5 ml Rice vinegar
2 ml Homemade Goji Berries bitter


Thomas Ryan
Rustichello Negroni
25 ml Opihr Oriental Spiced Gin
25 ml Fever Tree tonic water
25 ml Peychaud's Aperitivo
1 dash Peychaud's Bitters

Seal of Solomon
50 ml Opihr Oriental Spiced Gin
15 ml Manzanilla Sherry
10 ml Yellow pepper & coriander seed syrup (Equal parts by weight; yellow bell peppers, sugar, water. 1 tsp coriander seeds per pepper used)
5 ml Tamarind paste
100 ml Yellow plum tomato juice (press golden plum tomatoes and add 100ml water per punnet tomatoes. Boil juice at simmer for 20 mins, add 1tsp salt per punnet of tomatoes. Fine strain and store for up to 30 days)


Dominic Saunders
Crazy Coriander
50ml Opihr Oriental Spiced Gin
Handful coriander
15 ml Lemon juice
5 ml Rosemary syrup
1 pinch Salt
1 bottle Fever Tree tonic
10 cm Lemon peel

Hidden Beauty
40 ml Opihr Oriental Spiced Gin
15 ml Amrut whisky
20 ml Lemon juice
7 Coriander leaves
2 pinch Indian pepper
1.25 ml Rose water
20 ml Cardamom syrup
2 dash Tea bitters


Carla Molina Ruiz
Summer breeze
50 ml Opihr Oriental Spiced Gin
Top with Fever tree Mediterranean tonic water
1 dash toasted pecan bitters
Orange blossom flowers
Coriander seeds
Rosemary
Lemon thyme

Oriental treasure
50 ml Opihr Oriental Spiced Gin
10 Arrack
10 ml Lime juice
10 ml Coconut water infused with lemongrass and kafir lime leaves
15 ml Palm sugar (1:1 palm sugar / coconut water)
2 dash Good Luck bitters
Egg white


Adrian Forde-Beggs
Spice Meets the Deen
25 ml Opihr Oriental Spiced Gin
25 ml Bon Accord Sparkling Rhubarb
Top with Tonic Water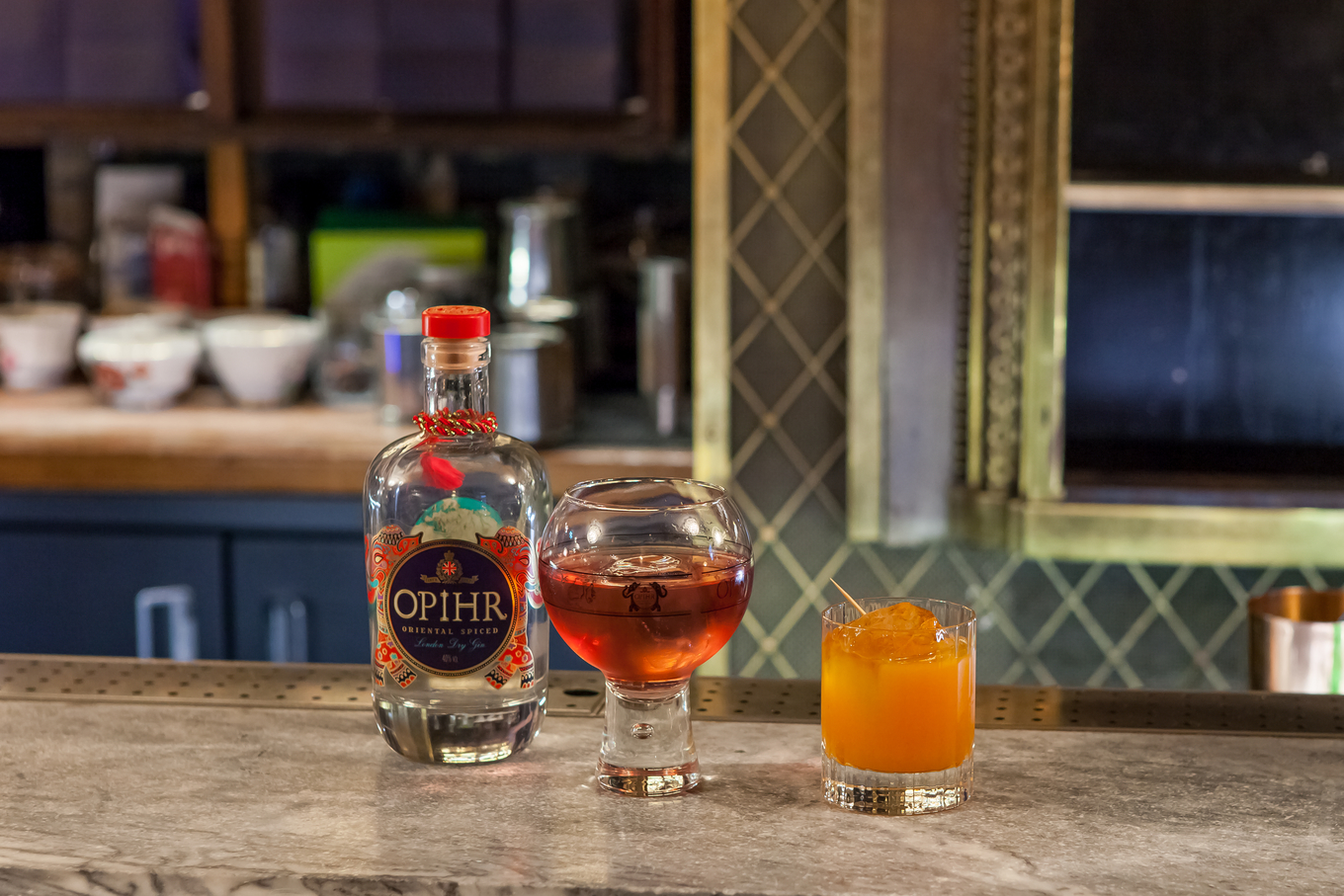 Spiced Root
50 ml Opihr Oriental Spiced Gin
40 ml Carrot and orange cordial
10 ml Chai syrup
2 dash Dr. Adam Elmegirab's Orinoco Bitters


Mikey Pendergest
Beyond The Pines
45 ml Opihr Oriental Spiced Gin
2 dash White soy
3 dash Ume plum bitters
1 spray Cedar based phytoncide aroma
Top with Tonic water

Don't Ophir The Reaper
50 ml Taiwanese Oolong infused Opihr Gin
20 ml Moroccan mint infused sugar syrup
20 ml Lemon juice
20 ml Chick pea brine
10 ml Fresh pineapple juice
Gin parlour team - the hosts