Chocolate & crème de cacao liqueurs
Chocolate & crème de cacao liqueurs
Chocolate, in all its forms, from an intense dark block to sweet melted fondue, has had a spell over our taste buds since the Olmec people in Mesoamerica learnt how to cultivate cacao somewhere around 1000BC.
Chocolate cocktails
Chocolate works wonders in cocktails, whether adding a slightly bitter note or incorporated into liqueurs. The trend for adding chocolate started off with the Alexander, gin, white crème de cacao and cream, during the early 1900s in New York. Appearing for the first time in Hugo Ensslin's book of recipes in 1915, its inventor remains unknown.
When working with chocolate liqueurs it's important to know that white crème de cacao liqueurs are clear and have a more delicate chocolate flavour than their darker version. The difference comes from production, white cacao liqueurs are flavoured with a distillate of cacao beans while the chocolate flavour and colour used for dark cacao liqueurs is extracted by a percolation of cacao beans. Vanilla is also communally added to crème de cacao liqueurs.
Chocolate Sazerac
This twist on the classic Sazerac pairs absinthe, bourbon and chocolate to great effect, created in 2005 by Tonin Kacaj at Maze, London. See the Chocolate Sazerac recipe here.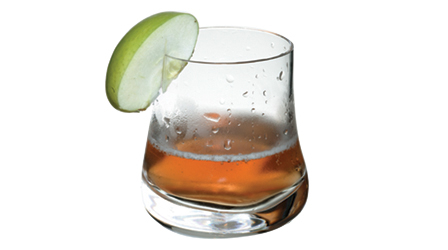 Chocolate Puff
Invented by Wayne Collins in 2002 for Maxxium UK, this drink is made using golden rum, dark crème de cacao liqueur, yoghurt, orange and sugar. It's incredibly smooth. See the Chocolate Puff recipe here.

Chocolate Sidecar
Another by Wayne Collins, this twist on a classic uses Cognac V.S.O.P., dark crème de cacao liqueur, tawny port and lime and sugar. See the Chocolate Sidecar recipe here.

Ramos Chocolate Fizz
Creamy chocolate vanilla fudge with a faint hint orange and gin. Made using London dry gin, white crème de cacao liqueur, orange flower water, vanilla extract, egg white, double cream and champagne. See the Ramos Chocolate Fizz recipe here.

History of chocolate
Chocolate, in all its forms, from an intense dark block to sweet melted fondue, has had a spell over our taste buds since the Olmec people in Mesoamerica, learnt how to cultivate cacao somewhere around 1000BC.
Handed down from generation to generation, our love of chocolate has only grown. We may no longer offer the beans to the gods or use them as currency, or even believe in their magical properties, but chocolate plays a part in our everyday life, just as it did with the Mayans and Aztecs, from births to engagements and weddings.
Humans have been drinking chocolate since the Mayans realised you could crush the beans and use the dried powder with hot water. This primitive hot chocolate was known as 'chacau haa.' Fast forward 1000 or so years to the early 1900s and the Alexander cocktail, and its many variants, is reigning supreme. There is so much to be done with chocolate, from bitter to sweet, rich or light and this ancient ingredient has earned its place in modern mixology.
The cocoa tree
The cocoa tree; from which all the goodness stems. Quite a delicate tree, between three to eight metres tall and with a trunk only measuring around 20cm in diameter, the cocoa tree only grows in hot humid climates.
Cocoa beans, the most highly valued part of the trees, come originally from the flowers, which when fertilised turn into fruit, or a cocoa pod. These pods are surprisingly large, between 15 to 25cm in length, and inside lies the much sought-after bean. One cocoa tree can produce between a kilogram and a kilogram and a half of beans per year.
Chocolate in production
There are eight main countries producing our chocolate supply using three different varieties of cocoa tree. Africa produces 68% of this supply in Côte d'Ivoire, Ghana, Nigeria and Cameroon. Brazil and Ecuador in South America make up another 8% and Indonesia and Malaysia produce another 14%.
How to use chocolate
Cacao percentage
Barry Johnson from London chocolatier Rococo says that the rule of 70% cocoa and above is somehow better isn't necessarily the case.
"It depends on where the beans have come from, how they were harvested, fermented and dried, right through to the roasting of the beans and the making of the actual chocolate. Each step is critical. Every bean has the flavour there, it's about how you get this flavour to come out which results in the quality of chocolate."
Barry recommends thinking of chocolate similarly to wine, you wouldn't chose a wine on its alcohol percentage but rather on the grape varieties or a known winery. Flavour over percentage.
Melting
If you're going for a rich thick drink using melted chocolate, never overheat it. The melting temperature of cocoa butter is around 30°C and when overdone the structure of the chocolate is changed, even if you can't see it.
Bitter cocoa
Bitter cocoa powder agglomerates when left in storage so always sift it before use.
Mousses
Chocolate mousse, much like eggs, will absorb flavours and smells around it. If you're creating a serve using this, cover the mousse tightly with plastic wrap so that they are not in contact with the outside.
Bars
Chocolate does not like temperature changes, extremities, light or moisture. In fact it's a particularly fussy ingredient. However, kept well chocolate can last for months. If you're only grating it as a garnish and using minimal amounts, wrap it well and store in an airtight container.
Pairings
Wine and chocolate
Best paired with aged sherries and ports, with their notes of prunes and raisins, as well as cocoa, coffee and the aroma of roasting. There are other sweet wines, such as France's Maury style, which comes from the grenache vintage and is aged in glass cylinders, which also work well which chocolate.
Spirits
Considering there are now chocolates on the market which contain spirits this is a fairly easy paring. Barry from chocolatier Rococo recently worked on a pairing with Zacapa. For this he'll pick notes coming off the rum, in this case toffee and a mild sweetness and played with his, selecting a salted chocolate toffee praline to have alongside Zacapa 23.
Using another approach, the chocolatiers will look for opposite or surprising flavours that wouldn't naturally pair well.