Jad Ballout & 1943 - one of Heering's 200 years
Jad Ballout & 1943 - one of Heering's 200 years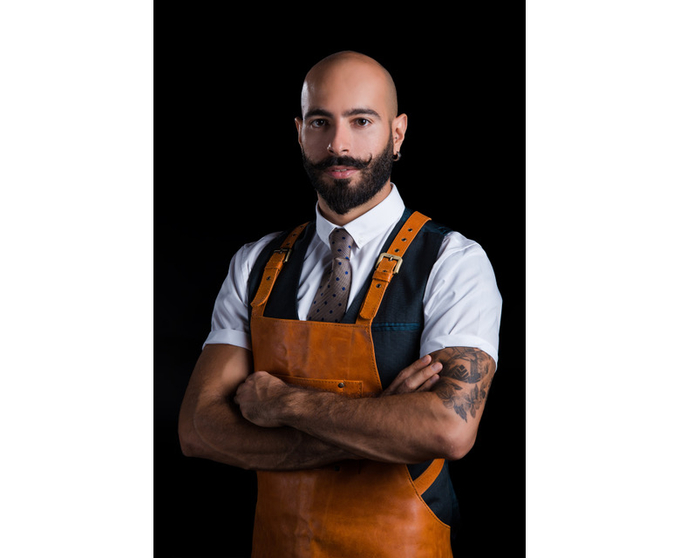 Beirut is a cosmopolitan city at heart, a melting-pot of cultures and traditions, a door which connects different worlds together in search of something new. A mix of forgotten and new flavours that are renewed in the search for the perfect combination. This is an ideal that gives life to the modern local bartending scene, which Jad Ballout is an exuberant and innovative part of.
His energetic stage is the Central Station Boutique Bar, crossroads for old and modern spirits that are always new when retold. Initially devoted to the kitchen, Jad Ballout discovered that creativity in bartending that allowed him to combine different but complimentary techniques and ingredients. Pushing customers to venture on paths of unexplored but captivating, peculiar flavours is a big challenge. Thanks to the influence of Jad Ballout, Lebanon is now on the global cocktail map. He wholeheartedly wants something that differs from classic cocktails.
Story and culture as sources of evolving inspiration
Jad Ballout has represented his country at a number of international cocktail competitions. He draws his inspiration from everything around him. He dives into, explores and absorbs everything and then pours it into a glass. A very specific identity that can be clearly identified with Ballout's way of thinking. "I love to travel and explore various cocktail cultures in different countries, and meet the best bartenders around the globe,"  he says. His recipe for celebrating the Cherry Heering bicentenary comes from observing the real world. Jad Ballout: "The most iconic symbol of Lebanon is the cedar tree which is on both our national flag and emblem. And the most iconic cocktail for Cherry Heering is the Singapore Sling. Combining these two striking historical elements, I created the Cedar Sling, a cocktail that celebrates the freedom of Lebanon as well as the free spirit in each of us. The experience of Cedar Sling is like no other: a journey through the woody cedar forest and a swing among the cherry and pineapple garden thereafter." 
Jad Ballout and the modernist cocktail era
"The cocktail world is moving at lightning speed. Something which was noble yesterday could become obsolete today. Bartenders now are taking the scientific approach to deconstructing and reconstructing cocktails with both modern technologies and classic techniques. From the centrifuge to the rotary evaporator, from fermentation to ageing, there are constantly new techniques being invented, and that is the trend in our industry. What's more, bartenders are gradually taking a minimalistic approach in the presentation of their cocktails. Such an aesthetic tendency also demonstrates that we are moving towards a modernist cocktail era".  
The modern bartender according to Jad Ballout
"Bartenders are natural entrepreneurs – we create, we do not follow. There is another side to simply creating good cocktails. Developing creative bar concepts is one skill that is harder to master. A creative bar concept needs not only great cocktails but also a great brand identity, interior design and consumer experience. In other words, bartenders need to be savvy in multiple disciplines to really strike a win. That means bartenders need to expand their horizons from common liquor-based knowledge, to design, art and business management-based knowledge. To make the industry a better place, each of us should consider ourselves as entrepreneurs, not merely as a craftsman. That is why at Central Station we involve everyone in the management decision process to let them learn and grow. We also enrol them in master classes where they can learn both cocktail creation and bar management. I believe that when everyone considers himself a stakeholder, he will take more responsibility and make the industry a better place".
Celebrating Cherry Heering Bicentenary
1943 is the year that Lebanon declared independence and created its very own national flag with a cedar tree. The cocktail adds a modern twist to the classic Singapore Sling, evoking the woody aroma of a cedar tree and the anise flavour of the Lebanese national drink, Arak.
CEDAR SLING
Glass: Highball
Method: Chill all the ingredients except the rosemary. Pour the mix into a cream syphon and carbonate it with one CO2 charger. Release the gas and open the cream syphon. Pour the cocktail over ice cubes. Place two drops of cedar essential oil on the rosemary and then give it a spray of Arak, and flame it with a torch. Add the garnish carefully to the cocktail.
Garnish: Rosemary flamed with Arak and cedar oil
15ml / ½oz Cherry Heering
15ml / ½oz Gin
80ml / 2 2/3oz Cherry stem and pineapple juice*
40ml / 1 1/3oz Dry red wine
40ml / 1 1/3oz Soda water
*Cherry stem & pineapple juice recipe
400g clarified pineapple juice (using centrifuge)
30g granulated sugar
15g dried cherry stems
2g ascorbic acid
Cook all the above sous vide for 2 hours at 55˚C.


Read about more celebrity bartenders and their Heering's 200 years.