Leo Robitschek & 1876 - one of Heering's 200 years
Leo Robitschek & 1876 - one of Heering's 200 years
Words by Theodora Sutcliffe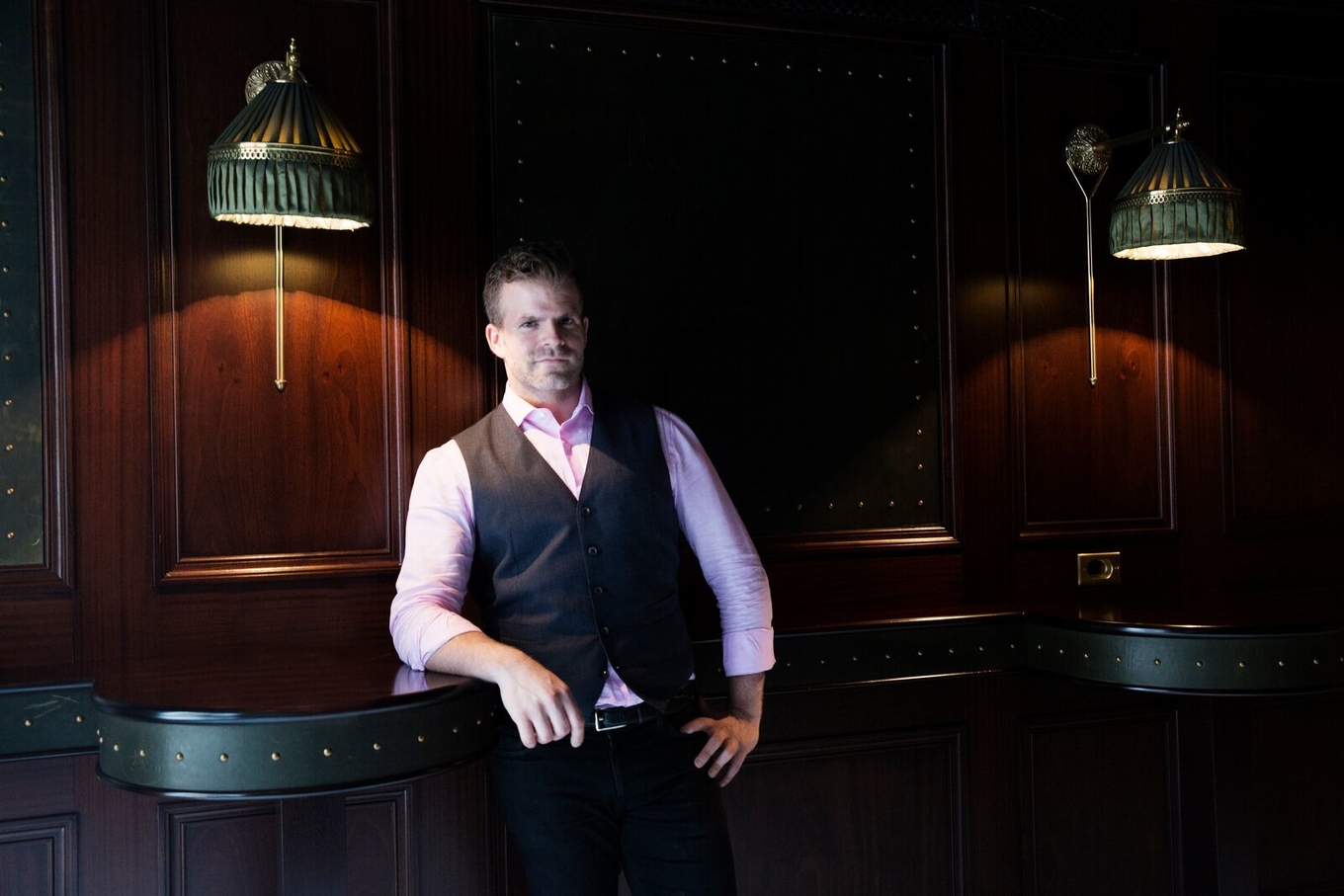 "When we were opening NoMad, we took a walk through the area with David Wondrich," Leo Robitschek recalls.
"There used to be this little area of bars and debauchery called Satan's Circus, which was also where the theatres were. There was no area quite like this. It was centred around the New York elite, but also the underbelly of society. It was where Jerry Thomas opened his first bar. So the Satan's Circus was the first cocktail I created for the NoMad using that background."
Since joining the team at Eleven Madison Park, the world's best restaurant per the 2017 World's 50 Best, Robitschek's career has gone from strength to strength. The NoMad NYC ranks an impressive #3 on the World's 50 Best Bars, and #1 in North America. It's been recognised with a James Beard award for best bar programme and Tales of the Cocktail Spirited Awards for best American bar team, best American hotel bar and best American restaurant bar. And, as we speak, Robitschek has just opened the bars at the new
NoMad LA.
Robitschek chose 1876 for his Heering Anniversary year less for a specific event than as an emblem of a very particular era: a period when Gilded Age glories and Gangs of New York grime intersected to help launch the age of the cocktail. "1876 was a time when all those bars and saloons happened to be there," he says. "It was a time when there was a lot happening, a mixture between all the different classes in the saloons and gambling halls. It was a time in New York when everything was starting to gentrify in a way, and the area was very popular with people that just wanted a good drink but also with people who had their vices."
A devilish, deceptively simple blend of just four ingredients: rye whiskey, Cherry Heering, chilli-infused Aperol and citrus, the Satan's Circus demonstrates Robitschek's culinary precision and laser-sharp detailing. "We use five different types of chilli for the infusion: split them in half, let them macerate for 5-10 minutes, then start tasting," he says.
Although he now oversees a total of seven bars – one at Eleven Madison Park, two at NoMad NYC and four at NoMad LA – it took Robitschek a while to commit to bartending as a career. When he started the beverage programme at Eleven Madison Park, it was as a side job while he took additional college courses after his career in finance paled.
In fact, even when Robitschek started work on the NoMad, he was far from committed. "They sat me down at the table, said, 'What do you want to do?' I said, 'I'm going to go to medical school,'" he recalls. "They said, 'We have a project we might be working on, called the NoMad: do you want to work on it?' I did it, thinking I'd join for a year and then go to medical school, and I've never looked back."
Overseeing the bar programme at the world's best restaurant – where dinner will set you back $315 in the main dining room or $175 in the bar – has both rewards and challenges. "A lot of people get set in their ways: you become number one in the world, and you're scared to change, so you continue down a specific path. We blossom and embrace change," Robitschek says. "There's a painter that said, 'I change to continue being who I am,' and that's something we truly believe in, and that we embrace."
Robitschek still works super-closely with Daniel Humm, chef at both Eleven Madison Park and the NoMad, taking inspiration from new ingredients he's excited about, or new dishes he's created. "We also work with one of our R&D chefs: they take the backburner and don't impose ideas on us, but they're there to help us extract any flavours that we want to," Robitschek says. While the kitchen helps with specifically culinary ingredients and with fermentation, his team, which includes bartenders with a background in cooking, is self-sufficient most of the time.
And the resources don't stop at the kitchen. Robitschek bases his famous Reserve cocktail list on a wealth of rare spirits, sourced from auctions, estate sales and specialist dealers. Yet, surprisingly, one of the industry trends he's most enthusiastic about is the rediscovery of fun. "I think for a long time, especially in New York with this cocktail renaissance, you were building speakeasies to showcase these craft cocktails," he says. "Now there's so many different styles of bars: they're dive bars, theme bars, they have really good cocktails but they're a bit loose and alive."
It's a panoply of liquid wonders Jerry Thomas would likely have appreciated as he wandered through Satan's Circus all those moons ago.
Satan's Circus
Glass: Coupe
Method: Combine whiskey, cherry liqueur, aperol, and lemon juice in a cocktail shaker. Fill with ice, cover, and shake until outside of shaker is frosty, about 30 seconds. Strain into glass.
2 oz Rye whiskey
3/4 oz Cherry Heering Liqueur
3/4 oz Chile-infused aperol
3/4 oz Fresh lemon juice


Read about more celebrity bartenders and their Heering's 200 years.