Sam Ross & 1956 - one of Heering's 200 years
Sam Ross & 1956 - one of Heering's 200 years
Words by Jeff Morgenthaler
In spite of the fact that he comes from Melbourne, Australia, Sam Ross is widely respected in his profession. All joking aside, Sam is actually considered one of the most influential and highly respected figures in the world of cocktails and spirits.
Sam's time in the industry dates back to age fifteen, where he was an eager young café worker in Melbourne, slaving over a hot espresso machine daily. His big break came thanks to his family in 2001, when his mother and sister opened a cocktail bar, Ginger, and put Sam to work.
In 2004, Sam moved to New York City and convinced Sasha Petraske to give him a shot behind the bar at Milk and Honey. Sam and Michael "Mickey" McIlroy ended up running Milk & Honey for eight years, helping earn its legendary status as global mecca of high-end cocktail bars and as the originator of the modern speakeasy.
In 2013, Sam and Mickey took over Milk and Honey and re-christened it Attaboy , ranked #5 bar in the world by Drinks International in 2017, and #15 in 2018. His second bar, Diamond Reef in Bed-Stuy, opened in March 2017 and has already been listed by Esquire in its annual "Best Bars in the USA" feature. A Nashville outpost of Attaboy also opened in July '17.
Sam has consulted and put his stamp on more cocktail programs around the world than can be counted on two hands, opening program after program that have all gone on to become legendary bars in their own right: Los Angeles restaurants Comme Ca and Hinoki & the Bird, the first serious craft cocktail bar in San Diego, Noble Experiment, The Dorsey at the Venetian, Rosina at the Palazzo, and Comme Ca at the Cosmopolitan, all in Las Vegas. His reach also extends to Singapore and Dubai.
Sam has always been a massive fan of the Singapore Sling and was quite fond of making his own version of it. Getting to drink one, made from scratch at the Raffles Hotel in Singapore is something Ross refers to as "one of my bar geek highlights". Though his version might be even better than the original.
For his year, Sam chose 1956. That's the first time the Olympic Games were held in Australia and, more specifically, in his hometown of Melbourne. And so, The Clarke Buck is a sort of homage to all things Australian.
Sam says of his inspiration for the drink, "All things ginger reign supreme in Australia. We grow a lot of the stuff up in Queensland so as kids you'd find ice cold bottles of ginger beer (non alcoholic) in our hands on those hot days as opposed to bottles of Coke."
But you can't possibly have an Aussie-themed cocktail without some sort of discussion of rum . Northern Australia is a wonderful place to grow sugar cane, and what does Sam find to be the best thing to come from sugar cane? Why rum, of course.
For the drink, fresh ginger is pressed through a centrifugal juicer. And then that bright, spicy ginger is mixed with cane sugar to make a syrup. The syrup is combined with Bundaberg Small Batch Silver Reserve Rum, Fino Sherry, and fresh lime juice. The drink is shaken, mixed with chilled club soda, and served over fresh ice in a tall glass. It is then finished, of course, with Cherry Heering. The result is a crisp, dry sipper, that is almost reminiscent of that first Singapore Sling he had at the Raffles Hotel.
Sam continues to work tirelessly around the world, but his passion is really for the industry as a whole. He's inspired by bars and bartenders banding together for a good cause. "All of the countless events that were organized with proceeds going towards rebuilding Puerto Rico and the hurricane-affected Virgin Islands, to raising money for the Dreamers and immigrants that make this country great. It's amazing to see."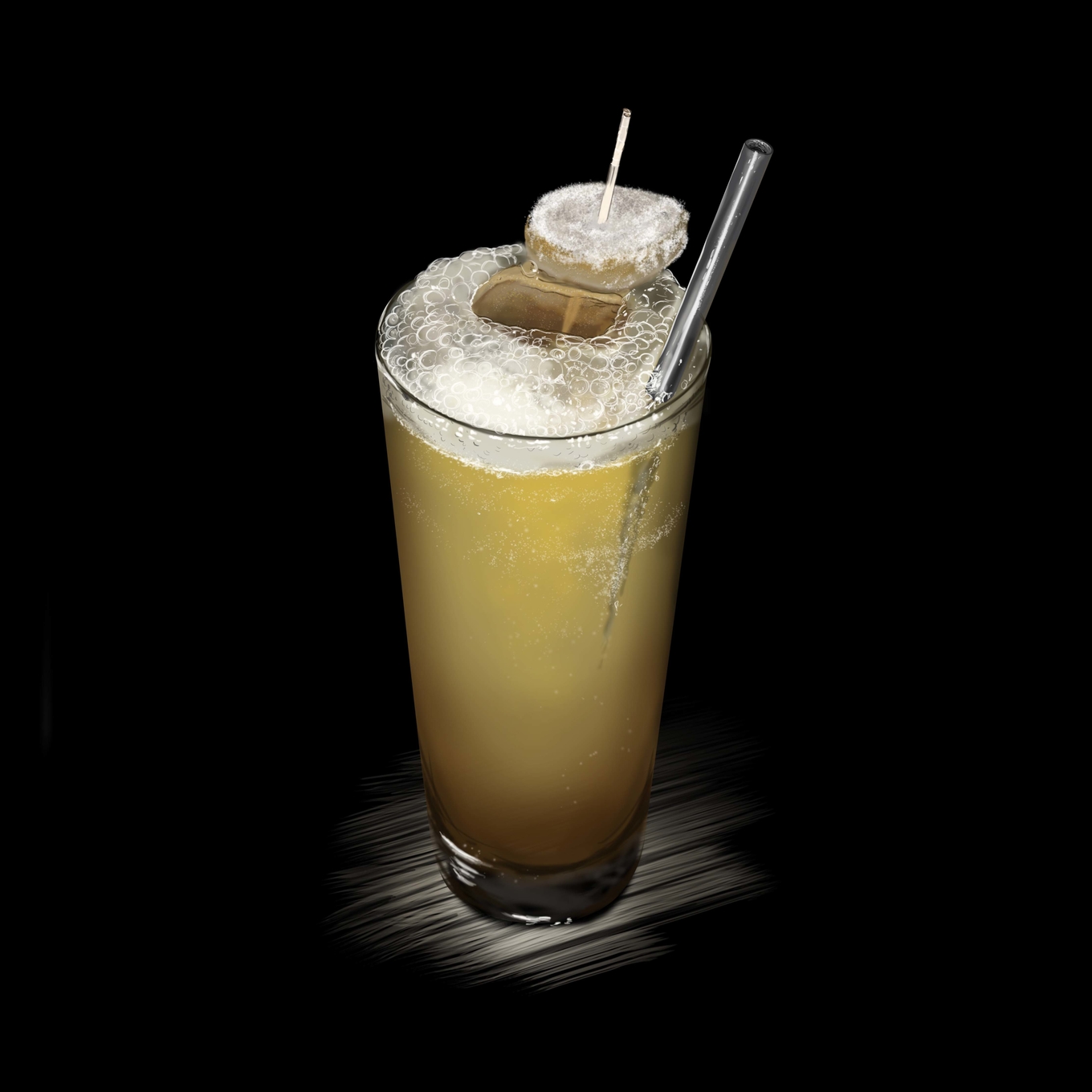 Clarke Buck
Glass: Collins
Garnish: Candied ginger
Method: Add all except Cherry Heering and club soda to shaker, dry shake. Add club soda to tin and pour over ice into chilled Collins glass. Top with club soda and float Cherry Heering last.
1oz Bundaberg Small Batch Silver Reserve Rum
0.5oz Fino Sherry
0.5oz Fresh lime juice
0.75oz Sweetened ginger juice*
0.25oz Cheery Heering
Club Soda
*Sweetened ginger juice
Juice fresh ginger (skin on) through a centrifugal juicer. Mix 4 parts ginger juice to 3 parts white granulated sugar. Stir until sugar is dissolved. Store in fridge.


Read about more celebrity bartenders and their Heering's 200 years.