The Smash, at points called a Smasher or Smash-Up, is a family of cocktails closely related to the Mint Julep.
Where the Julep stirs its mint in with booze and sugar, the Smash muddles and shakes it – rather aggressively smashing it in – and for a large period of drinking history this was the major difference between the two. Well, that and the Smash's lack of flashy trimmings such as Derby hats, metal straws and tin cups. It was the everyday, on-the-go, no muss, no fuss version.
However, modern day Smashes have evolved, adding citrus, muddling fruit and occasionally swapping the mint for more exotic herbs such as basil, whereas the Julep has stayed largely traditional, still served within its tin cup.
Drinks historian David Wondrich dates the Smash's first appearance to the mid-1840s, after which it skyrocketed in popularity, ensuring the 1850s were awash with Smashes – most references from this time go for the Brandy Smash but the Whiskey Smash also gets a few 19th century nods and even the Gin Smash is mentioned with Old Tom gin. "At the height of the Smash's popularity, everyone seemed to spend the warm months of the year with a Smash glued to one hand and a cigar in the other," writes Wondrich.
The best of this era is perhaps summed up in this 1859 Harper's Bizarre snippet where a rather humorous summation to a young man's college experience was noted as such; "he acquired the proper proficiency in Greek, Latin, Mathematics, slang, billiards and brandy smashes." A thoroughly good education then.
The Smash makes it into Jerry Thomas's 1862 Bartender's Guide where the famous barkeep lists his recipe as "½ table-spoonful of white sugar, 1 table-spoonful of water and 1 wine-glass of brandy." Thomas describes the Smash as the "Julep on a small plan," proving it was always the pragmatic drink to be gulped down compared to the oft-flashy Julep.
To make, Thomas tells us to "Fill two-thirds of shaved ice, use two sprigs of mint, the same as in the recipe for mint julep. Lay two small pieces of orange on top, and ornament with berries in season." This more ornate garnish is seen again in Harry Johnson'sNew and Improved Illustrated Bartender's Manual in 1888 where the accompanying Brandy Smash illustration shows the glass not just full of mint but also with a citrus slice and a few berries. However, Jerry Thomas's Whiskey Smash omits this and opts simply for mint.
A victim perhaps of America's Civil War and the lifestyle changes that came with it, the Smash barely features after the early 1860s. It would take over a hundred years for its come back, much credited to Dale DeGroff who rejigged the whiskey version in New York in the late 1990s. "I was a little bored of mint juleps, so I mashed up some lemon with the mint," DeGroff notes in his book The Essential Cocktail: The Art of Mixing Drinks. It was an edition that many modern-day Smashes now mimic, often calling for fruit to be muddled alongside the mint rather than just added in as juice – but not always.
Here's DeGroff's peach twist on his classic Whiskey Smash for the summer months.
Whiskey Peach Smash
Garnish: Mint sprig and peach slice
Method: MUDDLE the mint leaves, two peach slices, lemon pieces and the orange curaçao in the bottom of your mixing tin. Add the bourbon and SHAKE with ice. STRAIN into an iced-rocks glass.
5 mint leaves
1 mint sprig (for garnish)
3 peach slices
½ lemon, quartered
30ml orange curaçao
60ml bourbon whiskey
DeGroff's recipe that started all the rage for Smashes to make their comeback has now been eclipsed by another modern-day recipe, that from Jörg Meyer, the Gin Basil Smash. First shaken in the European summer of 2008, it's fresh, herbal flavour has become a modern classic worldwide. "Better too much, than not enough basil in this drink," he says.
Smash Recipes on Difford's Guide

GIN BASIL SMASH
With: Basil leaves, gin, lemon and sugar.

TEQUILA SMASH
With: Mint, tequila and agave syrup.

WHISKEY SMASH
With: Mint, bourbon, lemon and sugar.

BRANDY SMASH
With: Mint, brandy and sugar.

RED DOG SMASH
With: Tennessee whiskey. Bénédictine D.O.M liqueur, lemon juice, apricot jam and Angostura Bitters.

WATERMELON & BASIL SMASH
With: Watermelon, basil, reposado tequila, limoncello and ginger ale.

BOURBON SMASH
With: Mint, raspberry. Bourbon, cranberry juice, lime juice, sugar and Angostura Bitters.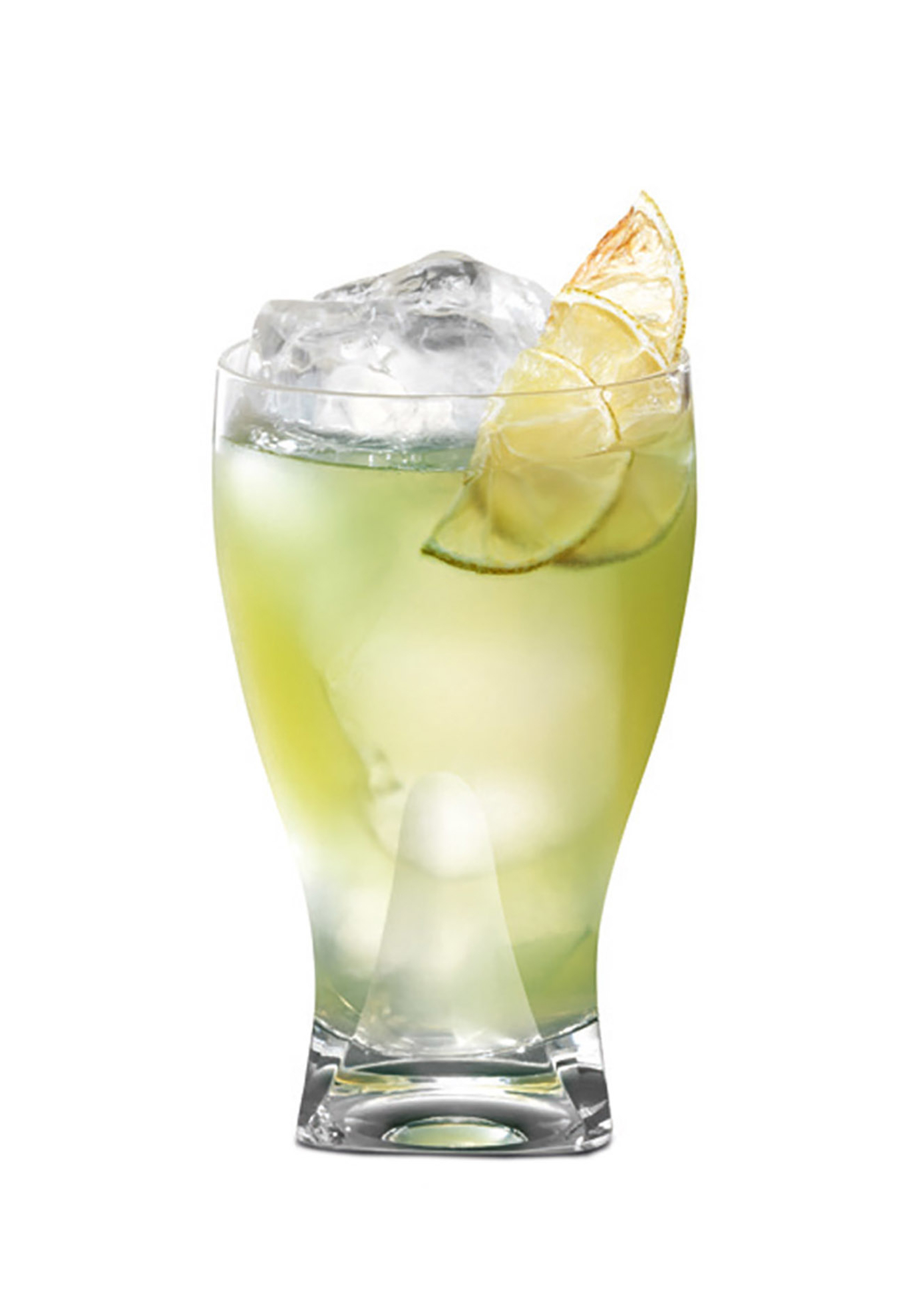 MAESTRO SMASH
With: Basil, lime, rum, maraschino liqueur and muscovado sugar syrup.