Alisa Muraviova
Words by Theodora Sutcliffe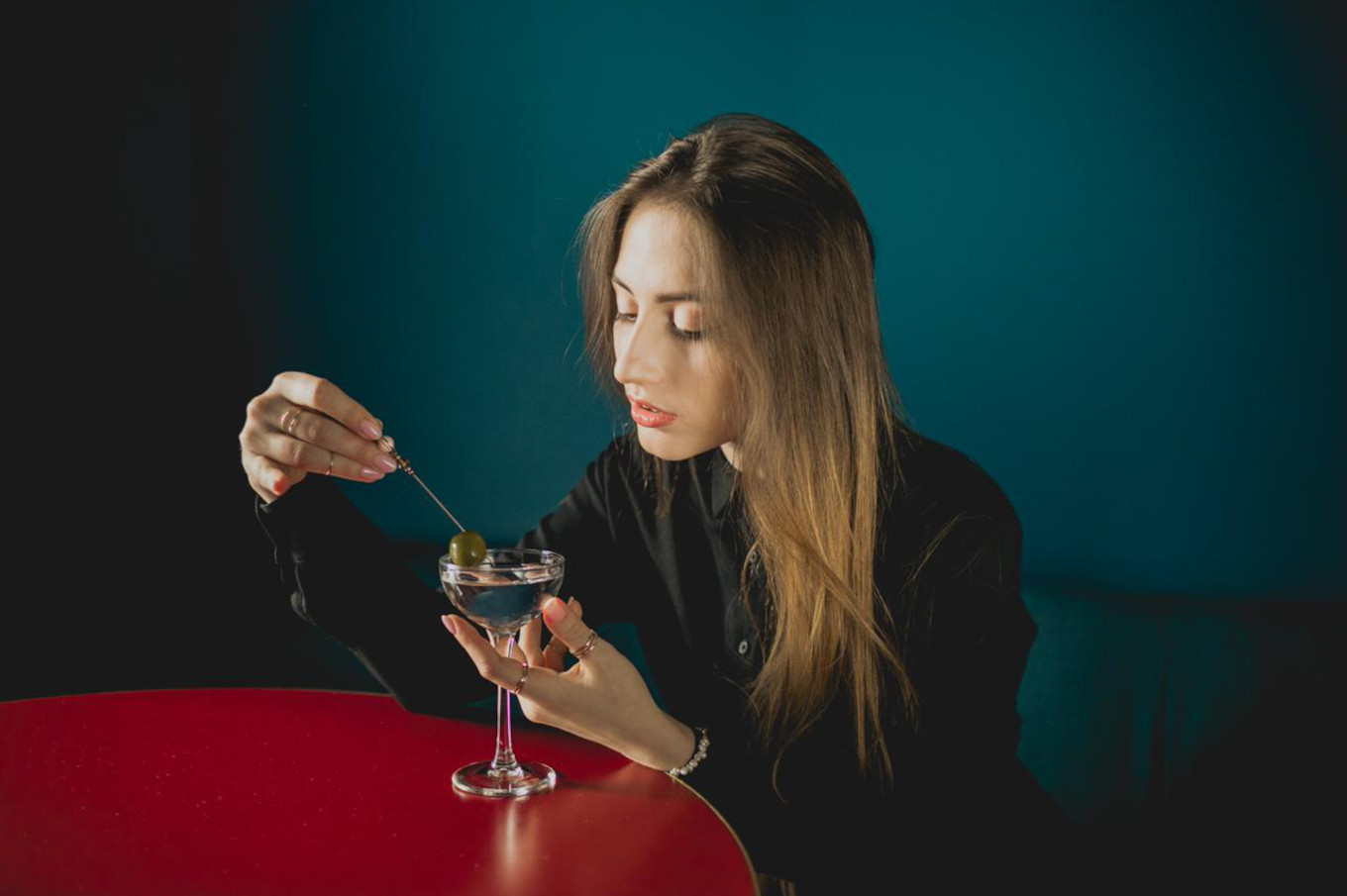 "My first steps in the bar were not the classic thing. I wasn't a poor student who came to work in a bar and started to love it," says Alisa Muraviova, the Moscow-based bar consultant who's representing Russia in the Patrón Perfectionists global final in May 2022. "I started to love the bar, and then I had to fight for my right to be a bartender."
Six years ago, Muraviova was living in St. Petersburg, working as a project manager for a marble company. "I had a really good salary, I was happy there, but I understood that it was not enough, that I needed to change for something I was really passionate about," she recalls. "I was thinking about being a chef, then I realised from my friends it was more interesting being a bartender or a sommelier."
Muraviova had already left her job to pursue her creative dream when she realised that St. Petersburg's craft cocktail scene didn't have much space for women and there were no good bar schools either. I spent half a year trying to get someone to hire me: I wanted to be a runner, to have the lowest job, just so people could teach me to be a good bartender," she recalls. "In St. Petersburg at the time there were not a lot of good bars, and all the good bars were not hiring girls: I'm not saying it's about sexism, but a lot of the bars were saying no because their concept didn't include having girls."
In the end, Muraviova took a job at the first bar that would have her, and, over two years, built up a regular clientele. Stints in a Tiki bar and a Japanese-style bar followed, plus a break where she spent six months living in Sri Lanka. After moving to Moscow to work at The Bix, a charismatic speakeasy complete with live jazz, she briefly co-owned her own place with partners before the pandemic and creative differences sent them on separate paths.
Today, after a challenging year which included four surgeries as well as the stresses and strains of the pandemic, Muraviova is working freelance. Her dream blog project, which pairs cocktails with music and an online store, is set to launch later this year.
The perfectionist creative
Constantly creative, Muraviova comes from a family of artists, holds two art degrees and pursues interests including cooking, photography and even making furniture. But bartending remains the main outlet for her passions. "I haven't done a big number of competitions, because all of my competition entries are like artworks. I really try to be as creative as possible," she says. "All of my cocktail projects are more than cocktails-it's always a big project."
Muraviova was at home recovering from surgery when she watched the Russian finals broadcast online and learned she'd be headed to Hacienda Patrón for the global final. "When I heard my name, I was crying: I had scars and a swollen nose, and I was crying," she recalls. "I felt my dream had come true, because I really wanted to win, but I was thinking I wouldn't get it this year."
A perfectionist to the core, Muraviova pays attention to fine details and always gives 100%, one reason why her online project has taken so long to come to fruition. She found the perfectionist angle of the Patrón competition inspiring. "A lot of people understand perfection as something that isn't natural, but I think perfection is a very natural thing," she says. "When you're passionate for something, when you improve something, when you're inspired, you're really a perfectionist."
And, for her, perfectionism and bartending go hand in hand. "The bartending community is really a place for perfectionists," she says. "Finding perfection in everything and sharing it with others, the things that bartenders do every day, from inventing themed cocktails or choosing details from ingredients to music, is kind of an art."
Alisa Muraviova's Winning Drink: Evocative Cocktail
A keen cook, Muraviova took inspiration from her Ukrainian homeland to create this twist on the classic Paloma. "I'm from Donetsk, where all the culture is between Russia and Ukraine, so I'm from two cultures, but a big part of the food culture in both our countries is lacto-fermented vegetables," she says. "Almost everyone from those two countries can talk to you about lacto-fermented things, like kvass, which is made from fermented bread, or fermented cabbage, fermented tomatoes, even fermented apples and watermelon."
The taste of lacto-fermented watermelon reminds her of her time in the Crimea, a sunny region on the Black Sea coast where fruit grows in abundance. "I wanted to recreate the summer parties, the best feelings you can have with the people in your life, at a time when you don't have lockdowns or other things," she says.
40ml Patrón Silver tequila
90ml Lacto-fermented grapefruit and watermelon juice*
2ml Sweet chilli sauce
10ml Sparkling water
10ml Freshly squeezed lemon juice
1 Olive
To make the lacto-fermented grapefruit and watermelon juice:
1kg Watermelon
1kg Grapefruit
3l Water
180g Salt
200g Sugar
Mix sugar, salt and water to make a salt solution. Wash and chop watermelons and grapefruits (cutting grapefruit into four pieces), then put them in a jar with the salt solution. Take a plate that's smaller than the neck of the jar and place it in the jar on top of the mixture: add a weight so it stays in place, then leave the jar in a warm place for three days. After three days, open the jar and remove the fruit pieces, saving the salt solution. Squeeze the juice from the grapefruit, then cut the skin off the watermelon (leaving one piece for garnishing) and juice the flesh. Combine the watermelon and the grapefruit juice, then taste and add salt solution as necessary.
To make the drink:
Put tequila, lacto-fermented watermelon and grapefruit juice, sweet chilli sauce and lemon into a shaker, add ice and shake gently. Place a rectangular chunk of ice in a frozen highball glass. Add sparkling water to the shaker and fine-strain into the highball glass: garnish with lacto-fermented watermelon and an olive.