The Cabinet Room
Words by Simon Difford
Photography by Dan Malpass
So named due to my glassware collection housed in 29 polished steel, glass-fronted, antique medical cabinets, most of the biggest names in bartending over the last 15 years have made cocktails at the Cabinet Room. Even Jamie Oliver has made a cocktail in what is my living room.
The London property market has been good to me. I bought a 2-bed flat in the centre of Shoreditch when the area was still run-down and cheap. Very cheap! Over the years I watched the area around me quickly change and prices soar. My flat was tiny but now in a very desirable area so I sold and moved to one three times the size in the then much cheaper Bermondsey. With this move came a living room large enough (7.5m/25ft x 8.5m /27.5ft) for the bar of my dreams – the Cabinet Room. It's now FOR SALE.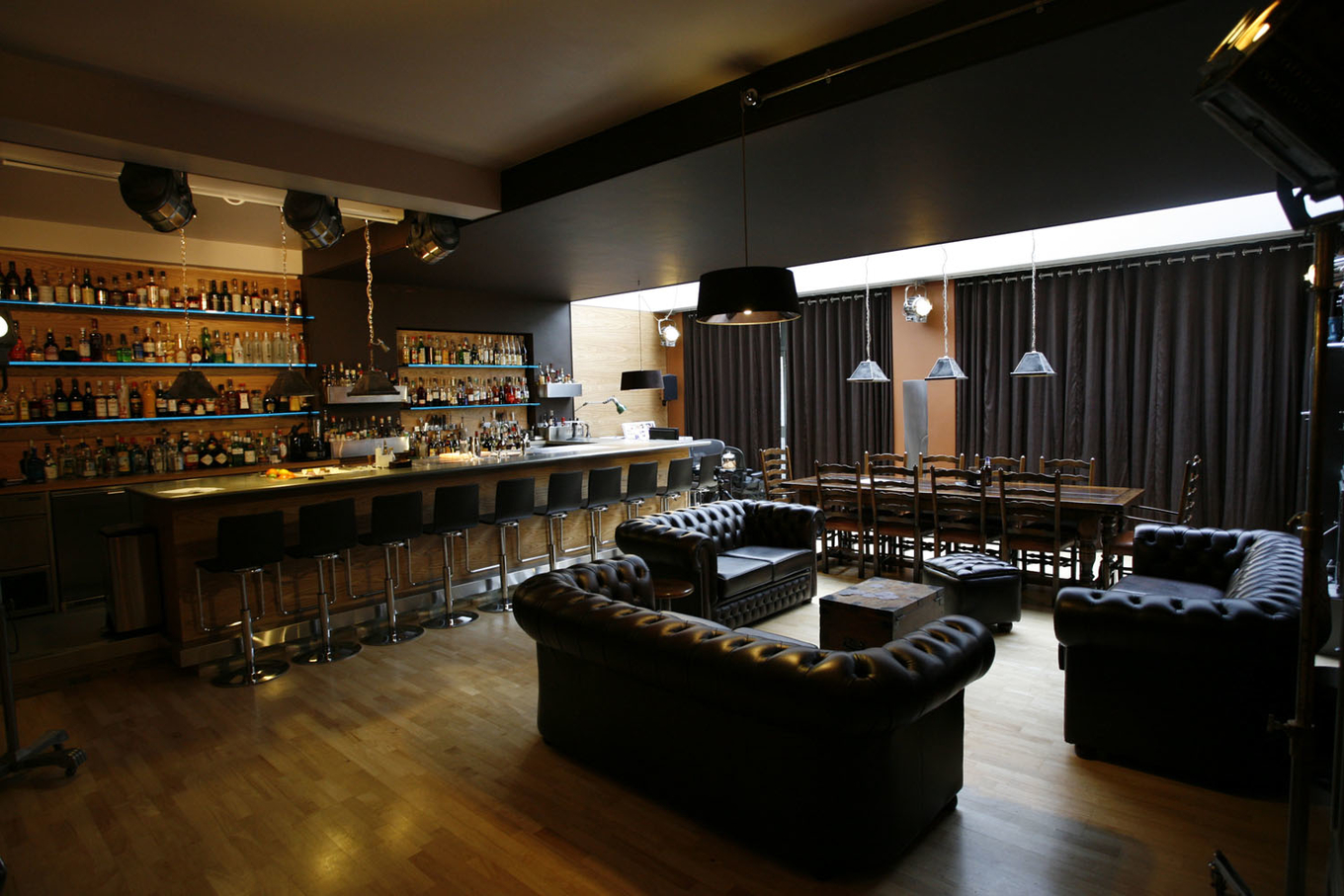 The ultimate home bar
The custom-built 4.6 metre (16ft) long zinc-topped bar counter is designed to best allow demonstration of cocktail making so unlike usual bars, the counter and bartender's work surface are built on the same level. The whole bar is built on a platform so while the work surface is at the optimal 91cm height, the bar counter itself is 109cm from the floor, so perfect for bar stools or to stand at. The bespoke all stainless steel bar station includes a large 4-section icewell, drainers and specially created 'Difford's Well' to clean bar tools and a sink that separates and retains solids to help prevent blocked drains.
I've spent many hours behind this bar working on the recipes to appear on Difford's Guide and it's been the perfect place for a party – from my daughter's 18th birthday party to Anistatia Miller's 60th. It was a venue for Diageo's first World Class competition and Jamie Oliver and Jimmy Doherty filmed an episode of their Friday Night Feast here. I've also had the pleasure of sitting at this bar in my own living room and sipping on cocktails made by the likes of Dick Bradsell, Dale DeGroff, Jeffrey Morgenthaler, Peter Dorelli, Alex Kratena, Simone Caporale, Agostino Perrone and many many more.
This is also where Dan has taken so many of the photographs you see on Difford's Guide, helped by perfect light from floor to ceiling northwest facing windows across one wall and a wide skylight running the width of the room.
The 20mm thick glass shelves behind the bar are designed to hold 500 bottles and are backlit by light tape which cleverly makes the front edge of the shelves glow.
I laid out the room to accommodate ten people moving from drinks at the bar to a 9ft long refectory antique oak table for dinner and then to relax on the three leather Chesterfield sofas.
I also installed a projector and 2-metre wide screen which drops from the ceiling over the left end of the bar so the bar converts to a home movie theatre.
The rest of the property
This 1,500 sq ft flat is spread across two floors with a front door on each floor and an internal connecting staircase. (Subject to planning, it has the potential to be divided into two properties.)
Upstairs there are two double bedrooms with ensuite bathrooms. The open plan kitchen, dining and second living room are also generously sized.
There's also a designated space in the underground carpark which is close to the passenger lift that takes you to outside the flat door on both ground and 1st floors so handy if carrying shopping. This car parking space is also adjacent to the block's electricity meter cupboard which may be useful for future installation of a car charging point.
Location
My apartment lies in a modern building opposite the famous 1950's Alaska Building on Grange Road in London's Bermondsey, SE1. Within walking distance:
4 minutes - Bermondsey Spa Gardens with running path
4 minutes - Bermondsey Street
14 minutes - Bermondsey Station
17 minutes - London Bridge Station
17 minutes - Shad Thames
19 minutes - More London
21 minutes - Borough Market
22 minutes - Tower Bridge
For sale
Leasehold (125 years from 25/Mar/05), the flat is on sale with Foxtons London Bridge for offers over £800,000. Bargain priced as I want to invest in a new project with Difford's Guide!