They're grounded in science, created with hours of dedication and have truly unique flavour profiles. More importantly, cocktails with quirky ingredients prove that not everything has been tried just yet. And that's something to get excited about.

If you thought bartending was all about standing behind the bar, the preparation time alone involved in the following drinks will change that perception entirely. From baking, infusing, deep-frying and reducing, not to mention distilling anything vaguely agricultural, the bar teams who attempt this level of mixology need to be dedicated.
The following seven drinks come from the team behind Peg and Patriot and Talented Mr Fox, notably the owner Matt Whiley, and his two bar managers, Ally Martin and James Stevenson. They've harnessed the properties of blood, doughnuts, chicken juice, monster munch and hay.
Aunt Bessie's Martini
Roast potato vodka, hay vermouth, thyme, chicken
"Aunt Bessie's Martini is a savoury Martini served with a piece of deep-fried chicken stock on the side and garnished with a drop of thyme oil. We make the hay vermouth by infusing cream with hay and creating a distillate which serves as our vermouth."
Created by Ally Martin
Gibson
Gin, monster munch, vermouth
"Pickled Onion Monster Munch is distilled down to a bianco vermouth which is then used in a classic Gibson recipe."
Created by James Stevenson
Bloody Mary
Pigs blood, black pudding, clarified tomato juice, spice hydrosol
"We add pigs blood to black pudding and macerate, essentially cook it, for 24 hours in a sous-vide then distil it leaving you with a pigs blood and black pudding vodka."
Created by Matt Whiley
Peg Martini
Yeast, Koniks Tail vodka, friend olive brine crisp
"The peg martini is made up of a Marmite and Malic acid distillate along with Koniks Tail and house dry vermouth. The fried olive brine was born out of not being able to get an olive in the glass. So we take the juice that the olives sit in (the brine) then set that with a Japanese root called Kuzu. I then bake it, dehydrate it, then fry it. The process takes around 24 to 30 hours."
Created by Matt Whiley
Rye Your Eyes Mate
Rye, lemon, mustard maple herbs liqueur, maraschino, bees wax cherry
"The mustard maple liqueur is made by distilling the spirit away from the sugar within yellow chartreuse. We then replace the sugar with a yellow mustard seed infused maple syrup."
Created by Matt Whiley
Mardi Foie Gras
Foie Gras Vodka, clarified buttermilk, doughnuts, kamm & sons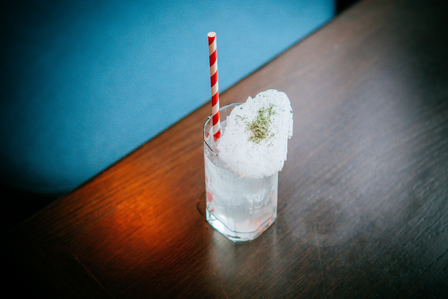 "The Foie Gras vodka that we make is cut back with Konik Tail vodka to give a nutty flavour that works well. We then make a buttermilk whey, after it curdles the curds are separated leaving a clear buttermilk liquid. This is pungent and sour, so we cut back with water and sugar, the water being infused with doughnuts."
Created by Ally Martin
Asparagus Plonk
Asparagus and mint vodka, Cocchi Americano, chocolate soil
"This is a light wine-based drink, made by distilling asparagus and mint to make vodka. We then reduce the alcohol down to 20% alc./vol, add Cocchi Americano, wine and garnish with chocolate soil."
Created by Ally Martin