One for All
By Edgar Pacheco
Representing: Cruise ships
#KOCONTESTCruise
"Life at sea is amazing, enjoying the fresh air and waking up every day in a different country is a priceless experience that will mark us forever. But living at sea is not as easy as it sounds, from being away from family for long periods to the cultural clash of living with over 60 different nationalities, bartenders and crew in general not always have an easy time adapting themselves. When the recent pandemic began, the cruise industry was one of the most affected in the world, impacting on the mental health and wellness of the bartender community not just on our ship but globally.
Using Ketel One and cocktail culture as a tool, I want to bring awareness and support to the mental health of my community onboard, from support groups to book clubs and video calls with experts, we are aiming to help our community to be in a better place in life, bring a smile and build stronger ties between us as a family.
Our aim is to take our project not only to all our fleet but to other cruise lines as well, by collaborating with fellow bartenders around the sea we are able to use Ketel One as a tool to communicate our goals and actions, for this, we decided to garnish the cocktail with good and add an edible QR code, by scanning it you will know what we do, how we do it and how you can help. Mental wellness plays an important role onboard and with "garnish with good" we are aiming to keep our community healthy and happy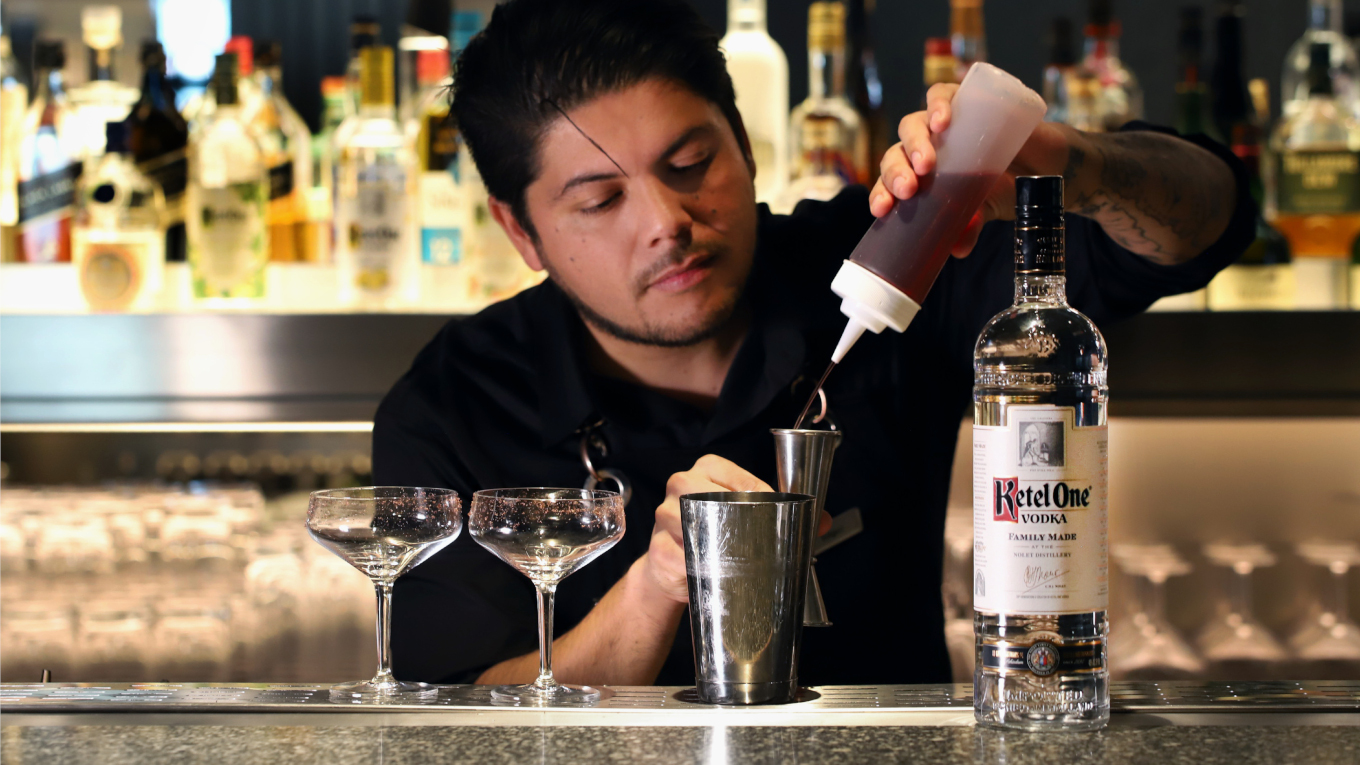 One For All
Glassware: Coupe
Garnish: Float edible QR code on foam
Method: Add all ingredients into a shaker and dry shake, add ice and shake vigorously for 10 seconds, double strain in compette glass, and express lemon zest.
Ingredients:
1.5 oz Ketel One Family-Made Vodka
0.75 oz Blanc vermouth
0.75 oz Fresh lime juice
0.75 oz Pasteurized egg white
2 ml Violetta bitters
0.75 ml Rose jasmine syrup
To make Rose jasmine syrup:
500ml water
15 gr jasmine tea
10 gr hibiscus and rose tea"